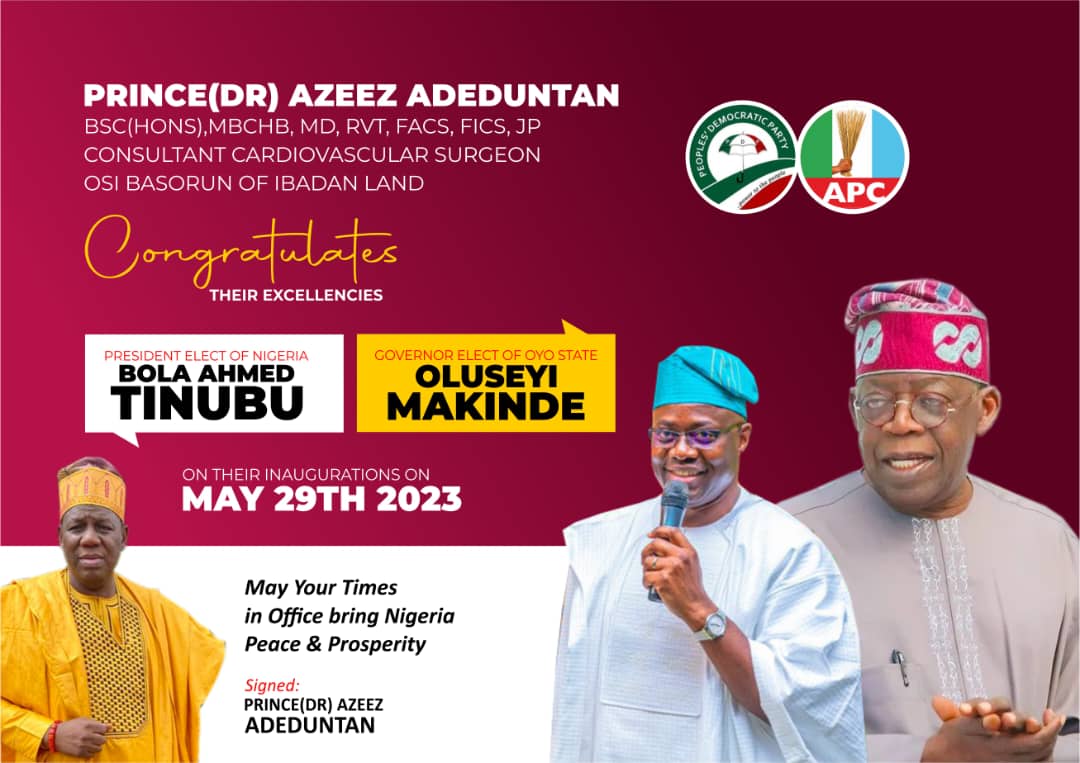 Oluyole Reps Hopeful, Aleshinloye Assures On Sustaining Effective Youth Participation And Development
Friday November 4, 2022
Former Chairman, Oluyole local government who is currently the candidate of Accord Party, seeking to represent Oluyole Federal Constituency at the House of Representatives in the coming 2023 general elections, Hon Ayodeji Abass-Alesinloye has assured that he will continue to put in place activities that will promote meaningful youth engagement in the constituency.
Hon Abass-Alesinloye gave this assurance at the final football match organised for football clubs and sponsored by the Reps Candidate, Ayodeji Abass-Alesinloye.
The final football game was between Dogo football club and Wasiu Taiwo football club and ended 3-0 in favour of Wasiu Taiwo football club.
Speaking with journalists at the sporting event, Aleshinloye explained that the competition was organised to encourage youths to be meaningfully engaged, take them out of the streets and also discover talents which will in future represent the nation at international competition.
He said the competition has been on years back and not a new initiative and assured that the competition will continue even after his election into the house of Reps next year.
The former Oyo state ALGON Chairman said many great sport men and women have been discovered through grassroot sports who are now doing well for themselves and also for the nation.
Aleshinloye added that one of his cardinal objectives by the time he becomes a member of the House of Reps to represent Oluyole Federal Constituency is youth development which he has shown over the years in all his positions he found himself and will not relent.
He urged the people of Oluyole Federal Constituency to support him through their votes so that he can do more and sustain all the good initiatives he began years back adding that all other Accord Party Candidates in the state should also be supported when election comes.
In his message, the Gubernatorial Candidate of Accord Party in Oyo state, Chief Adebayo Adalabu commended Hon Ayodeji Abass-Alesinloye who he described as a leader in the party due to his political clout and contributions to politics not only in Oyo state but Nigeria.
Chief Adelabu assures that Accord Party remains a true people oriented political party who so much believes in the power of youth to turn things around positively.
Others at the events included Engr Nurudeen Faozey, who is also a Senatorial Candidate of Oyo Central under Accord Party, Former Oyo lawmaker, Hon Fatai Adesina, the Director General, Accord Party Campaign Council, Chief Adegboyega Adegoke, Oyo state Accord Party Chairman, Prince Kolade Ojo, Chief Lekan Adeyemo, Accord leader in Oyo state, Accord Candidates in state house of assembly, party members, ex- international Wasiu Taiwo among others