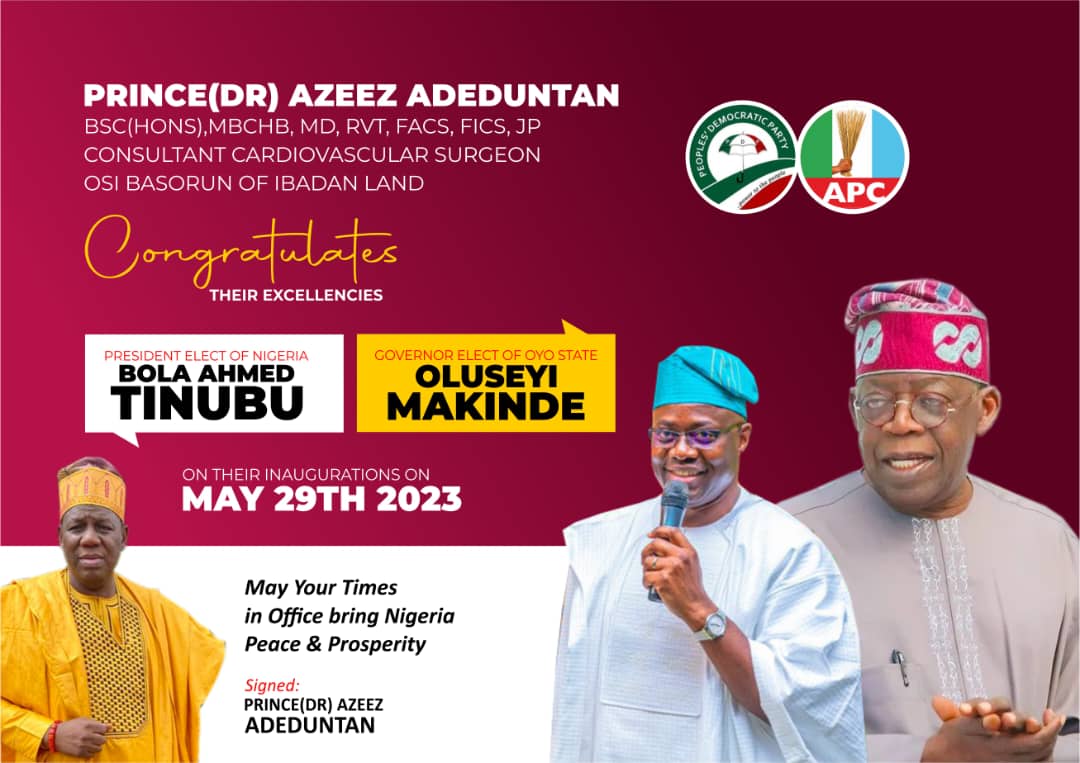 2023: Tinubu Can Never Islamized Nigeria – Ajimobi
Wednesday January 4, 2023
Wife of late two term governor of Oyo State, Dr Florence Ajimobi on Wednesday led hundreds of women, leaders of the All Progressives Congress (APC) to the Oyo State Secretariat of the Christian Association of Nigeria (CAN) to solicit support for the Presidential candidate of the All Progressives Congress ( APC), Asiwaju Bola Ahmed Tinubu and his Vice Presidential candidate, Kashim Shettima.
The women under the aegis of Oyo Tinubu Shettima (OTISHE) Women Presidential Campaign Organisation said apart from canvassing support for the APC candidate, the visit was to solicit for prayers and prophetic pronouncement of the Christian leadership on the electoral success of the APC presidential candidate.
The visitors were received by the CAN leadership from across all the 33 local government areas of the state by the State Chairman, Apostle Joshua Akinyemiju.
Explaining why Tinubu/Shettima should be the preferred choice in the forthcoming elections, Mrs Ajimobi said she was ready to stake her name and integrity on the genuiness and sincerity of Tinubu going by his antecedent of building leaders over the years.
She appealed to the CAN leadership not to be swayed from supporting Tinubu/Shettima because it the Moslem-moslem ticket but should consider his antecedent assuring that the duo of Tinubu and Shettima are individuals with the fear of God.She said "We are here to intimate you and seek your blessings. I believe on the power of prayers and your prophetic pronouncements.
That is why we are here today to present our party flagbearers."Tinubu is a man we know has the fear of God. He is fit, sound, astute and I am saying all that with the fear of God. I don't blow the trumpet of what I am not sure of. I know this man because he was very close to my late husband."Asiwaju has the fear of God and the fear that the same faith ticket will lead to Islamising Nigeria is not true and can never be true."I can stand as a guarantor for Tinubu anytime.
He is a man that is well known and can be trusted. We need a God-fearing leader and it should not just be about religion."Other reasons why support should be given to Asiwaju for the 2023 presidential elections also include the fact that he is married to a Christian and even a Pastor, his children are practising Christians.
Asiwaju has never worked against CAN's interest. He supported Lagos CAN by giving them land where they built their Secretariat when he was Lagos State governor."On the fear that a Moslem-moslem ticket could be detrimental to CAN and Nigeria's interest.
The diversity of Nigeria will never permit anyone to Islamize Nigeria. Even our Constitution guarantees freedom to religion. Not only that, the Christian bodies in Nigeria are too vocal for any one to try that.
"Buhari did not do it, it is thus not someone like Asiwaju that would do it.He has a large heart that accommodates everyone, he is a unifier.
He appointed a Christian Igboman to the sensitive position of Commissioner for Finance in Lagos. He has a lot of Christian associates while top officials in his administration were Christians when he was Lagos governor."In almost eight years that many peddled the rumour that Buhari had the intention of Islamizing Nigeria; that never happened. If you will recall, more Christian churches were attacked when a Christian was President.
Today, attack on churches has reduced during the tenure of a Moslem president. "It is not advisable for CAN as a Christian body to be partisan; CAN should be for all. It should not sacrifice competence on the altar of religion"It is not about religion, it's about the fear of God. Ajimobi was a muslim but he supported CAN as Governor", she said."Regardless of religion, we need a God fearing President and Vice President.
So it is not enough to be a Christian but to be a God fearing individual. "The Antecedent of Asiwaju in Lagos cannot be undermined. He has done so much. His leadership style is great. He has the capacity to spot and nurture talented and intelligent people.
While not undermining the position of VP, the office of Vice President is a ceremonial office without much constitutional functions. "We all know that power resides with the President, the Senate President and Speaker of the House of Representatives. What CAN should strive for is that other top positions should go to Christians."According to her, Shettima as Governor of Borno built and rebuilt destroyed, countless churches when insurgents took over parts of North East. "If Asiwaju had picked a Christian Northerner as his running mate, would he have been able to get the support of the core northern moslems?", she queried.In his response, Oyo CAN Chairman, Apostle Joshua Akinyomiju commended the visitors assuring that the Association would do whatever God leads it to do. He cleared that the alleged attack on the immediate past CAN National President, Dr Samson Ayokunle on his condemnation of same faith ticket was not to attack the person of Asiwaju Bola Tinubu.
He said the Association believes in Mrs Ajimobi and knows that she can be trusted.He expressed optimism that a rapport and opportunity for discussion would be facilitated before the General election with the candidates so as to guide the choice of members. " When the candidate visits Oyo State, he should also take time to visit CAN to speak with members", he said.
Mrs Ajimobi was accompanied to the meeting by the Minister of Youths and Sports, Sunday Dare who was represented by Mrs Abiodun Ogunniyi; his wife, Olukemi, a former APC state chairman, Chief Akin Oke; current chairman, Isaac Omodewu; wife of former Oyo deputy Governor, Mrs Janet Adeyemo; Executive Secretary, National Sugar Development Commission, Zaccheus Adedeji; APC women leader, Mrs Tinu Adigun; Member HoR, Akande Sadipe; former Oyo Head of Service, Mrs Hannah Ogunesan, among other leaders.