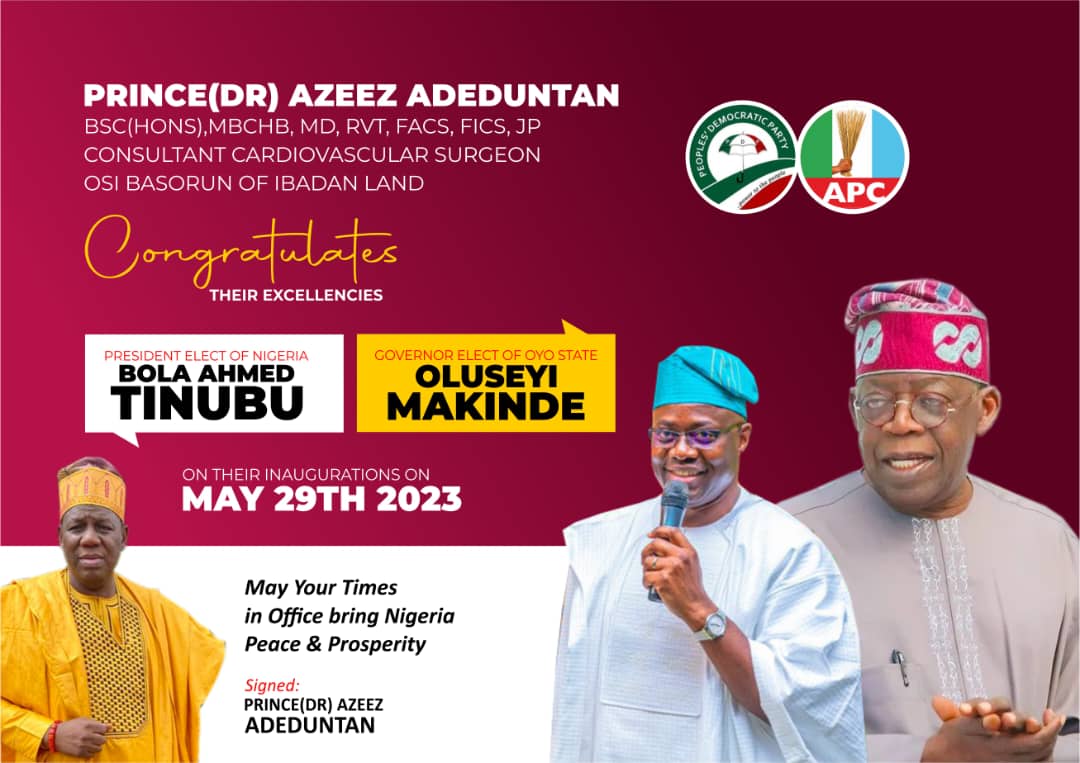 Why I Worked Assiduously For Tinubu/Makinde Electoral Successes – Adeduntan
Thursday June 22, 2023
The Osi Basorun of Ibadanland and international cardiovascular surgeon of repute, Prince(Dr) Azeez Popoola Adeduntan on Thursday gave reasons why he worked seriously for the success of President Bola Ahmed Tinubu of the All Progressives Congress (APC) and Engr Seyi Makinde, who vied for the state governorship ticket on the platform of the People's Democratic Party (PDP) during the 2023 general elections.
Adeduntan during a media parley at an event in Abuja today,said Tinubu as at the time of the election was the best candidate any political party can present ,for such a sensitive election in the setting of HOW to move NIgeria forward from impending economic doom and political disasters .
The revered cardio vascular surgeon stated that apart from the fact that going by the rotational arrangement in the existing political parties, which stipulated that Southern part of the country is to produce the next President, the successes of President Tinubu in managing human and natural resources can not just be over emphasised.
He explained that the President has made landmark achievements even as a two term governor of Lagos State which path successive administrations in the state continue to toe.
"I think my decision and that of thousands of my supporters to support President Tinubu has been justified going by what he has achieved in the last few days as President.
The international community also attest to this fact of transformation by President Tinubu. "
Speaking further, Adeduntan said his support for Governor Seyi Makinde to be re-elected was because of his performance during his first term and his support for TINUBU Presidency-as a YORUBA MAN and meritoriously.
He stated that Makinde had won the heart of most residents of the state even those from outside with his regular and prompt payment of salaries ,pensions and gratuities, 13th month salary and massive infrastructural development across the state.
"So going by this standard, it will be extremely difficult for any candidate to have emerged victorious aside from Makinde. "
He described the governorship primary and other primaries election of APC in the state last year for which he was a material and living witness-as a fraud,a charade, embarrassing ,and a mockery of the most treasured democratic governance by a very minority few ;that must not be allowed to stand to prevent this from happening in the future -for it is the silence of the voice of justice ,that has made it easy for evil to triumph in any society-euphemistically captured in the phrase -"if u see something',say something ,".now in wide usage all over the world.
He added that the exercise was just a display of political shenanigan and fraud which later tore the party apart across the state.
"It indeed gladdens my heart that I was part of a process that redirected the electoral map of our nation.
It would be recalled that Tinubu polled 449,884 votes to defeat Atiku Abubakar of the Peoples Democratic Party (PDP), who polled 182,977 votes in Oyo State.
May Nigeria and TINUBU succeed.
It is in the best interest of NIgeria as a NATION.
ADEDUNTAN affirmed.