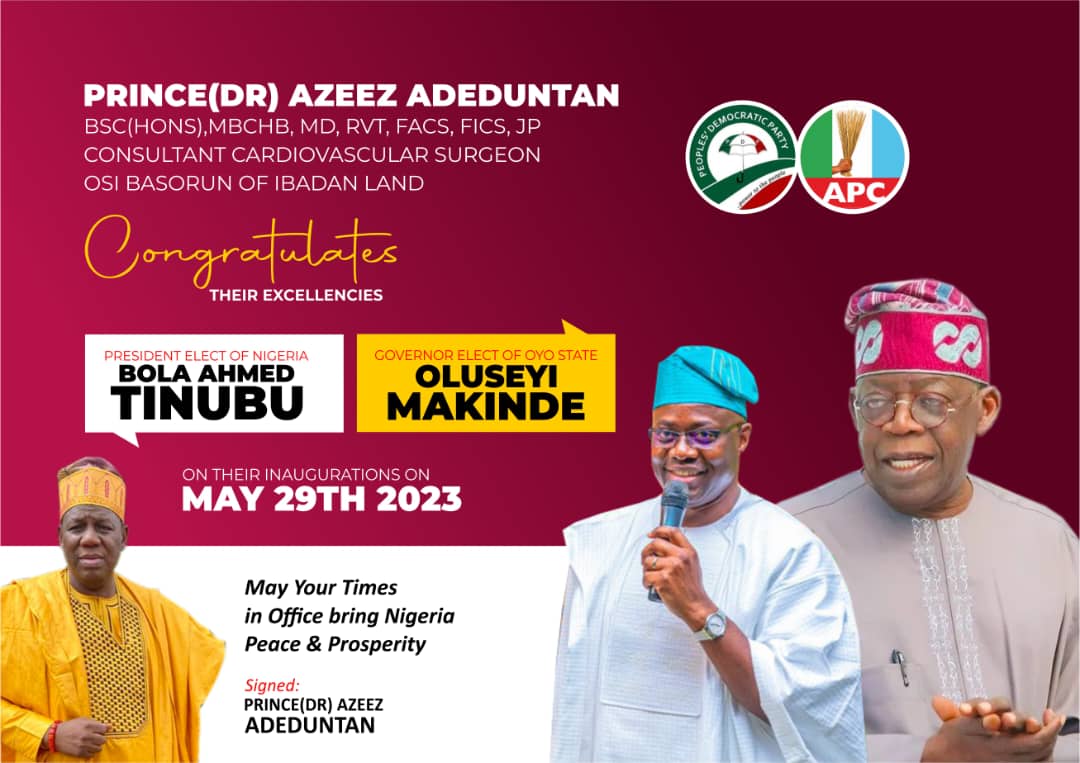 PDP Are Full Of Selfish And Desperate Politicians With No Plans For Nigerians
By Adeboye Adebayo
Thursday February 2nd, 2023
I diligently go through and assimilate the press statement released by the PDP's National Publicity Secretary, one Ologunagba on the Kano State incident on Tuesday and I realised that indeed all the media team of the drowned party are full of desperate, manipulative, blackmailing elements who have no idea on how to market their Presidential Candidate, Alhaji Atiku Abubakar.
There is no doubt, Bola Ahmed Tinubu is the President, Nigeria and Africa is waiting for, to build and improve on the enormous achievements of President Muhammodu Buhari and turn numerous opportunities available in the continent to fortune and wealth for the benefits of the citizens.
Bola Tinubu is full of energy, agility and full of intellectual capacity to turn around the socio-economic situations of the black race. Bola Tinubu is widely travelled, intellectually exposed and diplomatically wise to negotiate Africa out of poverty in our dealings among the comity of nations of the World. With Tinubu succeeding Buhari, PDP goons know that, that is the end of poverty and hunger in this land, it will not be selfish business as usual among few cabals again, rather it will be an unusual business of governance that will bring quality foods to the masses' table, quality healthcare to the sick, out of this world infrastructure that will elevate business environment and entrepreneur skills development, for the growth of our country, our continent and the progress and wellbeing of the people.
The PDP is very much aware that Bola Tinubu's presidency will bury their party which lacks idea of what good governance is all about apart of selling of assets to cronies and sharing contracts among supporters, hence their strategies on this campaign are premise on how to cause disunity and mistrust between President Buhari and Tinubu, how to ensure that there is betrayal of trust between the North and Tinubu, how to hack INEC servers from Dubai and manipulate election result.
Blackmailing is the only war tool being deployed by the dead party, PDP in this campaign. I had thought it is only the PDP-PCC media elements like Daniel Bwala, Dino Melaye, Dele Momodu & others that needs to be checked. I had expected some decorum in the activities of the PDP Media & Publicity division but the party's press statement on Kano incident yesterday proved me wrong and now it is dawn on me that both PDP & PDP-PCC media elements are full of desperate people.
To put the record straight, Governor Abdullahi Ganduje of Kano State and his responsible team of allies were aware of what happened in Katsina due to the pressure, the untimely decision of the Central Bank of Nigeria on New Naira Note is putting on Nigerians at the grassroots, hence they advised that the presidential visit to Kano be shifted to another date to avoid what happened in Katsina.
Meanwhile the PDP presidential candidate, Atiku Abubakar in his wisdom or lack of it, made an inevitable U-turn last week to join Asiwaju Bola Tinubu who like other well meaning Nigerians has appealed to the President and CBN governor to change their stance on the deadline of the exchange of the old naira notes after Atiku's media mad elements had thrown caution to the wind to manipulate Bola Tinubu's well intended messages in Abeokuta but it failed again as usual, lies cannot stand.
President Mohammodu Buhari listened to the voice of the people and approved the extension of the deadline as requested, then Governor Ganduje was happy, Kano people were happy and the President landed to the warm hands of Kano people and the visit recorded a huge success.
The PDP's media elements did not see anything good recorded in that successful presidential visit where the President commissioned eight gigantic projects that will have tremendous positive impacts on the economic growth of Kano people but the skirmishes that occurred aftermath the presidential visit caught their attention and they have the gut to put it in the media space a manipulative and blackmailing statement that Bola Tinubu organised the attack against Buhari in Kano, what a disgusting statement!.
Bola Tinubu that track records show that one of his leadership strength is turning miscreants to useful hands in the society.
Bola Ahmed Tinubu who is the incoming President of the Federal Republic of Nigeria by the grace of Almighty God and popular mandate of Nigerians is known to be an ardent promoter of rule of law, who has never engaged in physical violence or support same in any guise even in the face of numerous disappointments, betrayals and high level provocations, the most action Bola will take is going to court as a law abiding leader. How can such enigma be adjudged to have organised an attack on a President & the leader of his own party, indeed insanity is the synonyms of PDP.
Bola Ahmed Tinubu has never recorded any iota of sponsoring violence, supporting or encouraging same, rather he is an advocate of common sense revolution which encourages Nigerians to use common sense and put into perspectives the track records of each presidential contenders.
Who will Nigerians vote, is it Peter Obi who used the monies meant to develop and grow the infrastructure & economy of Anambra people to expand his private interest in a bank in the name of saving same while business-oriented Anambrarians run to Lagos to engage in highly rewarding businesses in a conducive business environment created by Tinubu or a Peter Obi that own a retailing shop in Nigeria selling all imported items thereby killing the local manufacturing efforts, or a Peter Obi that is indicted for corruption and tax evasions leading to closure of his businesses abroad (Panama, UK fresh in our minds) or
Is it Atiku who has six wives and thirty one children who are greedily hellbent on milking Nigeria and Nigerians dry in their bid to become multibillionaire with no serious business traced to them, or an Atiku that sold Nigerdock Shipping Fabrication Coy, sold Osogbo Steel rolling coy, Ajaokuta steel rolling coy, Nigerian Machine Tools, and Nigerian Telecommunication Coy, NITEL for pantry sums to his cronies thereby sent millions of Nigerians he is wasting his time seeking to lead, to poverty, hunger, depression or an Atiku under whose a whooping sum of 16Billion dollars was unaccounted for in an electricity project by his self confession or an Atiku who confessed to a crime of using SPV to siphon public funds when he was tested with a high office of Vice Presidency or an Atiku who has not shamelessly been able to defend or deny the damning voice and data evidences against him on numerous corruption and fraud allegations or is it Atiku that cannot manage & unite his workers, aides and party or an Atiku that his soul aim of becoming Nigerian President is to sell NNPC to himself by proxy, among other dubious and fraudulent intentions.
Is it a Bola Tinubu who has exhibited high patriotism in laying down his life, resources for deepening and sustenance of democracy in Nigeria or a Bola Tinubu who turned the misfortune of Ocean surge in Lagos to a big fortune for the growth and economic development of Nigerians in Lagos, or Bola Tinubu who negotiated Lekki Free Trade that is rewarding Nigerians in Lagos & beyond with sustainable businesses and jobs or a Bola Tinubu that has promised Nigerians both manufacturers, retailers and consumers credit facility lines that will enhance their economic activities at all levels, or a Bola Tinubu that has promised Nigerians that there will be no estimated billings under his watch, or a Bola Tinubu that has promised that under his watch, no civil servants will be promoted based on ethnic, religious or status colorations or a Bola Tinubu that has promised that no Nigerian will be arrested or detained indiscriminately without recourse to the law under his watch or a Bola Tinubu that he is the only one speaking to issues and proffer solutions as they affect Nigerians.
After putting common sense into perspective in analysing the records, recent & past activities of the presidential contenders, Nigerian voters & the masses have resolved to reject Peter Obi, dump Atiku and but canvass votes, influence votes, pray, support and vote for Asiwaju Bola Ahmed Tinubu as the President of the Federal Republic of Nigeria come 25th February, 2023.
Shame to shameless Atiku Abubakar and PDP, PDP-PCC selfish Media Elements.
Comrade Adeboye Adebayo is the National Media Director, Asiwaju Project Beyond 2023 & Spokesperson at APC, Tinubu/Shettima Presidential Campaign Council