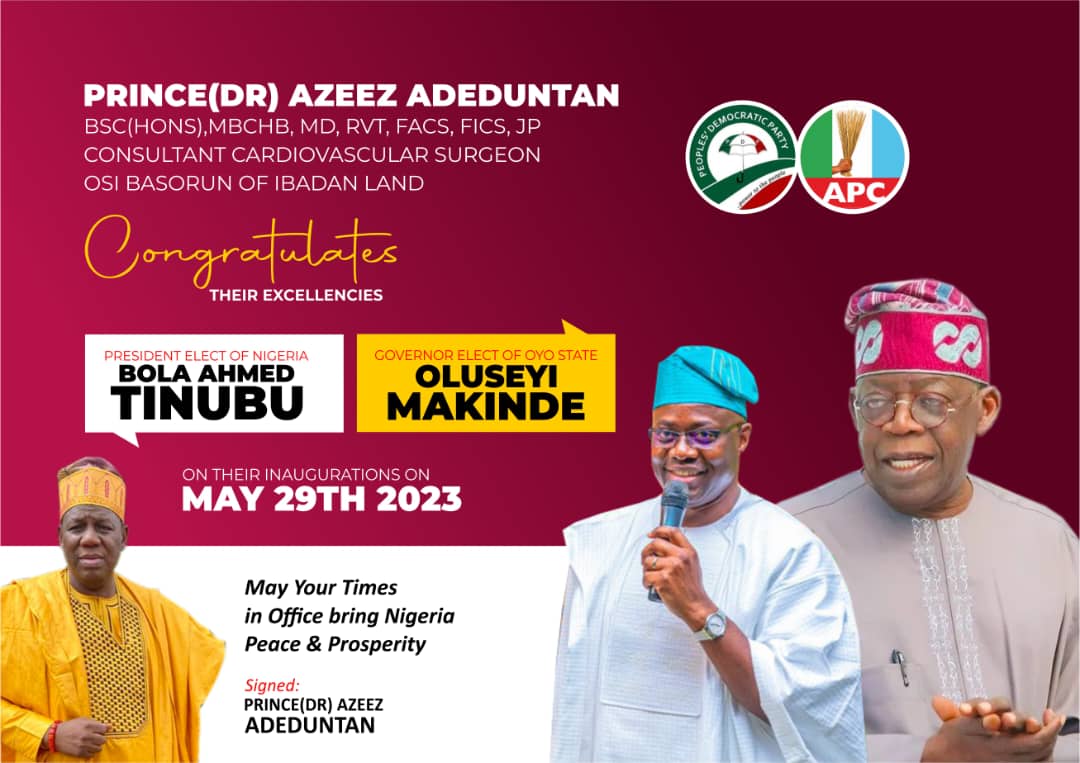 Osi Bashorun Adeduntan Mourns Murphy Afolabi
..describes him as pride to Yoruba nation
Monday May 15, 2023
Following the death of popular Yoruba Nollywood actor, Murphy Afolabi, a foremost Ibadan based Harvard University trained cardiovascular surgeon, Dr Azeez Adeduntan has expressed sadness over the actor's death and speculations trailing his demise.
Describing Afolabi's death as a personal loss, Dr Adeduntan disclosed that being a Yoruba irredentist has created a sort of connection with the deceased and other Yoruba actors even though without any personal connection which culminated into the feeling of a personal loss.
The former Governorship candidate and Commissioner for Health in Oyo state under late governor Abiola Ajimobi made this known in an advisory message sent to a dedicated WhatsApp platform on Sunday evening of May 13, hours after the internet became awashed with the news of Afolabi's death.
Dr Adeduntan, who is the Osi Bashorun of Ibadanland frowned at different speculations regarding Afolabi's death while advising people to endeavor to engage in regular physical examination of their anatomy including their cardiac function and blood pressure from time to time.
While making inferences to past incidence of notable persons who lost their lives to cardiovascular related health issues, the Osi Bashorun of Ibadanland, being an American Board of Surgery (ABS)-certified Vascular Surgeon has also disclosed that a number of health related issues could account for why people slump and die.
Osi Bashorun Of Ibadanland attended Harvard Medical School, Boston Massachusetts for fellowship training in Vascular Surgery.
Dr Adeduntan, who is also a Fellow of American College Of Surgeons (FACS), Fellow, International College Of Surgeons (FICS), Member, Society for Vascular Surgery (SVS), Society for Clinical Vascular Surgery (SCVS), às well as Peripheral Vascular Society (PVS), Society of Diagnostic Medical Sonographers (SDMS) in his advisory message said, "Seriously pained by this middle aged man, 49 year old sudden death today few days after he celebrated his birthday on May 5, 2023.
"While it may be sudden to all of us, Murphy could have a pre existing heart problems unknown to the public.
"His cause of death being peddled by the public as resulting from injuries he sustained after falling on a tiled floor are very pedestrian, at worse a secondary diagnosis.
"His primary diagnosis is likely a myocardial dysfunction, especially heart attack, transient ischemic attack, stroke in evolution or established stroke that could make him to pass out and fall.
He needs an autopsy to confirm cause of his death as evidenced below:
"A former speaker of oyo state House of Assembly, ADESINA ADEYEMO died on Friday, April 27th 2018, of massive heart attack. He was 48 year old. I was present at his autopsy.
"Kassim Ayilara, deputy speaker of oyo state House of Assembly died at 38 yrs of age in year 2012, so bad that he couldn't reach the University College Hospital, UCH emergency room. He died of massive heart attack.
"Painfully, another former speaker of Oyo House of assembly, Kehinde AYOOLA–a brilliant and quintessential gentleman who I also loved, died on May 14 2020 with a pre existing heart problems at 55yrs of age unknown to the public.
When his death was announced, the public was aghast.
"So it is not every death that is sudden as speculated. It is usually unknown to the public or the patient himself. Death and age are no longer related. We are no longer in the analog age, we are now in the digital age.
"It is your physiological age evidenced by cardiac functions that matter, not the age you were born. To readers, please, do regular physical examination including your cardiac function and blood pressure from time to time.
"I don't know Murphy AFOLABI from Adam but as an Ibadan man and a proud Yoruba Irredentist, I have watched his movies and others and have tremendous liking and love for him. I felt a sense of personal loss.
"May almighty Allah comfort his family, be pleased with him and accept his return." Dr Adeduntan said.