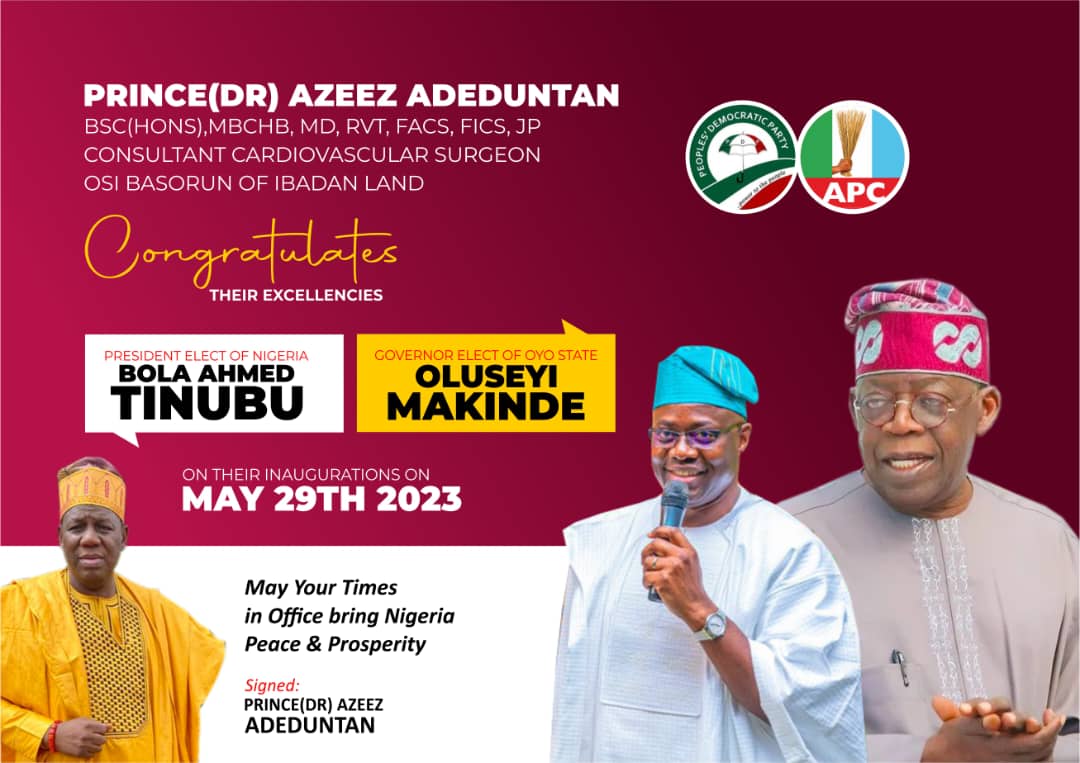 Let's Continue To Pray For Nigeria, Oyo State, Governor Makinde Advises Christian
..as Methodist Church Honours Oyo First Lady, others
Tuesday July 25, 2023
The Oyo State Governor, Engr Seyi Makinde has admonished Christians to continue to pray for Nigeria and Oyo State even as the people undergo trying times in the recent subsidy removal.
Governor Makinde gave this admonition at a special church service organised by Methodist Church Nigeria, Elekuro, Ibadan to honour Prominent christians with the Knight of John Wesley (KJW) awards.
Governor Makinde who was represented at the service by his Executive Assistant on Administration, Rev Idowu Ogedengbe, stated that it important for Christians to pray ceaselessly for the peace and prosperity of the nation and the state.
He counselled Christians to remain steadfast not minding the relative hard times across Nigeria presently, noting that there is nothing God cannot do.
According to him, "God can still cause beauty to come out of our ashes again though it may be very challenging now. We all might be feeling the pains, but if we endure a little more, the Bible says after we have suffered a while, God will strengthen us, establish us and settle us, so we trust God that He will settle everyone of us.
"The Church still needs to be more visible and more outspoken when it comes to raising the standard of righteousness in our society, I believe it is as a result of the commitment of the faithfuls who keep emphasising the place of righteousness, the place for people doing what is acceptable and right for the nation building that we have made the progress we have made so far."
The representative of Governor Makinde attributed the award to the recognition of the roles the wife of the Governor has played, not only within the Christian body, but among the masses in the state.
Rev. Ogedengbe stated further that the award, as a great reward, is a glowing testimony of the contributions of both Governor Makinde and his wife to the society.
The Wesley Methodist Church Elekuro, Ibadan on Sunday hosted dignitaries across all spheres of life as prominent Nigerians were honoured with the Knight of John Wesley (KJW) awards.
Other notable Nigerians that were honoured included the Ogun State former Head of Service, Princess Iyabode Odulate, Engr. Dotun Sanusi among others.
Earlier in his sermon, the Methodist Bishop of Owerri, The Right Rev. Dennis Mark, urged the awardees to be useful for the kingdom business and to do more services to humanity.
The Bishop urged them to provide good leadership wherever they may find themselves and use their position to the glory of God,
while pointing out that whatever they do for God will not be in vain, the cleric maintained that the time of reward would come.