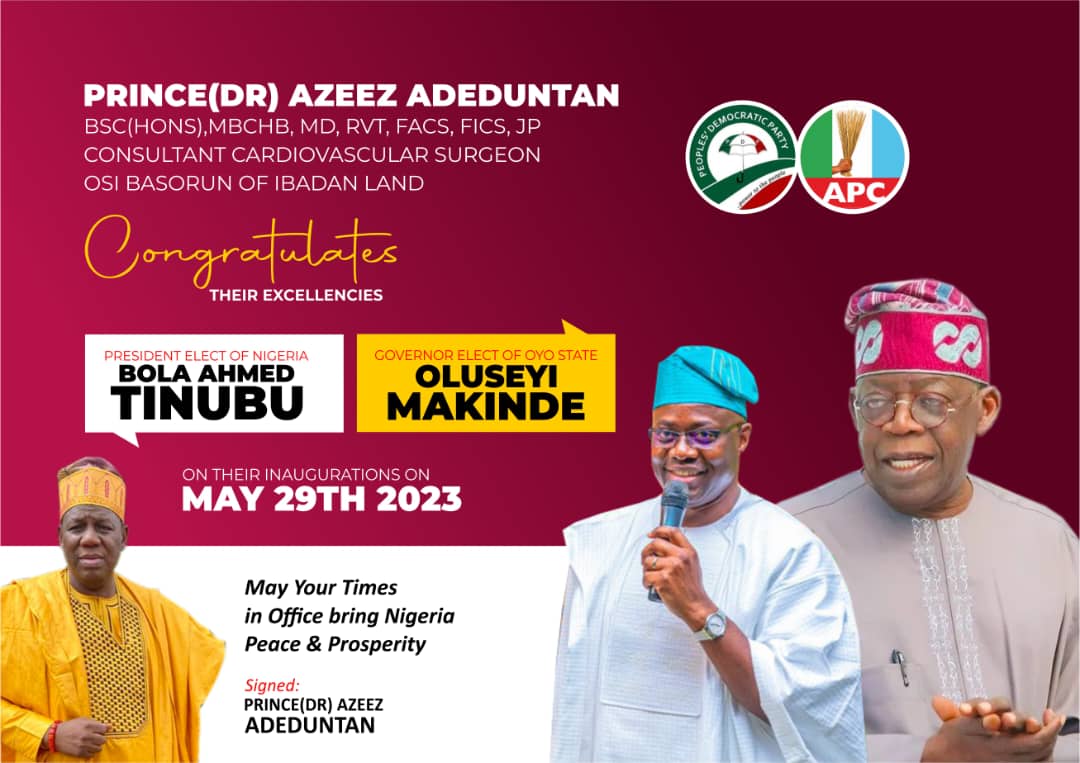 Late Abiola Ally, Su-Kazeem Commends Labour Leaders For Suspending National Strike
..no harm must come near Tinubu, Su-Kazeem warns
Thursday June 8, 2023
A close associate of late winner of June 12, 1993 Presidential Election, Bashorun Moshood Kashimawo Olawale Abiola, Alhaji Sufianu Kazeem popularly called Su-Kazeem has commended leaders of Nigeria labours union and associations who has shown patriotism in recent times over the planned strike which was subsequently suspended.
In a release by his media team in Ibadan on Tuesday, Su-Kazeem showers encomium on various union leaders who had shelve their industrial actions for peaceful interface and dialogue.
The Ibadan based property mogul explained that it is important for all Nigerians to join hands with President Bola Ahmed Tinubu in his effort of moving the nation forward.
The Elder statesman described Tinubu Presidency as historic and dawn of new hope for Nigeria Democracy.
Alhaji Kazeem then caution those with evil plans and may be working against the well being of the President to desist from such plans in order to protect the unity of the country.
He added that any untoward attitudes targeted against the President by any group may signalled the end of the nation's existence.
Alhaji Sufianu Kazeem called on Nigerians from all diverse to support President Tinubu and cautions against any forms of agenda to undermine, intimidate or cause any forms of harms to the President.
He stated that the election of President Tinubu on the 25th of February was free, fair and credible hence the need for all to work with him.
He added that Tinubu must be in good and sound health in order to take the nation to its place of destiny as being witnessed now.
The Elderstateman also recalled the events of October 30, 1999 when he counselled the late legal luminary, Gani Fawehinmi on the need to discontinue his case then against Bola Ahmed Tinubu as the then Governor of Lagos State on the issue of certificate forgery.
"Sometimes in October, 1999, immediately former Speaker, House of Reps, Salisu Buhari was removed, I granted an interview in Tribune newspaper and advised Late Fawehinmi to discontinue his case against Tinubu which he did and saw Tinubu completing his tenure.
So again this time, I'm calling on every Nigerians not to allow enemies of democracy to thwart the effort of Mr President as we are witnessing now as anything contrary to this may not be too good for the nation."