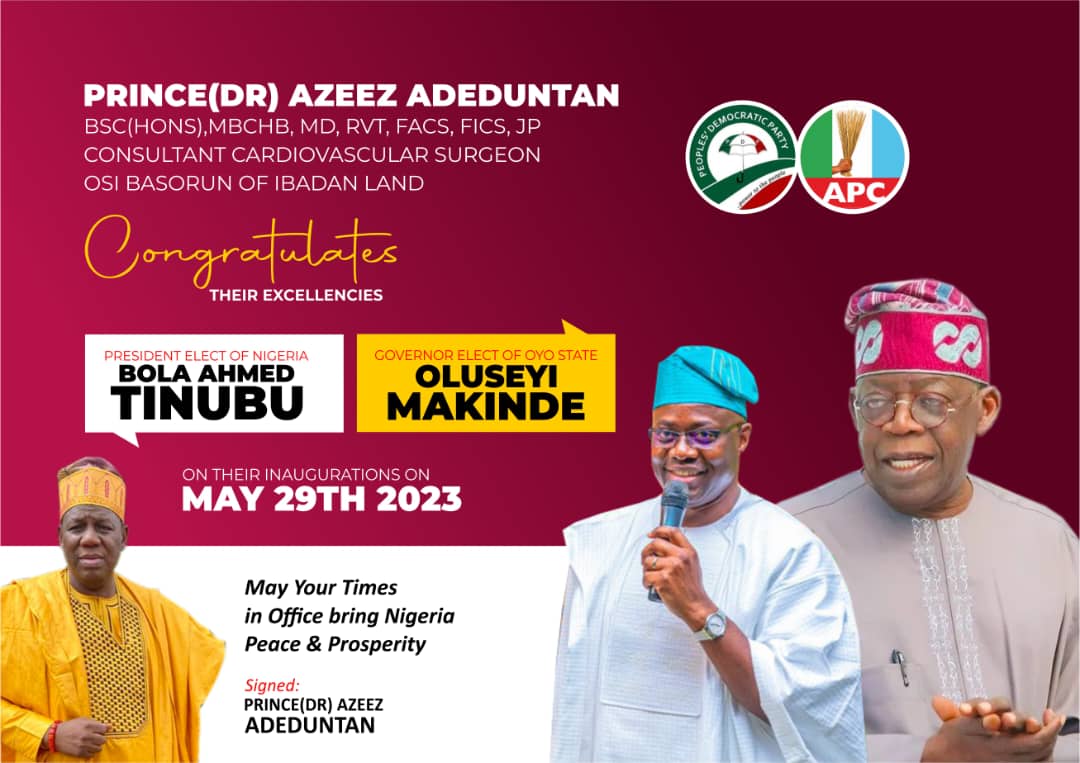 Ibadan North Reps Candidate, Sarumi Donates Cash Empowerment to Constituents, Improves Sabo Healthcare Centre Workforce For 24-Hour Service Delivery
Monday November 21, 2022
As part of his philanthropic gestures and in a bid to fulfill his promises to his constituents, the PDP House of Representatives candidate for Ibadan North Federal Constituency, Hon Lanre Sarumi has put smile on the faces of hundreds of Sabo community residents in Mokola, Ibadan.
Hon Lanre Sarumi, who went with his team from house to house, street to street and even room to room to give cash donation to the less privileged, petty traders and the needy, said his intention is beyond political ambition as his antecedent shows he always identify with the less privileged.
The Ibadan-born Software Technology Delivery Consultant who also recently employed four health workers to boost the workforce of Sabo Healthcare Centre in order to enable the centre function maximally for 24 hours daily, said the cash empowerment becomes necessary considering the economic situation of the country.
"The economic situation of the country and its attendant effects on the people is so conspicuous, hence the need to put smile on the faces of some our people in my little personal capacity.
"I realize that what some people need to meet their daily need is just token amount of money to start little business to survive, so I decided to help them with cash gift to enable them start one business or the other." Sarumi stated.
While urging the beneficiaries of the kind gesture to utilise the cash gift judiciously to improve their lives, Sarumi also used the opportunity to call on well-meaning Nigerians to always help the poor and the needy, stressing that it will go a long way to reduce crimes and other vices in the society.
Earlier at Sabo, Sarumi paid a courtesy visit to the palace of Sarikin Hausawa of Ibadanland, Alhaji Ali Tahiru Zungeru who warmly welcome to prospective lawmakers alongside his team.
"I'm here to pay homage to the Sariki and to put smile on our people's face. I can also call myself a Sabo boy because I grew up in Mokola and I always came to Sabo as a young boy. Even my father was a Sabo man.
"I pray that God will grant our request so that I can fulfil all my other promises." He said.
Prominent Sabo residents, Alhaji Garba Danjuma and Alhaji Sheu Idris who spoke for the Sarikin, assured Hon Sarumi of the the entire community's support, pledging that his kind gestures to the needy and the less privileged among them will be adequately reciprocated when the time comes.
Also on the entourage of Hon Sarumi was the former Deputy Speaker of the Oyo State House of Assembly, Right Hon Tunde Olaniyan, who described Sabo community as the second home to Ibadan North politicians. He stressed that whoever Sabo Community Supports, just as they are supporting Hon Sarumi, will definitely enjoy grace of God. He urged them to continue their support for the young lawmaker, adding that their support will not go down the drain.