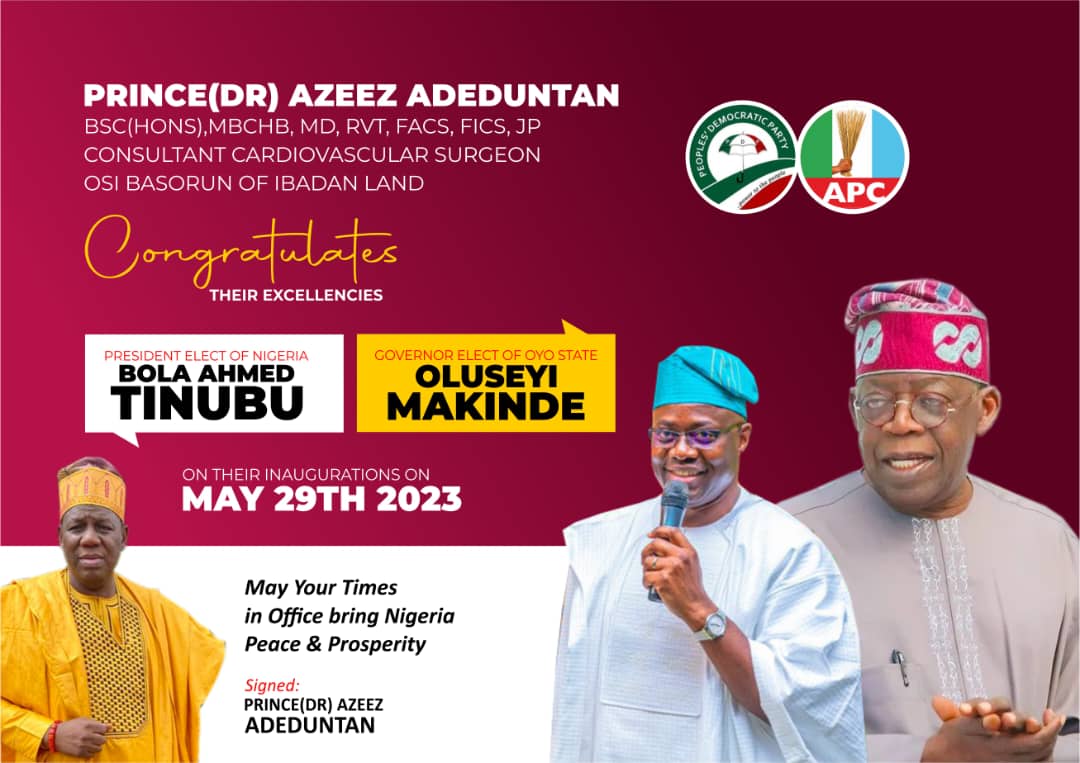 Ibadan Based Property Mogul, Su-Kazeem Felicitates Tinubu @ 71
..Tinubu is the first Yoruba Elected President – Su-Kazeem
Wednesday March 29, 2023
Prominent Ibadan Based business man and one of the close ally of Late Chief M.K.O Abiola, Alhaji Sufianu Kazeem has felicitates the Nigeria President-Elect, Asiwaju Bola Ahmed Tinubu on the oçcasion of his 71st birthday.
Alhaji Kazeem popularly called Su-Kazeem in a release through his media office in Ibadan on Wednesday branded Tinubu as a leader with a penchant for distinction in leadership and an unshaken proponent
of the culture of role modelling of younger
generations.
The release said every Nigerian has
acknowledged the outstanding role played by Tinubu as a statesman, politician and now President-Elect to bring sanity into the politics of the country as distinguished opposition leader since 1999 and now President-Elect of Nigeria.
He said Tinubu also played a strategic role in the consummation of the All Progressives Congress in 2013 through the amalgamation of regional
parties to rescue the nation from sliding into a
failed state, which culminated in President
Muhammadu Buhari's presidency.
Alhaji Kazeem further disclosed that going by the record and circumstances of election and democracy in Nigeria, Tinubu is the first Yoruba President to be elected and not selected or appointed by the power that be.
He stated that the election that produced Asiwaju Bola Ahmed Tinubu was free, fair and credible and accepted by majority of Nigerians not minding minority complains by some selfish politicians.
The Elderstateman then called on all Nigerians irrespective of tribe, religion or political differences to support President-Elect Bola Ahmed Tinubu for him to succeed in his new role.
Alhaji Sufianu Kazeem assured the incoming President of his support and cooperation at all times as well as elderly advice as at when necessary.
Alhaji Su-Kazeem wished Tinubu good and sound health as he preperes to take the mantle of leadership of Nigeria.
I, Alhaji Sufianu Kazeem on behalf of my immediate family and comapany felicitate with this thorough-bred patriot
and a distinguished Nigerian President-Elect on his 71st birthday.
"Asiwaju Bola Ahmed Tinubu as a Governor of Lagos State didn't only turn around the economic fortunes of Lagos and Lagosians, but he made the State a mini Nigeria via assemblage of eggheads
from East, West and the North to drive the
government.
This has become a template in Lagos up to now. As he prepares to lead the while nation, I believe he's capable, and will do more than that of Lagos.
"I pray that Almighty Allah shall grant him good health and long life as he leads Nigeria."