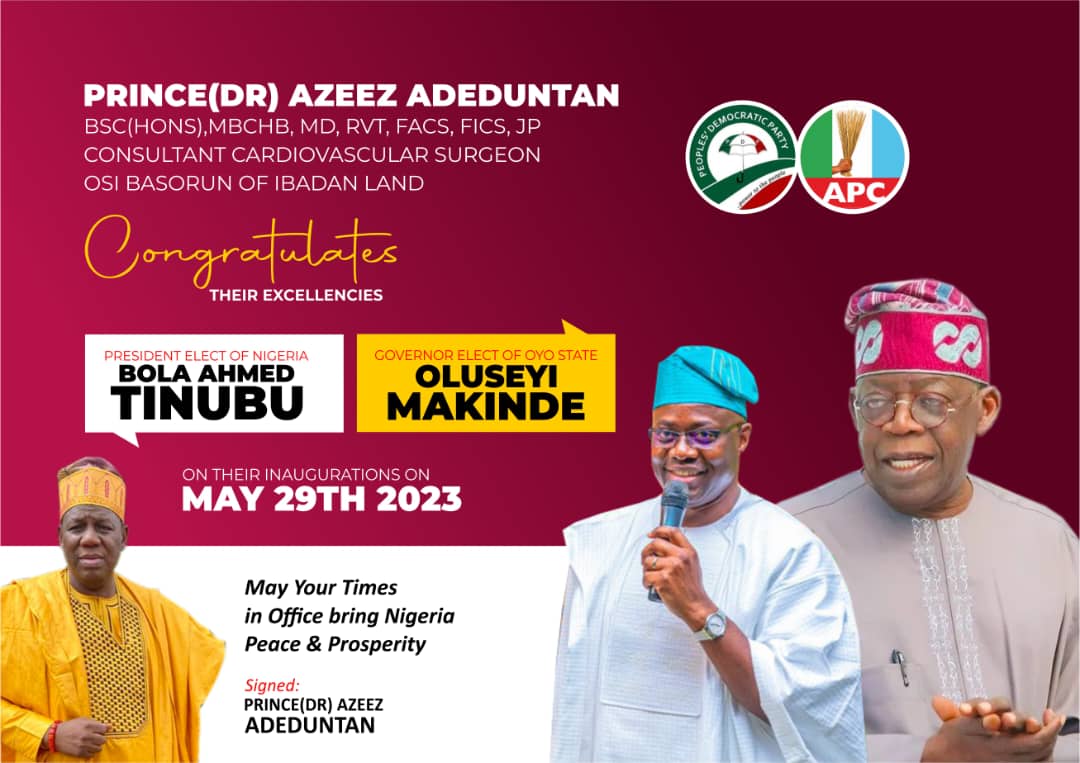 Governor Abiodun Kick- Starts Campaign
..promises Agric, Technical Colleges for border towns
Thursday January 5, 2023
The Governor of Ogun State, Dapo Abiodun who is seeking second term under the platform of the ruling All Progressives Congress(APC) on Thursday officially kick-started his campaign from Imeko-Afon local government area of the state.
Abiodun accompanied by chieftains of the party led by former Governor Olusegun Osoba as well as other leaders across the state were at Afon, Ilara communities with grandfinale of the campaign held at Imeko, the headquarters of the zone.
The Governor in company of Senatorial, House of Representatives and House of Assembly candidates of All Progressives Congress (APC) in Ogun West region of the state also took time to visit traditional rulers of the zone to seek their royal blessings ahead of the 2023 general elections
The campaign rally also recorded a new feat as number of party members returned home with various household items as well as working equipment to support their choice trade and profession, having won during a draw
Former Governor of Ogun State and leader of the party, explained that his coming to Imeko-Afon local government area was like homecoming recalling that it was administration which brought electricity to the region.
The veteran journalist turned politician said he encouraged Governor Dapo Abiodun to motivate his(Osoba) administration, which he said Abiodun has keyed into and paving way for success of his(Abiodun) administration, adding that he can vouch for competence of the Governor.
Osoba called on party members to genuinely work towards success of the party at poll, and also encouraged electorate to vote for candidates of All Progressives Congress(APC) in the 2023 general elections
"I am happy to be here again because I brought electricity to the entire region during my tenure. This is homecoming. I told Governor Dapo Abiodun to emulate me and he's doing that. I am convinced that he's capable, so let us vote for him and all All Progressives Congress(APC) candidates", Osoba emphasized
In his speech the Governor said he would continue to fulfil his pledges which he is known with, and encouraged electorate to also encourage him with votes,appealing to them on need to collect their permanent voter cards ahead of the poll.
He pledged that his administration is to establish college of technical institute in Imeko, and also addressed challenges of bad roads with the Imeko-Afon local government area.
The governor assured his administration readiness to reconstruct the Abeokuta -Afon road.
He said, "I will commence the reconstruction before the end of the election to boost the socio-economic development of this area.
"We reconstructed Oke-Ola road here Imeko -Afon within stipulated period. We have been doing our projects without making noise and we will not stop doing things that would be making our people happy."
Abiodun canvassed for votes for all APC candidates in the state, especially its presidential candidate, Senator Bola Ahmed Tinubu.
He further promised that a School of Agriculture and Technical College would be established by his administration.
Abiodun, " We have constructed at least one road per local government since we came into power. The last time we witnessed such was during the administration of Chief Olusegun Osoba.
"We will not relent in doing more for the people of the state. I urged you to go and collect your Permanent Voter's Card (PVCs) to enable you participate in tbe elections.
"The deadline for collection is January 15th. Please encourage one and other to participate actively in the electoral process for continuity."