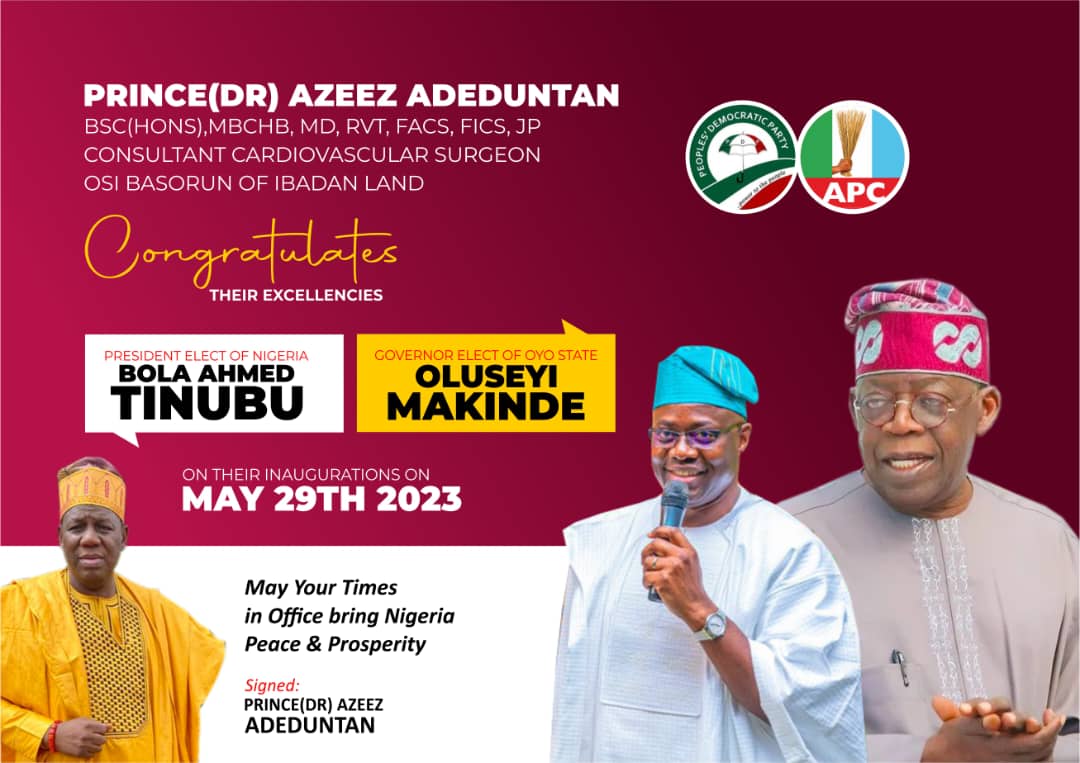 Breaking! APM Collapses Structure In Oyo as 21 Candidates, all Exco Join APC
Thursday February 23, 2023
Few hours to the presidential and national assembly poll, the camp of the Oyo state chapter of the All Progressives Congress (APC) received a major boost as a major rival political party, Allied Peoples' Movement (APM), collapsed its entire structure while its leadership announced that at least 25 of their candidates for the 2023 general election and the whole of their State Executive Committee members have joined the APC.
This announcement was jointly made by the trio of the National Vice Chairman (South West) of the party, Engr. Adewale Durojaiye, the state Chairman, Alhaji Ganiyu Ademola, and deputy governorship candidate of the party in the 2023 poll, Mrs. Funmi Omoniyi, as they spoke at a press briefing organized after a meeting with Oyo APC Chairman, Mr. Isaac Omodewu, and Senator Teslim Folarin who's is the broom party's gubernatorial candidate at the APC's state secretariat, Oke-Ado, Ibadan on Thursday.
According to Durojaye, the decision to fuse the entire structure into Oyo APC was "borne out of the burning desire to be part history as Nigeria is set for a turn around under Asiwaju Bola Ahmed Tinubu who would emerge as the next President of the Federal Republic of Nigeria. We have seen from all indications that Tinubu would not only defeat all his other contestants on Saturday but he would also win convincingly with a wide margin to set an unprecedented record. We cannot afford to be left behind as patriots and democrats."
In his own address; the APM's state chairman, Alh. Ademola, stated that they took the bold step after wild consultation with relevant stakeholders from.within and outside the state. His words; "we have a crack team of strong candidates, executive committee members at all levels as well as teeming population of our party faithful from across the 33 Local Government Areas in the state. Although we cannot tell the public the disposition of our Party's gubernatorial candidate to this move as we have lost communication with him for some weeks now, I am glad to tell the whole world that the deputy governorship candidate and 24 other candidates of Oyo APM are in full support."
In his reaction; Oyo AP's chairman, Hon. Omodewu lauded the defectors and assured them of robust relationship as stakeholders in APC. According to him; "it takes a lot of courage and foresight for this kind of decision to be made by any politician at a critical stage like this. We now have it on record that your team of distinguished politicians and patriots acted right when it mattered and your place in the book of history shall be guaranteed as having aided the cause of nation building".
Among members of the APM's state executive committee and other state who were present at the meeting are; Hon. Kayode Adeyinka (state Secretary), Comrade Samson Adesiyan (state organizing Secretary), Mrs. Falilat Amoo (state women leader), Comrade Lanre Badmus (state youth Leader), Mr. Mobolaji Elewi (state financial Secretary) and Mr. Adeoye Adedokun (state public relations officer) as well as Oyo North Senatorial Candidate, five House of Representatives candidates and 20 House of the candidates.