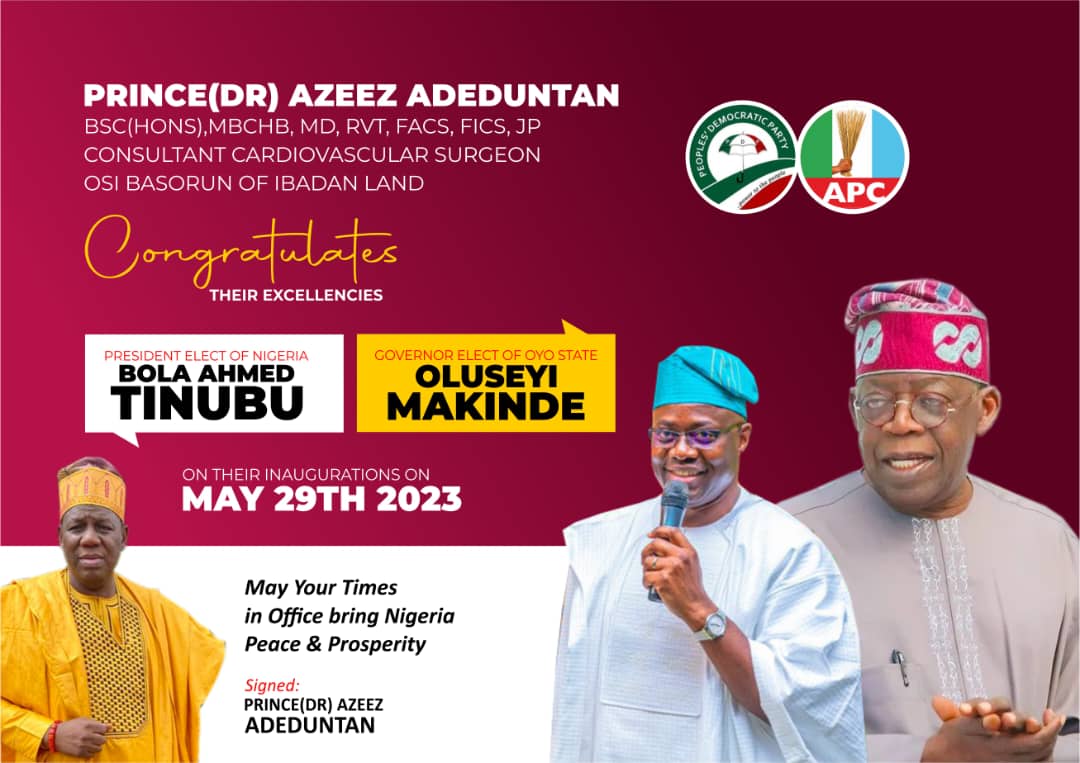 My Passionate Message To Nigerians – Oluyole House of Reps Hopeful,Alesinloye
Thursday February 23, 2023
Don't let the Naira crisis demobilise you. Please come out enmasse and exercise your franchise
There's no doubt that the Naira redesign and swap crisis has dislocated the socio-economic life of Nigerian citizens particularly the poor and vulnerable daily income earning citizens – farmers, trader,s, market women, artisans and other small scale businesses at the grassroots. The resultant adverse effects are mass hunger and anger, increasing mass impoverishment and threat to national security and democracy.
No matter the good intentions of the Naira redesigning by the Central Bank of Nigeria (CBN) and endorsed by President Muhammadu Buhari, the outcome as seeing in street protests, violence, fighting and dehumanisation in the banking hall and premises show that the project was ill-timed, not well thought out and counterproductive.
With the mass rage that greeted the Naira crunch, the Federal Government of Nigeria should have a rethink and take the opportunity of the Supreme Court injunction against it to reverse itself immediately and allow the old and new naira notes to run pasupasu. This will alleviate the unnecessary suffering of the citizens who are the target beneficiaries of the Naira design.
Instead of being reactive now, the national assembly should have been proactive with courage to see the danger ahead before or as soon as the new naira project kicked off. This is a failure of oversight function of the national assembly.
While I condemn vote buying and selling which is against the electoral law, but targeting vote buyers, government should have taken into consideration the unintended consequences on the general citizenry who now bear the agony and brunt of the Naira crisis.
I appeal to all eligible citizens to come out enmasse to vote for the best candidates of their chances. In particular in the Oluyole Federal Constituency whose voters and people have implict confidence in me as their trusted grassroots leader and servant with passion for over twenty years. Voters apathy favours election riggers and criminal vote buyers. Don't be frustrated angry alone and stay at home, your votes may take you out of frustration if cast wisely and a better future is guaranteed after the crisis that engulfed our nation.
A proactive legislature will also make this collective envisaged prosperous future possible for us and our children. This I promise.
Please come out enmasse without intimidation, inducement, violence. Today is a story told tomorrow may be written in gold. Thank you.
Prince Ayodeji Abass-Aleshinloye
Accord Candidate for Oluyole Federal Constituency, Ibadan Oyo State