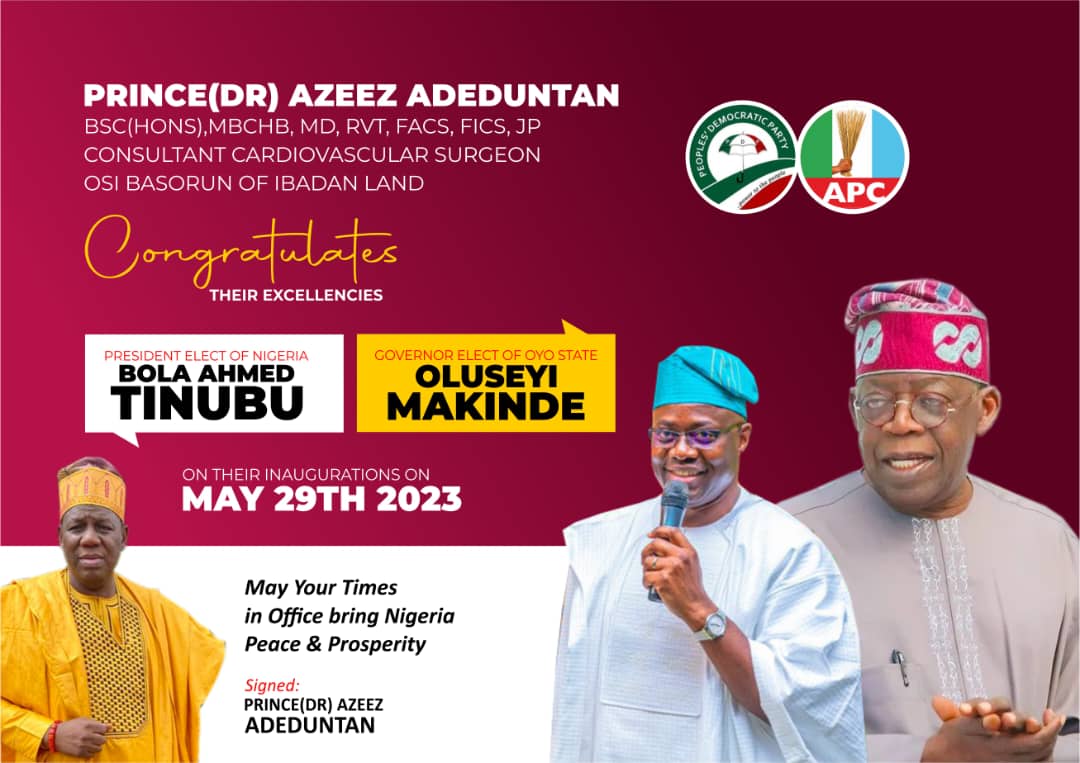 2024 And The Choice Before Edo.
_Spotlight on Prof. Sen. Oserheimen Osunbor_
Thursday May 25, 2023
With unofficial social media and mosquito campaigns on-going for the 2024 Edo state Governorship elections it is imperative at this time to reflect on the type of person the heartbeat of Edo needs to elect to the office of Governor after the disastrous locust years of the Godwin Obaseki junta.
It boils down to the expectations of Nigerians of Edo origin at home and abroad. Without a doubt, we want to have a state that works and daily can provide the basic needs of citizens: water, motorable roads, safety and security, affordable healthcare and functional infrastructure.
Edo deserves a state whose leadership is imaginative, creative and eager to transform Edo from being perpetually "a civil service" or "ancient state", to one whose potentials can be harnessed and effectively mobilized to extract positive results to make life better for the majority of the people.
Edo needs a governor who listens and hears, one under whose watch and inspiring leadership we can change the narrative and ignite the vibrant neglected engines of growth which will result in actual gains and true greatness. In real terms, Edo needs a builder who knows how to organize and harmonize the various elements of the state in a manner that will position it on a new trajectory for the realization of our full potentials.
In 2024, the Governor Edo needs is he who can rebuild the state of our dreams. The only way to decide who best meets these requirements amongst the aspirants, pretenders and charlatans presently roaming the political space is to examine the track record of one of them: Senator (Prof.) Oserheimen A. Osunbor, Ph.D, D.Litt, KSC, FCArb, FNIALS, Rhodes Scholar who I don't see as an aspirant but candidate!
As an aspirant for Edo state governor come 2024, Senator Osunbor can be labelled as eminently qualified, prepared and well suited for the task ahead because he possess the following qualities
Leadership Skills:
The former Senator possess excellent leadership skills that include the ability to make effective decisions, communicate efficiently, and inspire people to work together towards a common goal.
Vision:
Professor Osunbor has a clear vision for Edo state and Edo people are very articulate. This vision is realistic, achievable, and 100% beneficial to the people of the state.
Problem-Solving Skills:
Senator Osunbor is going to be one governor who will be able to identify problems affecting our state and come up with practical solutions to address them. This requires analytical thinking, creativity, and strong decision-making skills.
Integrity:
Professor Osunbor is one Edo person of high moral character, honesty, and integrity. Testimonials abound of his transparency in his dealings and ethical standards.
Experience:
It is not in doubt that this man has the relevant experience to serve as Governor. A two term Senator? In the academia, the public service, in politics, or any other field Osunbor provides a good background for the job. This experience reveals insights into the workings of the state to enable him to make informed decisions for good governance. He will not need to learn on the job
Communication Skills:
Senator Osunbor has excellent communication skills and his capacity to interact with various stakeholders, including citizens, and the media is on record. He is one person Edo people know is able to articulate his vision and ideas effectively.
Ability to Work with Others:
Senator Osunbor can work effectively with stakeholders, and interest groups in the interest of our state. His negotiating abilities are innate, so he is endowed with the ability to achieve the long desired aspiration of all Edo people for good governance.
Written by Ahmed Osato Odine. He writes from Benin City.