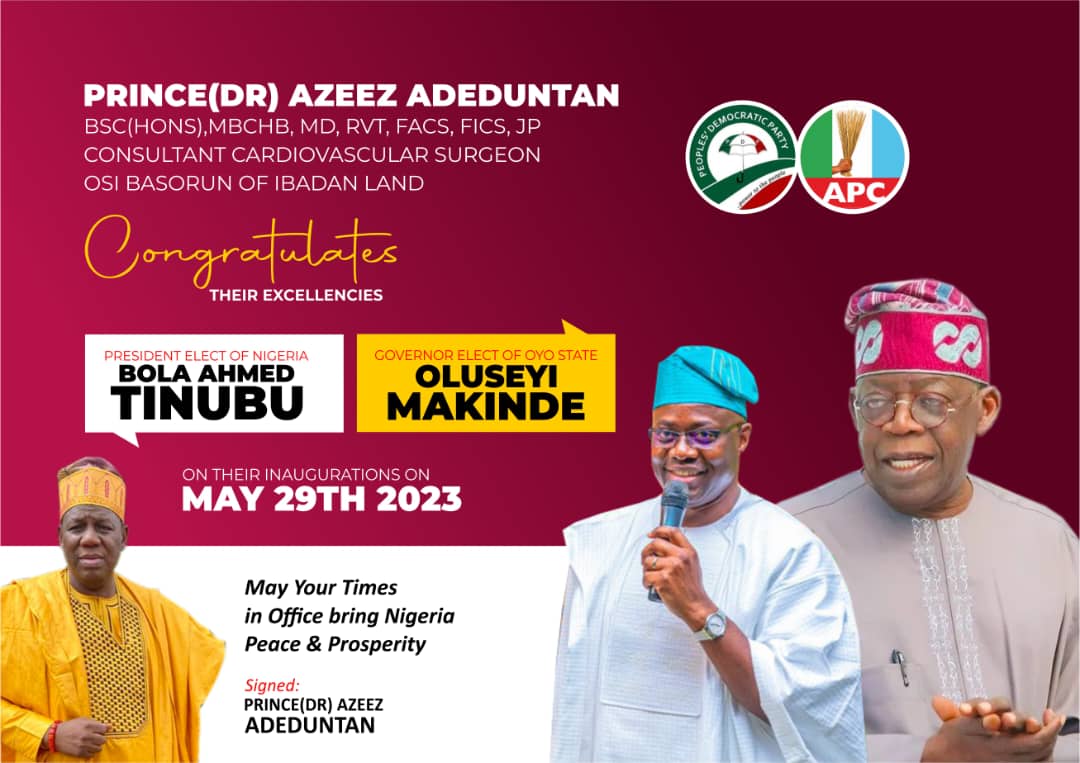 The OSI BASORUN OF IBADAN LAND and one of the vetted and cleared GOVERNORSHIP aspirants ,in the 2022 OYO APC FRAUDULENT (JAGBA) primaries ,PRINCE(DR) AZEEZ ADEDUNTAN ,has advised presidential and other candidates of various parties to dwell on what unites us ,rather than what divides us.
This statement was in response to journalists questions at an Islamic function at ODO OYE in IBADAN today..
Osi Basorun ADEDUNTAN-an Ibadan high chief and a prince of OYO of ALAFIN ONISILE dynasty (1742-1750),claimed that NIGERIANS immediate problems are insecurity of lives and properties and survival of daily living as people are suffering; both of which are existential threats.
The nationality issue being pushed by IPOB and Odua nation are long term and can wait.
ADEDUNTAN-an international surgeon and former OYO STATE health commissioner ,stated that Nigerians are currently suffering amidst runaway inflation,poor foreign exchange regimes ,with loss of NAIRA values.
Staple food items for the poor are no longer affordable-bread,cassava products,RICE ,AMALA,TUWO .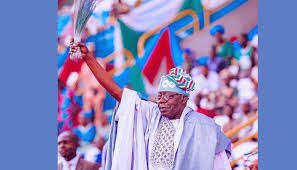 Kerosene the fuel for the poor and DIESEL as well as PMS are so expensive even for the rich.
Neither TINUBU nor any of the candidates is running for the office of POPE(PAPACY) nor the GRAND MUFTI of Saudi Arabia.The issue of the MUSLIM-MUSLIM ticket is overblown and totally misplaced.what if TINUBU had chosen a Babalawo or an atheist?
Yes we know inflationary pressures are world wide,same as insecurity.
Yes we know we are fighting asymmetric wars against bandits,terrorists armed robbers etc
Nigeria is a secular state(1999 CFRN as amended ).
The Population of the world according to current data from the United Nations-is now about 8 billion with both Christians and Muslims together less than 3 billion(30% of the world population.)
It is therefore clear that more than 5billion (70%)of the world population are neither Muslims nor Christians.
We have Judaism,we have Hinduism,monkhood etc all of who believe in one supernatural GOD.
We do not have only Christians and Muslims in NIGERIA.
We have our traditional religion worshipers,we have pagans,we have atheists ,with GOD as the peak for all.
ADEDUNTAN advised all candidates to limit their debates to issues listed above rather than insults.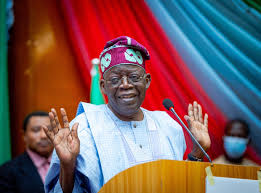 All Nigerians are in pain regardless of class.What we need is a president that can unite us ,restructure the country speedily and bring us back to prosperity,ensure security of lives and properties,not throwing the Bibles and QURANS against each other as if the two holy books are the only pathways to GOD.
God is omnipresent,and omniscient.we will only know who is serving him on the day of resurrection by Christians or the day of Aljanah(YAOMIL QIYAMAT) by Muslims .
May almighty GOD bring NIGERIA back to her GOLDEN ERA ,where we can walk the streets safely,abundant food ,security of lives and properties,prosperity and a detribalised nation.
That is what the presidential campaign is about,all over the world and what it should be about,in NIGERIA,not about religion-an individual's choice.