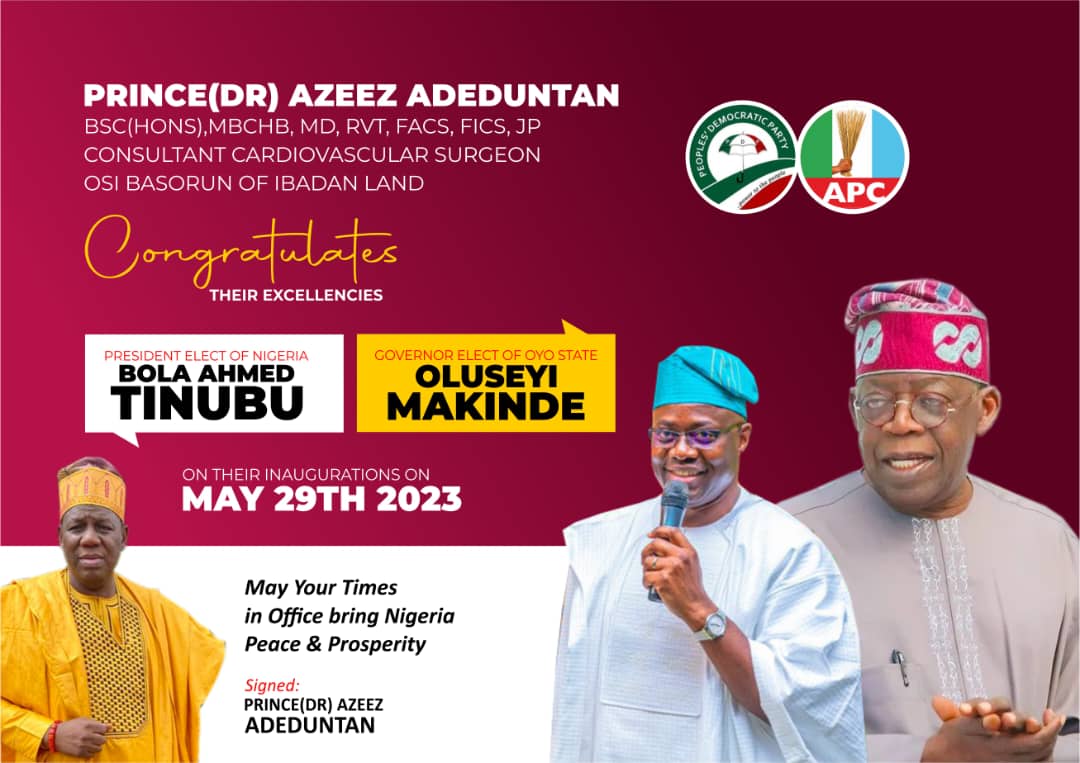 OYO MISTERIAL: ESV., ISMAIL ADEWOYIN WRITES TINUBU ON ANOTHER IBADAN INDEGENE NOMINATED
OYO MINISTERIAL NOMINEE, A LOPSIDITY IN APPOINTMENT
Wednesday August 2, 2023
Dear President, Asiwaju Bola Ahmed Tinubu, GCFR .
We are thanking God for thus far in your 60days in office with enormous challenges before you. May you succeed in your quest to return Nigeria to the comity of great nations.
It is no longer news and as it has been highly speculated that, another indigene of Ibadan would be nominated as Ministerial nominee from Oyo State.
While , we don't have problem with individual's nominated but, we hold strong reservations against this lopsidity in the appointment of people from same local government (Ibadan North East LG), with the incumbent Governor of Oyo State, *Engr*. Seyi Abiodun Makinde.
It speak mockery of Democratic Culture we strongly believe you holds in high esteem that, Oyo State with Ibarapa, Oyo, Ogbomoso, and Oke-Ogun Zones would be left empty in appointment considerations of the Federal Government under your Presidency. Specifically, the two Ministerial Nominee's from Oyo State are of Ibadan Zone.
Mr Adebayo Adekola Adelabu FCA, from Ibadan South East LG ( Mapo), a brilliant chap has been nominated by your Excellency as Ministerial Nominee.
The rich-speculated of another Ibadan Indegene from Ibadan North East LG which not only fall within Federal Constituency where Mr Adebayo Adelabu comes from, it equally falls within same LG that, His Excellency, Oyo State Governor, *Engr.* Seyi Abiodun Makinde comes from.
The Political reality in Nigerian context today is that, partisanship nomenclature is relative.
We hope your Excellency, *would* consider this lopsidity in second Ministerial nominee from Oyo State to come again from Ibadan Zone, without considering anyone in Ibarapa , Oyo, Ogbomosho and Oke-Ogun Zones.
ESV., ISMAIL ADEWOYIN.
Coordinator, Coalition of Political Associates .