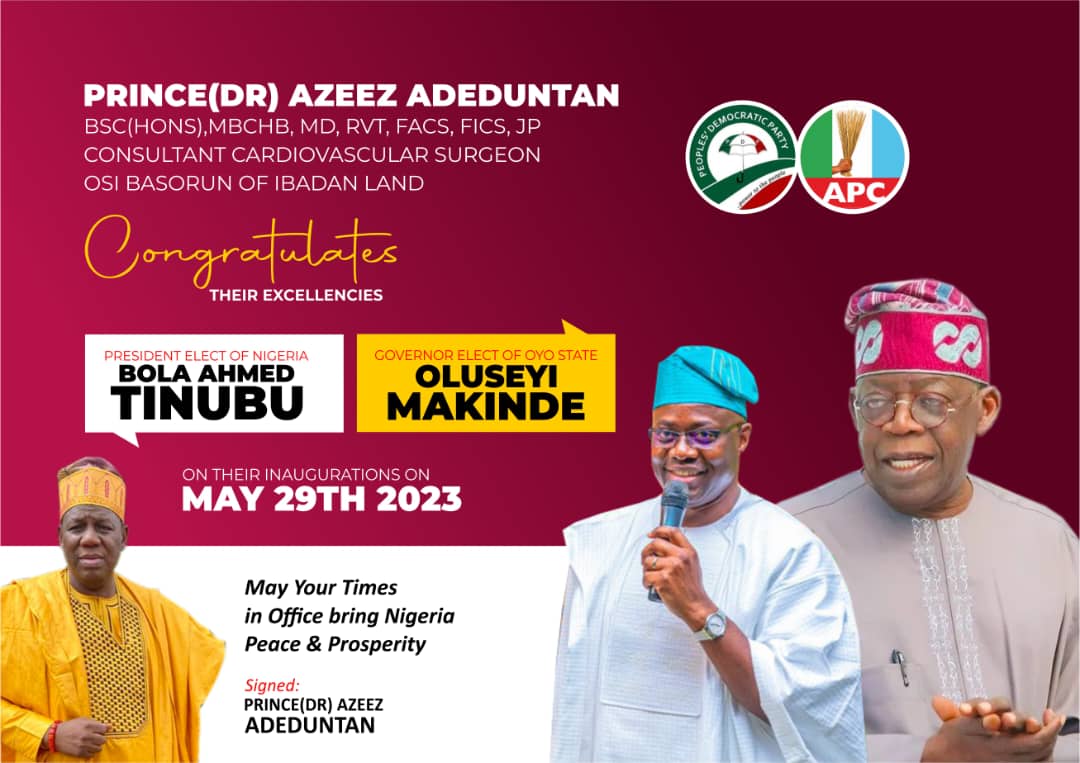 Oyo Chieftancy Law Review Not Targeted To Ladoja – Authentic Ibadan Mogaji's
..not all Baale's are qualified
to be kings – Oladoja
Friday May 12, 2023
Contrary to speculations in some quarters that the on-going review of chieftancy law in the state, Ibadanland in particular is targeted towards former Oyo State Governor, Rashidi Ladoja, members of the Authentic Ibadan Mogaji's had debunked the speculations.
In a chat with newsmen in Ibadan, the spokesperson for the group, Mogaji Olawale Oladoja disclosed that the review is an exercise meant to introduce new traditional innovation into the existing chieftancy law of the land.
Mogaji Oladoja who is also Mogaji of Akintola's compound, Ibadan expressed surprised to such insinuations of targeting the review to Ladoja describing it "as mere speculations. "
He stated that the Present Olubadan after due consultations with the Ibadan high chiefs have agreed to the review which was then sent to the Oyo State governor for his approval.
"How can such law be aimed at a respected Ibadan High Chief who is well respected by all? Kaabiyesi, the Olubadan of Ibadanland has acceded to the request of his high chiefs and deemed it necessary to forward such to the state governor for his approval. If Olubadan is not in support of such law, trust me, the Ibadan Mogaji's will never be part of such plans by anybody. Ibadan Authentic Mogaji's are warriors and soldiers of Ibadanland and we are bound to protect its integrity and tradition. "
Mogaji Oladoja added that Ibadan people will always support all steps that can bring development to its people and Ibadanland in general.
Meanwhile, Ibadan Authentic Mogajis in a related development has urged the Oyo State House of Assembly and Governor Makinde to look into the matter of upgrading of Baale's to kings in Ibadanland.
Mogaji Olawale Oladoja in a release on Friday stated that with the ongoing review, there should be no automatic elevation for Baale's.
He explained that aside from Oniroko, Elerunmu, Oluka and Onido, Onijaye of Ijaiye in Akinyele local government, and Alararo of Araro in Ona Ara Local Government, no other Baale is qualified to be elevated without due consultations with their respective Mogaji's.
Mogaji Akinsola's compound said the above mentioned traditional rulers are those with Royal lineage and history and as such qualified to be kings in their domains.
He added that some of the Baale's who were appointed by late Governor Abiola Ajimobi for political purposes were not of good character, therefore, there is a need for thorough scrutiny and assessment.
He commended various stakehders for their input in the ongoing review.