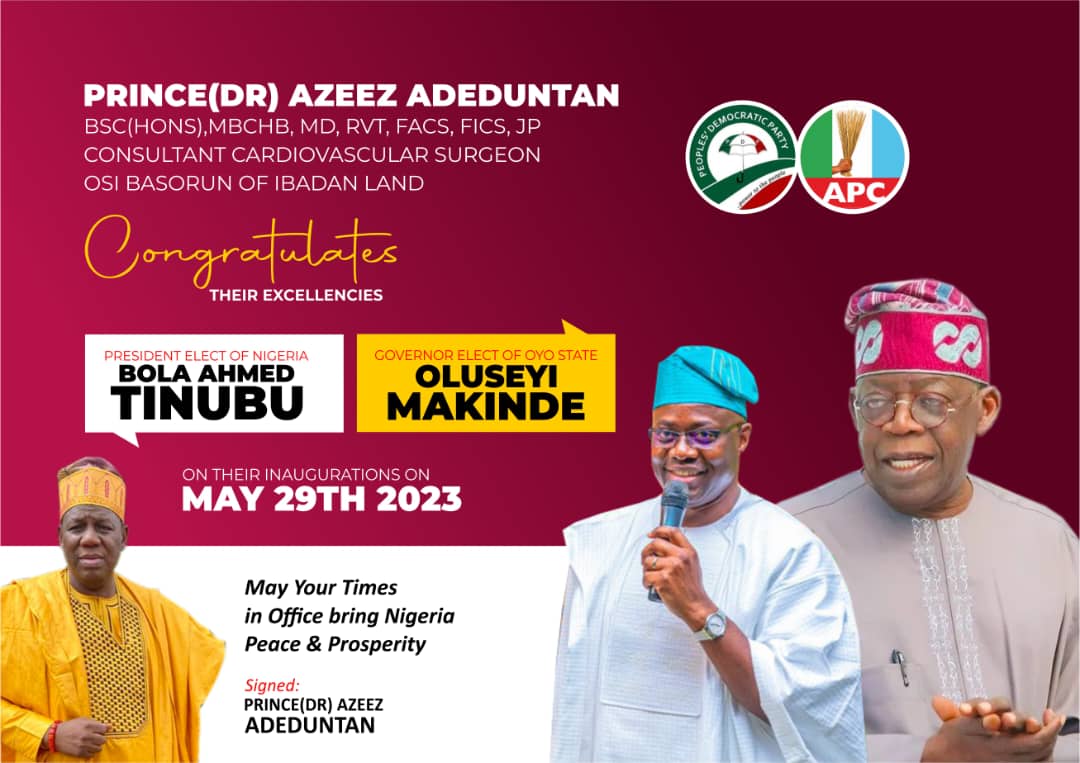 Ondo Govs Return: Let There Be No Ill- Feelings, Erubami Cautions
Tuesday September 12, 2023
Prominent Pro Democracy Group in Nigeria had urged Politicians not to cast an eye of misgivings and ill feelings on the God granted return of the Ondo State Governor Arakunrin Rotimi Akeredolu.
The statement through its Convener and President, Mashood Erubami said the statement was occasioned by the recent public statement made by the Ondo State Forum, (OSF) which has since gone viral on various media platforms.
The group warned that this is a very wrong time for such misleading political statement if actually the group membership truly are happy to welcome the governor back to the state.
"The statement in its proper sense, should not be misconstrued to mean an expression of bad blood, Instead, it should be constructed from the context of its true meaning to have been issued in good faith."
The Deputy Governor earlier confirmed while his Boss was abroad that Arakunrin Akeredolu was in constant touch with the government despite his medical condition "showed his concerns for the welfare of the people of the State"
The Deputy Governor is in the best position to say this, expressed as the Governor's Partner in Progress and Deputy, Mr Lucky Aiyedatiwa. who in his belief in the uprightness of Arakunrin and in the possibility of speedy and full recovery had always assured the Ondo people whose mandate the Governor is holding that there was nothing to worry about given that sickness is normal with anybody, emphasizing that there was no cause for alarm over his health.
The Deputy Governor, unlike the leadership of the OSF, had however reiterated that for the Governor to have returned and resumed his official duties immediately is a confirmation that he is hale and hearty.
"This is not to say he has fully recovered but he cannot stay abroad forever until final recuperation as occasional checking up could be combined as a continuous process until the final certificate of full recovery can be issued by the Experts in charge of his health condition.
His immediate resumption of duty is a function of his firm belief that he is fit enough to handle the works for which he was elected for the second term running, given that he is convinced and determined to discharge these duties to his Constituents in Ondo until his tenure runs out! The first assignment of the Governor on resumption was the updating and replacement of the transmission seeking leave of absence for medical treatment, sent to the state House of Assembly. The next key assignment was the signing of the bill creating 33 Local Council Development Areas (LCDAs) in the state. Against the backdrop of the Governors fitness, the Deputy Governor had cheeringly welcome his boss and prays that "God Almighty will continue to protect, guide and grant him strength as he continues to lead the good people of Ondo State towards transformational development" expressing a patently spirit of togetherness In the firm belief that he still retains the office of the Deputy governor and will be prepared to stand in for the Governor where he decides to send him! The Pro Democracy group therefore solicited for the cooperation of Politicians and well Wishers not to introduce any misgivings or ill feelings into how the Governor transmits his official directives to move the state forward since he does not need to sign an office attendant register for daily attendance. He will no doubt see and meet his people at any given time, apart from responding appropriately to their needs and he could delegate authority to any desirable official persons for implementation of policies and feedback. "