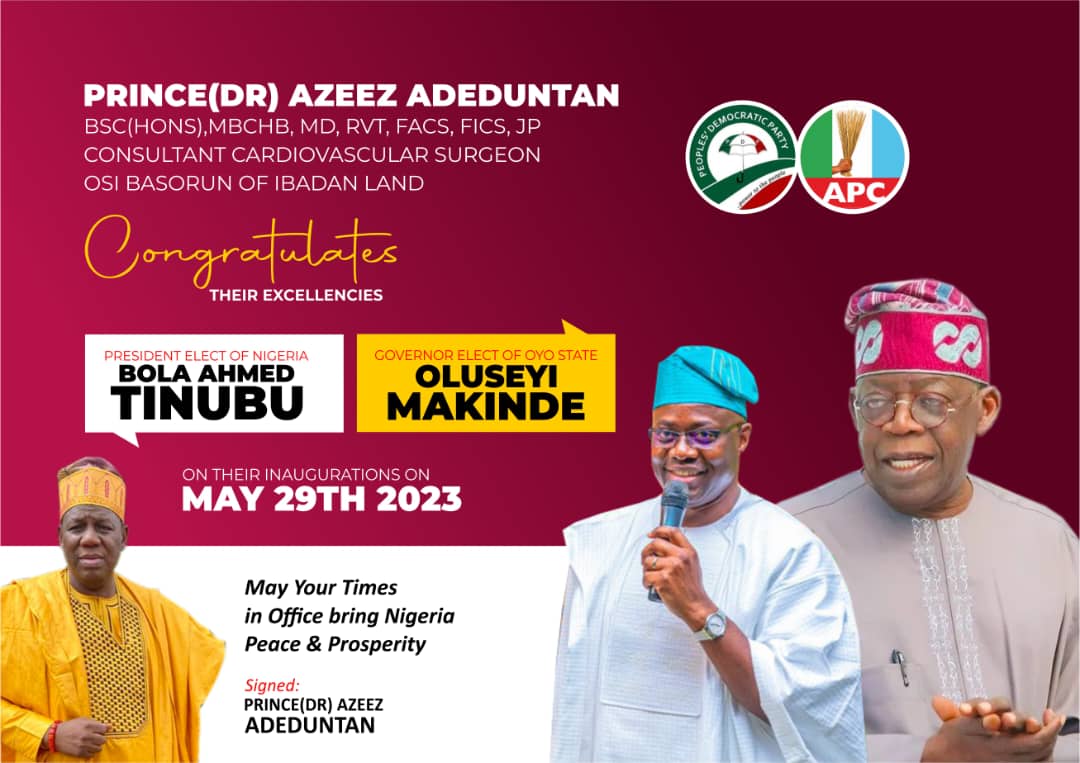 Nigeria Information Minister Visits Ibadan Over Flag Designer's Death
Tuesday September 5, 2023
Federal Govt has sympathised with Oyo State Government over the death Nigeria's flag designer, Pa Akinkunmi Taiwo who passed on recently in his Ibadan home.
Conveying the condolence message to the state government on behalf of the federal government, Minister for Information and National Orientation, Alhaji Mohammed Idris said the he came to Oyo state on behalf of the federal government to commiserate with the state government on the demise of Pa Akinkunmi Taiwo.
"We all know who the deceased gentleman was. He was the designer of Nigeria's National Flag which is the symbol of our independence, sovereignty and the symbol of our collective existence.
"Mr. President received the news of the demise of late Akinkunmi with deep regret but also thanked God for a life well spent. We all Mr. Akinkunmi was one of those who created this national treasures for us. And Mr. President is proud of this late gentleman who happened to come from Oyo State.
"We recall that during the run-up of independence of Nigeria, this flag was designed in Green-White-Green. And we also know the green colour symbolises the rich natural resources that Nigeria possess as a nation. White colour is a symbol of our collective existence as a people living peace and harmony with eachother. There can never be a better symbol of our collective existence as a nation since independence than what Pa Taiwo Akinkunmi has given us." The minister stated.
He described Pa Akinkunmi as a gentleman, very important figure and icon who was also in the Civil Service, agricultural sector and an engineer.
"Pa Taiwo Akinkunmi wasn't just another man that came and left. He was indeed a nationalist, a patriotic Nigerian, one who believed in this country and collective existence of Nigeria as a nation, and who bequeathed to us the symbol of that collective existence.
"Therefore when he passed on, Mr. President deemed it necessary for federal government to come and sympathise with his family, the state governor and the entire people of Oyo State for giving us this iconic gentleman.
"It is in that regard today, as I said earlier, I'm leading this federal government delegation to Oyo State. President Bola Ahmed Tinubu has asked me to tell you of his heartfelt condolences on the demise of Pa Akinkunmi Taiwo. May his gentle soul rest in peace." The minister stated.
In his response, Governor Seyi Makinde, who was represented by his deputy, Barrister Bayo Lawal, said the deceased designed a flag that has passed the test of time from 1959 till date.
"While the national flag is standing the test of time till date, we have had cause as a nation to change our national anthem. That shows to us that Nigeria is dynamic and it's changing and evolving but this particular national flag that stood the test of time that Nigeria does not see any need to change it.
"As said by the Honourable Minister, Green stands for the rich natural resources, agriculture in particular
Back and forth since independence till date, Nigeria as a country has had no option other than to embrace agriculture."
"White as we all know stands for purity, unity and peace. Since when this flag was designed, it has been a symbol of peace. It always reminds of the need to forge ahead in unity and peace.
"So on behalf of Governor Makinde and good people of Oyo State, we appreciate President Bola Tinubu for sending this high delegation to Oyo State to commiserate with the not only the family of the deceased, but also the government and the good people of Oyo State and we have accepted what has happened to us in Oyo State by the departure of Chief Taiwo Akinkunmi. Once again, may his soul rest in peace." The Deputy Governor stated.
He added that both the government and good people of Oyo State appreciate kind gesture and condolence of President Tinubu on Pa Akinkunmi's demise.
Lawal stressed that the legacy left behind by Pa Akinkunmi in terms of unity and resourcefulness will not be lost in Nigeria.
He reiterated that the country must remain united and in peace in spite of challenges and obstacles facing Nigeria.
The delegation later moved to the residence of the deceased to extend federal government condolence to the family.
Pa Micheal Taiwo Akinkunmi died at the age of 87 in Ibadan.