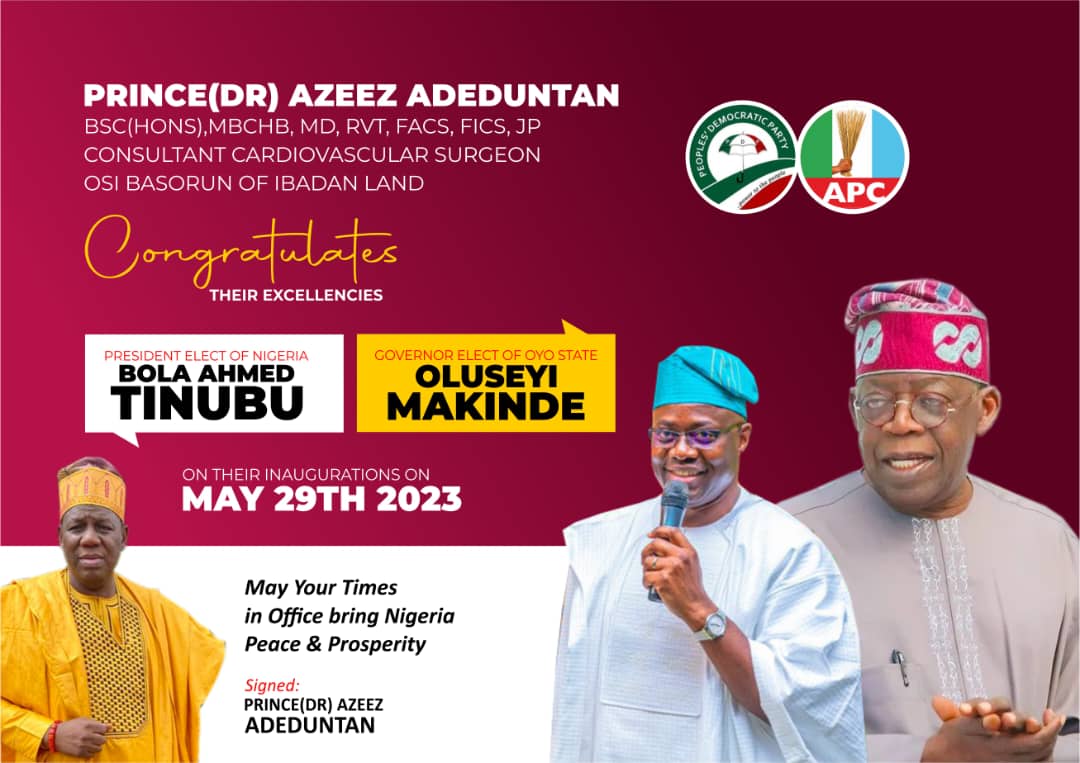 Marine and Blue Economy: We 'II Develop Infrastructure In Lake, Coastal Facing Cities To Attract Tourists To Waters, Generate Revenue – Oyetola
… reiterates commitment to PPP arrangement to create jobs for Nigerians
Tuesday September 5, 2023
The Minister of Marine and Blue Economy, Adegboyega Oyetola, on Tuesday, disclosed the readiness of the newly-created ministry to develop infrastructure in lake and coastal facing towns and cities across the country to further attract tourists to waters for maximum revenue generation.
Oyetola also reiterated the commitment of his ministry to strengthen Public Private Partnership arrangement, in order to abolish undue charge on crude oil exportation, and to put an end to the menace of Charter Vessel.
He also called for the need to invest in the fishing sector since most of the shrimps that are imported into the country are gotten from the nation's waters.
The erstwhile Osun State Governor stated these during his working visit to one of the agencies under his ministry, the Nigerian Maritime Administration and Safety Agency (NIMASA) office in Lagos, in continuation of his tour of the agencies under the ministry.
Interacting with the management and staff of the agency, Oyetola noted that no effort would be spared to properly harness the nation's maritime potential, increase revenue generation and stem the tide of capital flight in the sector.
The minister expressed satisfaction with NIMASA's Modular Floating Dock, which, according to him, will further help generate employment for Nigerians.
Oyetola, who decried the rates for Charter Vessels that carry crude, said the time has come to ensure stakeholders' buy-in as the nation needs national carrier, especially through a PPP arrangement to overcome the challenge.
He said: "I am particularly interested in the NIMASA Modular Floating Dock because of its potential to generate employment and stem capital flight.
"But we must find a way of ensuring stakeholders' buy-in, in whatever we do so that we are seen to be working together for the growth and development of Nigeria.
"Similarly, I am convinced we need a national carrier, especially through a PPP arrangement. We are about the only country that is an OPEC member that still charters vessels to carry our crude where 30 per cent of the charge goes to freight. We must find a way around it.
"Again, what most Nigerians do not know is that most of the shrimps that are imported into our country are gotten from our waters. Therefore, it is now time to put an end to it by getting involved.
"I have been to Barbados before; I knew how much we paid just for coastal tourism. Here in Nigeria, we also have what it takes to attract tourists to waters. Therefore, we shall be developing the infrastructure in cities and towns that are lake or coastal facing for this purpose.
"According to the National Bureau of Statistics (NBS), the fisheries sector contributed 1.09% of the country's total GDP in the year 2020 and 0.9% in the Q3 of 2021. We are regarded as a net importer of fishery products.
"But we are determined to change the narrative by putting in place measures to make Nigeria a major player in that regard.
"Nigeria makes up about 853 kilometres of the estimated 47,000 kilometres of coastline in Africa. Nigeria has one of the largest wetlands in the world, with its coastal and marine ecosystems covering a total of 70,000 square kilometres.There are countries around the world that rely solely on earnings from the tourism sector."
While charging members of staff of NIMASA to rededicate themselves to quality service delivery and key into the Renewed Hope Agenda of the current administration, Oyetola said repositioning the sector was non-negotiable
"Like I told your counterparts at the Nigerian Ports Authority, NPA, we all have a duty to reposition this sector for the welfare and wellbeing of Nigerians. We have the potential to grow our economy and create more jobs through this novel ministry. We must put everything to work to deliver on the Renewed Hope Agenda.
"On our part as a ministry, those challenges that are internal and are affecting your smooth operation shall be looked into with a view to addressing them one after the other. The ones that are external, we shall take them up immediately.
"I have full confidence in your capabilities and dedication, and I look forward to witnessing the continued success of NIMASA in shaping the future of our maritime sector. Together, we can build a thriving blue economy that benefits us all," Oyetola stated.