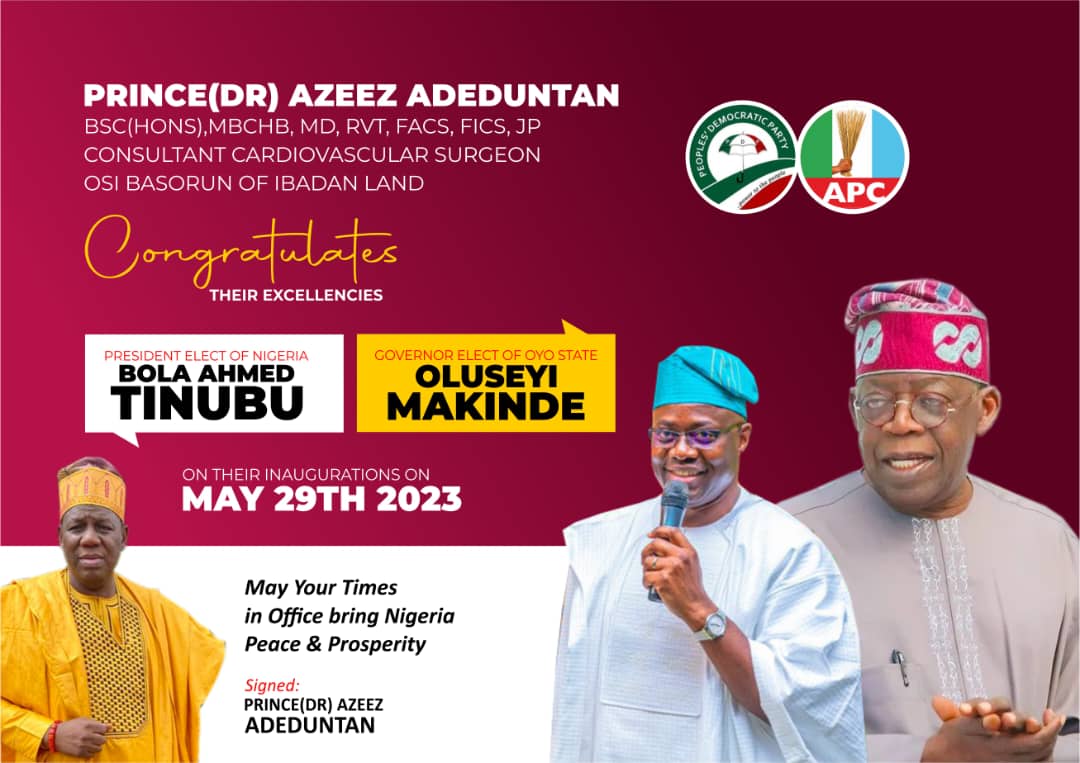 Niger Coup: Oladoja Cautions Ogun Former Governor, SSG Over Media Attack On Tinubu
Saturday August 12, 2023
Prominent Ibadan traditional leader and Mogaji of Akinsola's compound, Ibadan, Mogaji Olawale Oladoja has cautioned a one time Ogun State Governor and Secretary to the State Government (names withheld) over sponsored media attack on President Bola Ahmed Tinubu.
Mogaji Oladoja in a release on Saturday through his media office stated that, the attack on President Bola Ahmed Tinubu over the decision of the Economic Community of West Africa States (ECOWAS) to use force as a last resort to restore democracy in Niger Republic is uncalled for and a mere politicking.
Mogaji expressed surprise over the role being played by the said former Governor and the former SSG, who currently Nigeria Ambassador.
"This move by these two respected politician from Ogun State is a rude shock unexpected of people in such capacity. Their move is rather an embarrassment to the point of Ogun State, South and Southwest."
The former Governor and his ally are putting together false reports against President Bola Ahmed Tinubu over the recent ministerial nominees which the duo believed should favour them and their cliques. But the President in his choice appointed Wale Edun, Bosun Tijani and Isiak Sslako which never went down well with the two men.
According to Oladoja, many of the southwest states including Oyo delivered well for President Tinubu during the 2023 General Election but got just one slot for minister while Ogun got three.
He attributed the steps taken to blackmail the President as act of disloyalty and robbing of personal ego which is not necessary at this time.
"Despite the effort of our Performing Governor in Oyo State, Engr Seyi Makinde and the loss of our three senators and majority of our House of Reps, we only got one minister, credit to Governor Makinde sagacity and Commitment to people's good course."
He called on the former Governor who recently finished his term at the Senate to desist from such sponsored attacks and join the President and other well meaning Nigerians to move the nation forward.
Oladoja added that it is noteworthy that Prominent Ogun State sons and daughters of the state has
contributed so much to the development of Nigeria hence the need for continued support for the President.
Mogaji Oladoja urged President Bola Ahmed Tinubu to reviewed and recalled Nigeria Ambassadors abroad that are not working according to the bilateral policy of Nigeria.
"Let me use this time to strongly warn people involved in this plan to henceforth desist as failure to continue with the plan will ensure that their identity is disclosed and made public."
It would be recalled that some sections of social media on Friday circulated a story indicting President Tinubu of working with United States Vice President, Kamala Harris against Niger Republic.