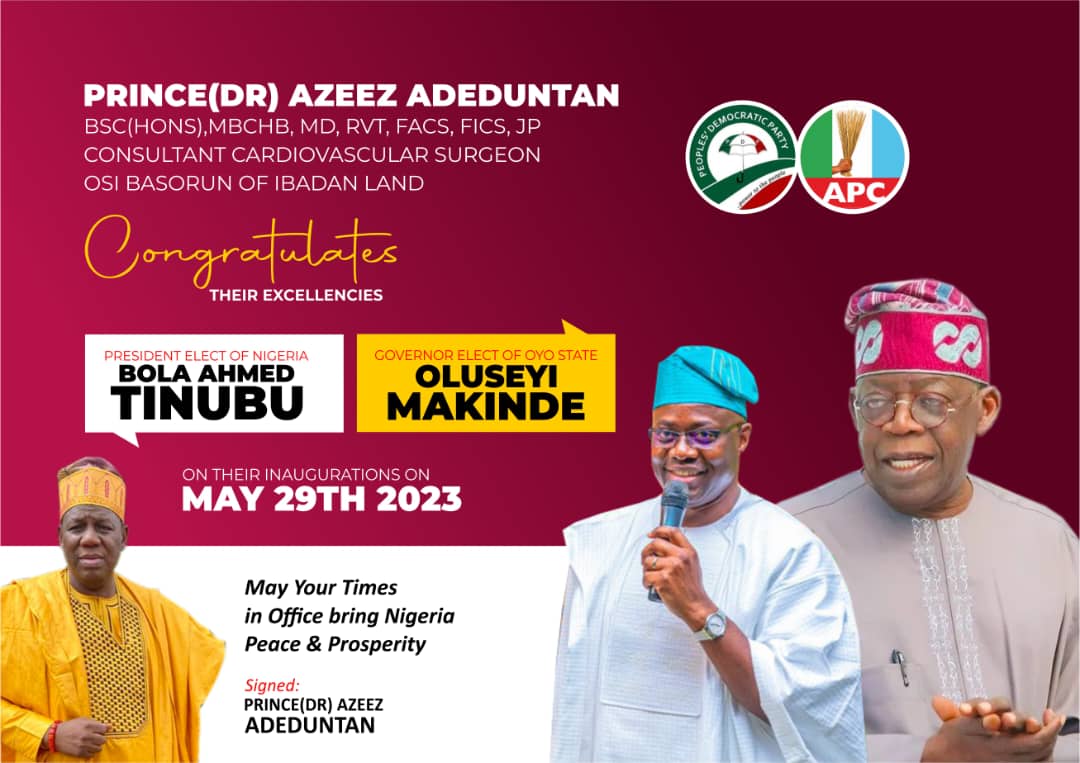 Ibarapa North Local Government Chairmanship Aspirant, Siji Ganiyu congratulates Makinde, wife, Famojuro, Double T, on Orile Igbon Chieftaincy Titles
Saturday June 17, 2023
The Ibarapa North Local Government Chairmanship Aspirant, Sanitarian Siji Ganiyu has hailed the Oyo State Governor, Engr Seyi Makinde, and his wife, Taminomini on their conferment of chieftaincy titles of *The Aare and Yeye Aare* of Orile Igbon respectively.
Sanitarian Siji Ganiyu described the honour as well deserved and a proof of the governor's mettle as an excellent achiever and believer in a united and peaceful Oyo State.
Ganiyu in a statement through his media office on Saturday in Ibadan said the conferment of the chieftaincy titles on the First Oyo state Family did not come to him as a surprise because "Governor Makinde has demystified governance by clearly exceeding the expectations of Oyo people and Nigerians as a whole in every facet of development."
Sanitarian Ganiyu who is the immediate past Provost, Oyo State College of Health Science And Technology Eleyele Ibadan,further described the honour accorded the First Family as not just for them but the people of Oyo State state as a whole.
He also congratulated the Otunba Seye Famojuro, who was honoured with *Balogun Bobajiro* and Hon Babatunde Tijani who was honoured with *Otunba Bobaselu* title for the honour done to them.
Furthermore, he congratulated former first lady of the state, Mrs Florence Ajimobi who was honoured with Yeye Oba of Orile Igbon and wish her the best in her new title.
"The Kaabiyesi, Olugbon of Orile Igbon by this singular gesture to our governor and his dear wife, has confirmed the highly held belief that behind a successful man lies a woman. We are grateful to God for giving our governor a wife with the requisite capacity to measure up with His Excellency's pace of pragmatic governance in the state", Ganiyu enthused.
Ganiyu further described the chieftaincy titles on Governor Makinde and wife, Tamunominini as a rare attainment and expressed hope that more laurelsl are on the way of the governor, while urging people to continue to support his administration.