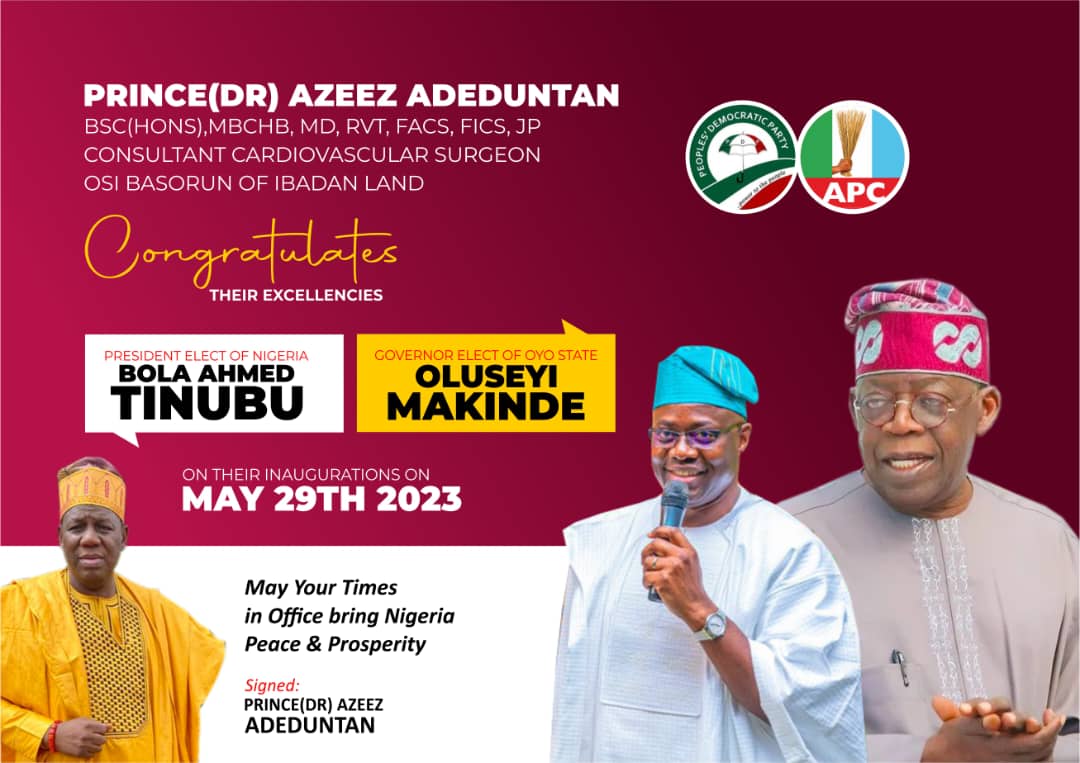 Group Urges President Tinubu To Consider International Surgeon, Adeduntan For Ministerial Slot
Saturday July 8, 2023
Nigeria's President, Asiwaju Bola Ahmed Tinubu, has been called upon to consider a former screened & cleared Governorship aspirant of the All Progressives Congress (APC), in Oyo state ,in years 2019 and 2023 electoral cycles-(Dr) Azeez Popoola Adeduntan for a Ministerial slot in his cabinet.
One of the major groups in the campaign train of President Tinubu, The APC Strategic Team (AST) stated this through his Convener, Olawale Abudu on Saturday.
The group noted that based on Adeduntan's immense contributions to the successes of President Bola Ahmed Tinubu and Governor Seyi Makinde ;during the last elections at various levels, Adeduntan will add value to the Tinubu led government.
Abudu who recounted many efforts of the Osi Basorun of Ibadanland, Chief Dr. Adeduntan noted that he deserves the ministerial slot of Oyo State ,adding that the group is confident that the world revered cardio vascular surgeon would be an asset to Tinubu's government and indeed Nigeria.
"I vividly remember the great efforts made by Chief Dr. Adeduntan especially after he lost the APC Governorship primary which many described as electoral fraud and a rape on Oyo APC internal democracy ,which later depleted seriously the party in it's quest to return to Agodi government house.
Adeduntan was all over media houses across Oyo State clamouring for the election of Tinubu and Makinde (largely because Makinde supported
TINUB U & YORUBA PRESIDENCY & his own remarkable performance ),despite opposition by even some APC leaders and candidates in Oyo State who supported VP OSINBAJO in the primary against the founder of APC-now president of NIGERIA -BOLA AHMED TINUBU -a rare display of courage and loyalty.
He mobilized financially in all electoral processes direct from his own purse without asking for reimbursement at all levels.
So we are calling on President Tinubu to include Adeduntan in his cabinet ,while also appealing to Gov Makinde to support this effort and reward Hardwork."and crtitical support when it mattered most,as one good turn deserves another.
The group while examining the last few days of President Tinubu in office, said it was a confirmation of his competence and capacity to lead the nation.
"Having observed your leadership recruitment style that lay so much emphasis on expertise, character, loyalty,capacity, knowledge, experience and competence, it is our greatest desire to appeal that you consider Chief Dr. Azeez Popoola Adeduntan, an international cardiovascular Surgeon, most outstanding health commissioner across the nation during his years as Commissioner.
"Judging from his antecedents, his contributions towards the success of APC and your victory in the last election and his experience, we are confident of the fact that, he will be an asset to your government and indeed the entire country.
"It is our honest desire and sincere prayers that your government succeeds, therefore having Chief Dr. Adeduntan as a cabinet minister in your government will be of tremendous importance as he will add so much value to your administration.
"As a major group in APC, appointing him a minister will signify the fact that you have recognized performance ,loyalty in the heat of political warfare as power is not served a La carte and competence."
"We believe in your strong sense of judgment and hope most sincerely that, our appeal will be considered and our request will be granted for the general good of the country."
The group said it's confident that with Adeduntan in Tinubu's administration as a minister, he will use his links in America among others just like he did while serving as a Commissioner to attract partnership in health sector to boost the Nigerian healthcare ,reduce brain drain (JAPA) among doctors,reduce medical tourism and that will translate to safe healthy nation for the benefits of all Nigerians.