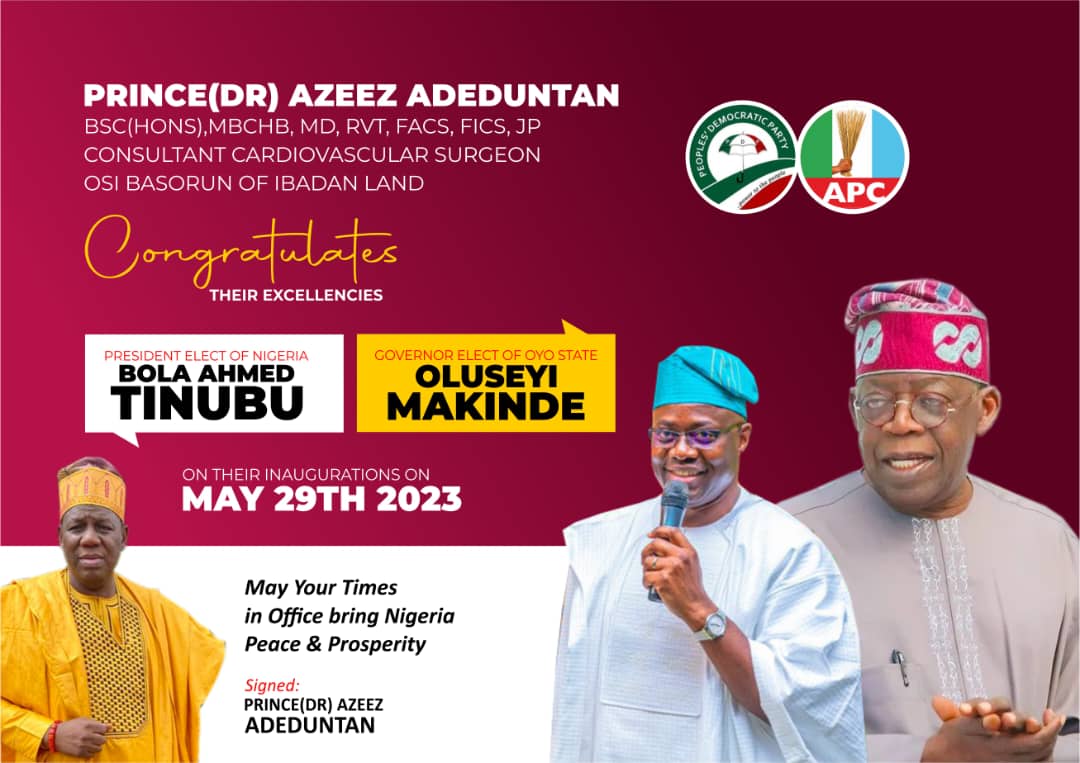 God Deserves Praises, Says Christan Cleric
Monday August 28, 2023
As Christ Apostolic Church (CAC) Oke Ayo International marks thirty years of its existence, the Senior Pastor of the Church with over sixty branches across the world , Pastor Paul Olusola Aderoju has said God is worthy of Praises for sustaining and strengthening the Church for three decades despite the challenges all along .
Speaking at the 30th anniversary and Convention held at CAC Oke Ayo International headquarters, Oke Ayo Street Oke Idaho, Iseyin Oyo State, the Cleric said despite the terrible storms ,battle of darkness here and there and meaningless criticism and unhealthy hatred ,Jesus had upheld the Church since 1993 till date .
Pastor Olusola Aderoju explained that what God had done for the Church was beyond human wisdom , knowledge and understanding
He commended CAC Oke Ayo members home and abroad for their steadfastness Inthe Lord , commitment,love , consecration ,and immeasurable contributions towards the sustenance and growth of the Church since inception till date
On the state of the nation ,the Senior Pastor of CAC Oke Ayo International ,Pastor Paul Olusola Aderoju called on President Bola Ahmed Tinubu to address the problems of insecurity , ailing economy joblessness for the youths and also repair all broken down oil refineries to beat down the high cost of petroleum prices which had impoverished average Nigerians .
The Minister of God called on his Colleagues to remember that they are ambassadors and representatives of God on earth advising them Tobe role model and lead people towards heaven .
In a brief Sermon the Guest Preacher, Pastor Henry Ojo noted with delight the growth and expansion of the Church cum propagation of the gospel in the last three decades as he prayed that the present standard was just an iceberg in what God is going to do .
Pastor Henry Ojo commended the Senior Pastor of the Church, Paul Olusola Aderoju for sustaining the leadership of the Church through Jesus Christ and praised the members for standing by him
In their respective brief remarks ,the trio of PDP Chairman in Oyo State Honourable Dayo Ogungbenro ,a PDP bigwig in the State, Senator Hosea Ayoola Agboola and a Lagos based business Mogul Mr Davis congratulated the Senior Pastor and church members for the feat attained so far by the Church.
Highlights of the 30th anniversary of the Church included launching of a video Album led and produced by Mrs Sarah Oluwatooyin Aderoju, award presentation on deserving Church members and distinguished personalities.
The Anniversary Thanksgiving Service which wrapped up the seven day convention was attended by Church members, traditional rulers and chiefs and eminent personalities from far and near.