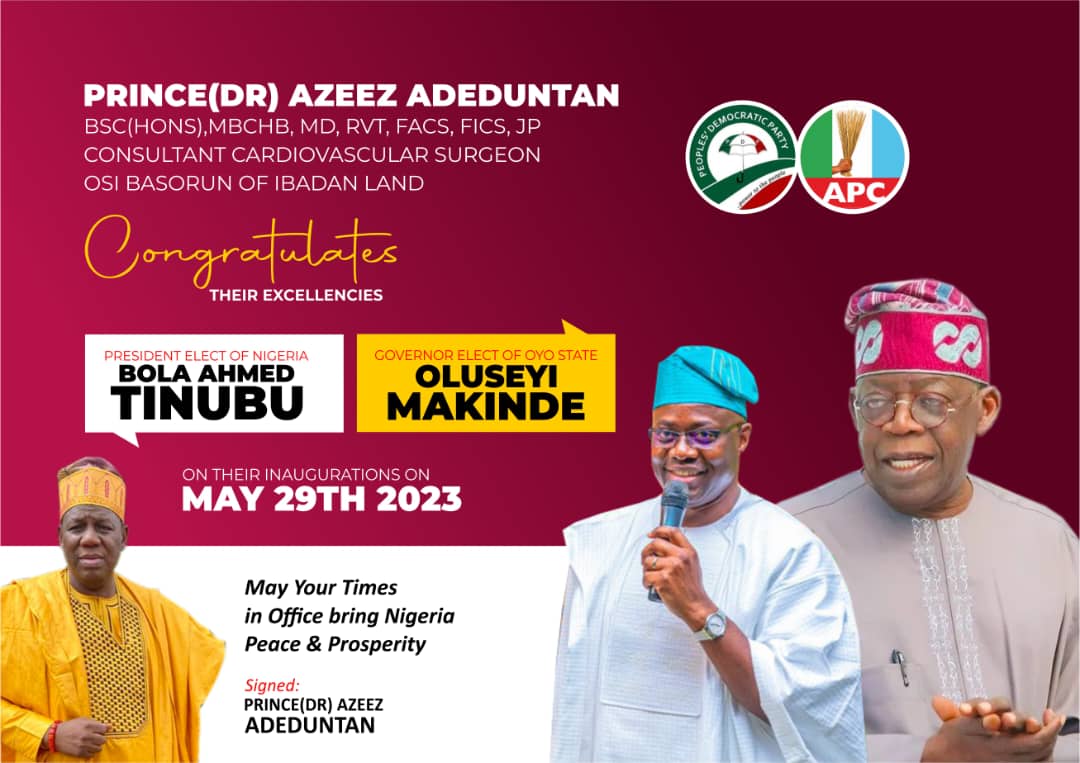 Allow Tinubu To Face To Deliver Dividends Of Democracy To Nigerians, Ibadan Authentic Mogajis Spokesperson Advises President's Families, Senior Aides
..calls for recalling of Nigeria envoys abroad
Thursday August 10, 2023
The spokesperson, Authentic Mogajis of Ibadanland, Mogaji Olawale Oladoja has advised close families and senior Aides of President Bola Ahmed Tinubu to allow him deliver dividends of democracy to Nigerians without distraction.
Mogaji Olawale Oladoja gave this advice in a release on Thursday morning following a recent viral social media video and reports of in-fighting among the families and senior Aides of the President.
Mogaji Oladoja expressed surprise that such superiority battle is too early and should be condemned in all its entirety by all well meaning Nigerians.
He condemned a situation where federal political appointments are out up for sale by any of the family member of President Tinubu or aides.
He said President Tinubu, his wife, Chief of staff, Femi Gbajabiamila, Dele Alake are all public servant position to bring relieve to Nigerians and they must rise up to the occasion without fear or favour.
He called on Tinubu to guard against the experience during the tenure of President Muhammadu Buhari where some of his family members and relatives as well as kinsmen allegedly hijacked his government and almost turned it family property.
Mogaji Oladoja said even though the likes of former General Ibrahim Badamosi Babangida and General Abubakar Abdulsalam are of military government, they never accommodated such during their time.
Mogaji Oladoja urged Tinubu to be well guarded and cautioned his relatives not to make the nation their personal estate as Nigerians may not take it lightly with them.
He described President Tinubu as the father of the nation hence the need for his people to allow him to do that he was voted for by all Nigerians.
The Oyo State PDP stalwart said the lingering crisis in APC should not be this early and tread with caution so as not to plunge the nation into unnecessary chaos and blown up the opportunity of the Southern Nigeria.
He attributed the commendable performance of the Oyo State Governor, Engr Seyi Makinde to the support of the people of Oyo State and specially members of the Authentic Mogajis of Ibadanland which has made the current government in Oyo state the best in recent times.
Mogaji of Akinsola's compound, Ibadan added that such support will be extended to President Tinubu and will also mobilise more support so that the nation can witness more development under his government.
He advised President Bola Ahmed Tinubu's son, Seyi who has been allegedly fingered in the superiority fight to learn the ropes and also follow the ladder of politics and not to hijack by proxy.
Oladoja further urged Tinubu to as a matter of fact engaged those that are close to him and solve the problem of massive youth unemployment across the nation.
He seriously cautioned against monetisation of political offices as being experienced now as this may not help the renewed hope of President Bola Ahmed Tinubu administration.
Meanwhile, Mogaji Olawale Oladoja has advocated for the recall of Nigeria envoys serving abroad.
He stated that this becomes important in order for President Tinubu to reviewed performances of the diplomats and ensure they key into the renewed agenda of the present administration.
He added that the recall of the Nigeria Ambassadors to oversea is urgent and the President must treat it with urgency.