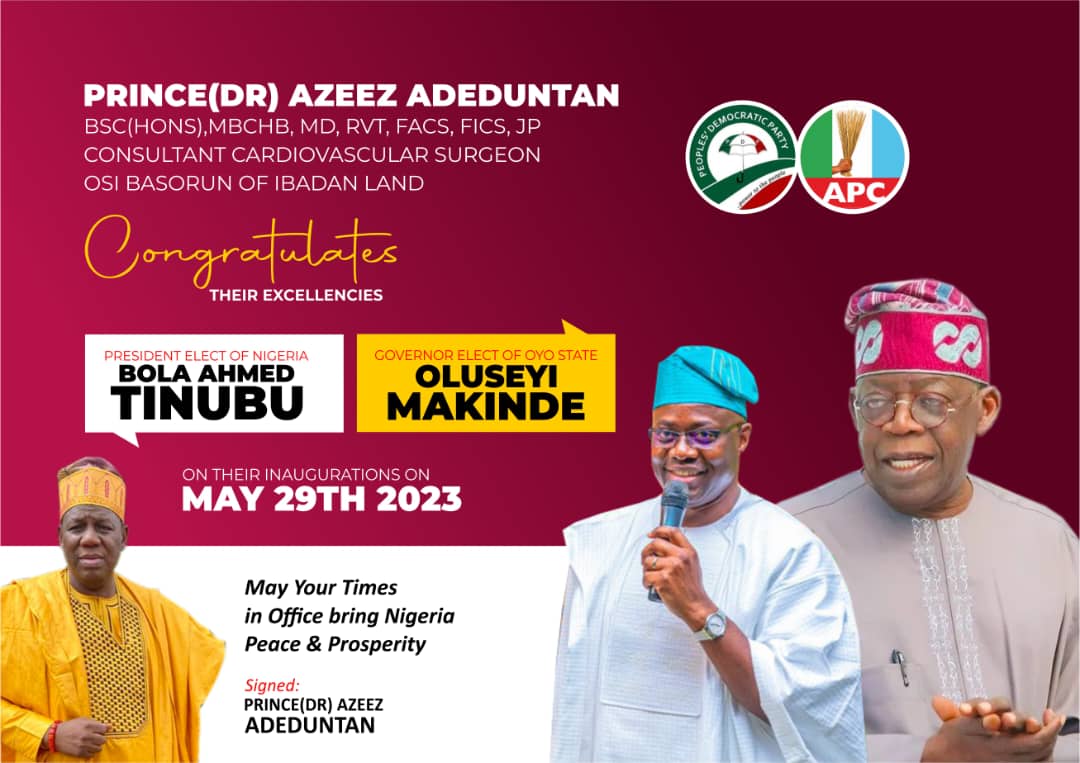 The OSI BASORUN OF IBADAN LAND & 2022 OYO STATE GOVERNORSHIP aspirant ,as well as an international surgeon -PRINCE (DR)AZEEZ ADEDUNTAN has congratulated and felicitated with ASIWAJU BOLA Ahmed TINUBU on his electoral victory and emergence as the next PRESIDENT OF NIGERIA,
This is contained in a press release issued by his office in IBADAN today.
While all power and praises belong to almighty GOD ,President elect TINUBU must remember the roles played by hard core Yoruba men especially in OYO STATE,led by a free born GOVERNOR of OYO STATE of IBADAN origin -ENGINEER SEYI MAKINDE-who believed together with his G5 team led by GOV.WIKE of RIVERS STATE,that every Nigerian has a right to the presidency.
Mention must also be made of the Northern GOVERNORS -Led by BAGUDU OF KEBBI STATE,El RUFAI of KADUNA STATE,and GANDUJE of KANO ,including eleven other GOVERNORS ;that insisted on power shift to the south.
It was GOVERNOR SEYI Makinde that stopped the SOUTH WEST movement of ATIKU of PDP and OBI OF LP having lost OSUN STATE to the former,& LAGOS STATE to the latter.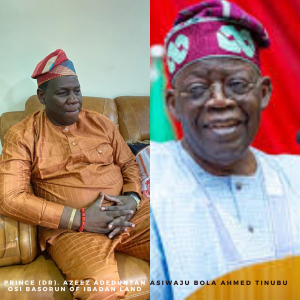 A defeat in Ibadan-YORUBA political headquarter ,by opposition parties ;would have been devastating to the cause of TINUBU's presidential campaign ,without a run off.
The YORUBA "Omoluabis " and free born citizens ,are eternally grateful to GOV.SEYI Makinde ,for his principled stand on an egalitarian society -where there is justice,equity ,& FairPlay ,regardless of party affiliations & place of origin.
Makinde is the quiet,humble,intelligent man of steel governing the heart & political headquarter of YORUBA land .
He had shown great resolve and unquestionable leadership quality .
He had performed well sectorally ,using all key performance indicators.
GOV. Makinde comes up for re election on March 11th 2023.
In light of his sterling performances in all sectors in Oyo state,his native ,academic and political intelligence ,evidenced by his stand on fairplay ,equity and justice and the Herculean role he played on the issue oF TINUBU -YORUBA presidency,GOV. SEYI MAKINDE deserves re -election by all well meaning Yorubas and non Yoruba citizens living in OYO state ,and so shall it be by the grace of GOD-
ADEDUNTAN prayerfully concluded.