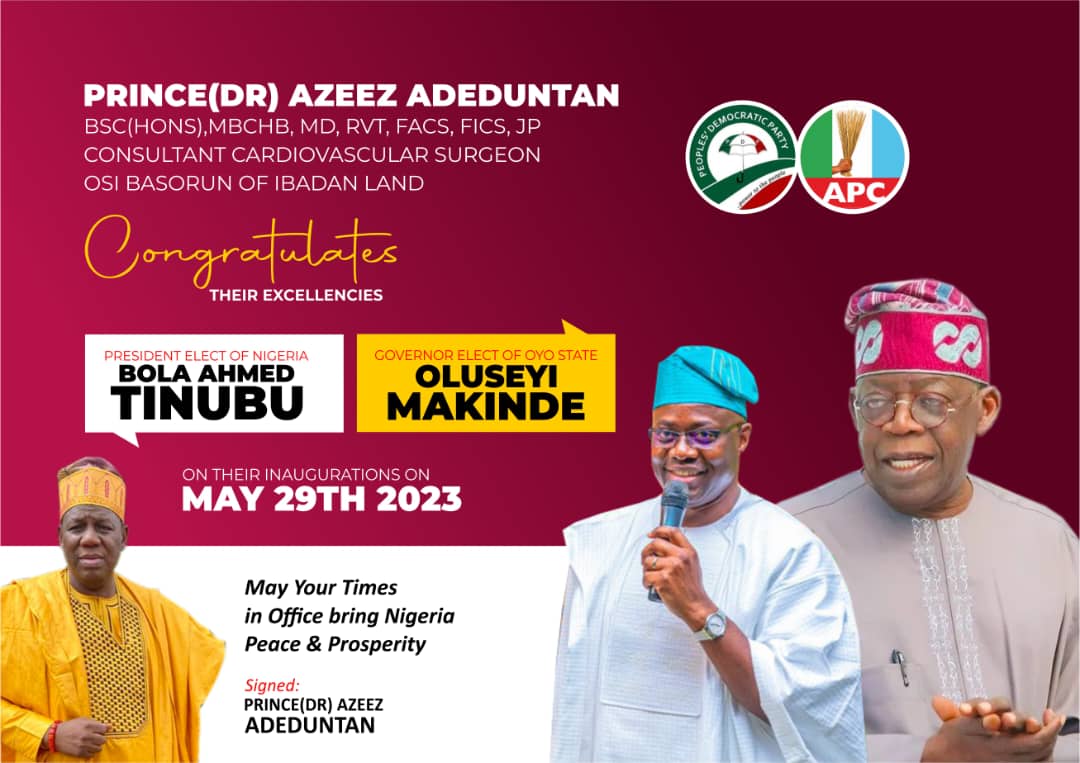 The osi Basorun of Ibadan land and one of the vetted and cleared GOVERNORSHIP aspirants in the 2022 OYO State APC FRAUDULENT (JAGBA) primaries -PRINCE(DR)AZEEZ ADEDUNTAN ,has admonished the duo of Yakubu DOGARA and Babachir Lawal -former speaker of the House of Representatives and secretary to the GOVERNMENT of the federation (SGF )respectively,to act like statesmen and stop acting for parochial reasons in their anti TINUBU vendetta ,because neither was picked for Vice presidential positions.
This statement was contained in release to journalists by the media office of OSI BASORUN ADEDUNTAN in response to the vociferous positions taken by both men ,especially the interview granted by LAWAL on channel television last night November 24th 2022.
A politician thinks about immediate political gains (DOGARA and Lawal) while a statesman thinks about the future of his country.
Nigerians do not need these kind of religion distractions at this time.
There is poverty in the land and extreme insecurity of lives and properties ,never seen before in the annals of NIgeria history.
Let the best candidate emerge regardless of religion or tribe as enshrined in the 1999 constitution of the federal republic of NIGERIA-that there is no state religion.
A VICE PRESIDENTIAL position ,like DEPUTY GOVERNORSHIP, is a spare tyre postiion-acting under the whims and caprices of the PRESIDENT and the GOVERNOR.
It is evidently clear that some Nigerians including DOGARA and LAWAL,have a warped view of religion and a binary view-that the world is divided between ISLAM and Christianity.
This is not true.70% of the world do practice other religions.ONLY 30% of the world are Muslims and Christians based on current demographic data from the United Nations.There are other religions in NIGERIA.
It is just because Muslims and Christians, out of TOGA of arrogance believe they are the only one serving God and no spokesperson for the Baabalawos ,the OLOSUNS,the Elempes etc.
We also know as a fact that Islam and Christianity as well as Judaism are all Abrahamic religions.
We also know as a fact that JESUS CHRIST prophet ISA is mentioned in the QURAN
as a prophet of GOD and one of the closest to almighty GOD. QURAN 3:45.
We also know that you cannot be a Muslim without accepting prophet ISA(Jesus Christ ) as one of the prophets of GOD.
Quran 2:136, Q:3:84.
The difference between either of the two religions is the issue of whether Jesus was born by GOD as the Christians believe or a servant of GOD as Muslims believe ,that GOD was not born and he had no son (Surat IQLAS).Q:112.
None of all will know this with certainty until the day of resurrection (Christians ) or the day of judgement (YAOMIL QIYAMAT)- Muslims.
We have had Muslim /Muslim ticket before in NIGERIA-BUHARI IDIAGBON, Christian /Christian ticket AGUIYI IRONSI/Babafemi ogun dipe and later Joseph Akinwale WEY(regardless of them being soldiers-they were Nigerians)-HEAVEN did not fall .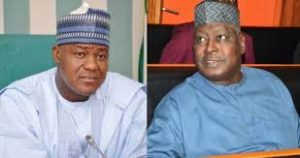 If Lawal was motivated by statesmanship -why did he not support evangelist OSINBAJO,the VIce president for president,rather than the stinking articles he wrote about and against him b4 the primaries;why did he change from the encomiums he passed on TINUBU after he became the SGF in 2019 and before the primaries.Regardless of the motives of DOGARA and LAWAL and regardless of our iron clad support for TINUBU based on merit,not on tribe or religion .
Alhaji ADEDUNTAN -a detribalised and free minded Nigerian,an international cardiovascular surgeon,former OYO state health commissioner and supporters all over NIGERIA as well as diaspora ,hereby prevail on and enjoin DOGARA and LAWAL,to eschew bitterness,and let Nigerians decide their president based on merit and not religion.
MAY NIGERIA SUCCEED.he concluded.