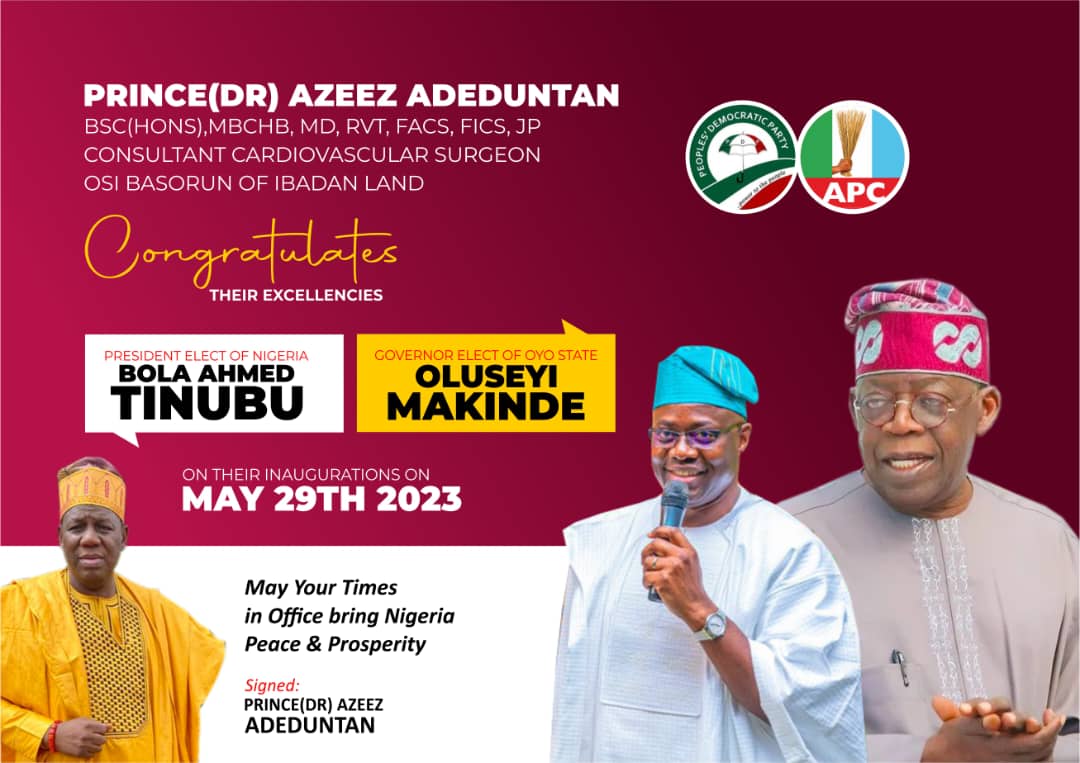 2023: Tinubu Is The Best Candidate To Lead Nigeria Out Of Difficulties – Badru
Wednesday January 25, 2023
The National Welfare Director, Asiwaju Project Beyond 2023 and member Tinubu Shettima Grassroots Independent Campaign Council, Engr Adekunle Badru on Tuesday said Presidential candidate of the All Progressive Congress (APC), Asiwaju Bola Ahmed Tinubu is the better choice for Nigerians compared to other presidential candidates.
Engr Adekunle stated this at a Town Hall meeting organised by Indepent Campaign Council of the Tinubu/Shettima which was held at Centenary hall, Ake, Abeokuta.
Engr Badru said Tinubu remains the best choice for Nigerians in 2023 adding that other contestants have no record of achievements
and plans for a better Nigeria compared to Tinubu.
He described Tinubu as a national asset that will continue to benefit Nigerians of all tribes when he becomes the president.
He said Tinubu's record while in office when he employed
people of all races, as a Senator philanthropist, pro-
democracy activist and benefactor, was there for all to see.
In his message at the meeting, Senator Abu Ibrahim who spoke through his Personal Assistant, Ambassador Saulawa Aliu Ibrahim said Tinubu is not known for practising discrimination, tribalism or
religious extremism, while It is difficult to identify monumental achievements recorded by his political opponents, except their
travel tourism and the patronage of sycophants.
Senator Ibrahim assured that northerners are in full support of Tinubu Presidency and will ensure his victory at the poll.
The Chairman, Independent Campaign Council in Ogun State, Senator Gbenga Obadara appealed to Nigerians to consider electing Asiwaju Tinubu in 2023 as a necessity for a stable and progressive country.
Senator Obadara called on electorates in the state to ignore the antics of those with lesser plans and aspirations.
Also, former Ogun state deputy Governor and Chairman, Presidential Campaign Council, Ogun state, Prince Segun Adesegun who was represented by Tajudeen Olanrewaju Egunjobi, said the state is poised to ensure electoral success of APC.
Representatives of various artisans, traders, associations and youth groups across the state also pledged their loyalty to Asiwaju Bola Ahmed Tinubu and APC.