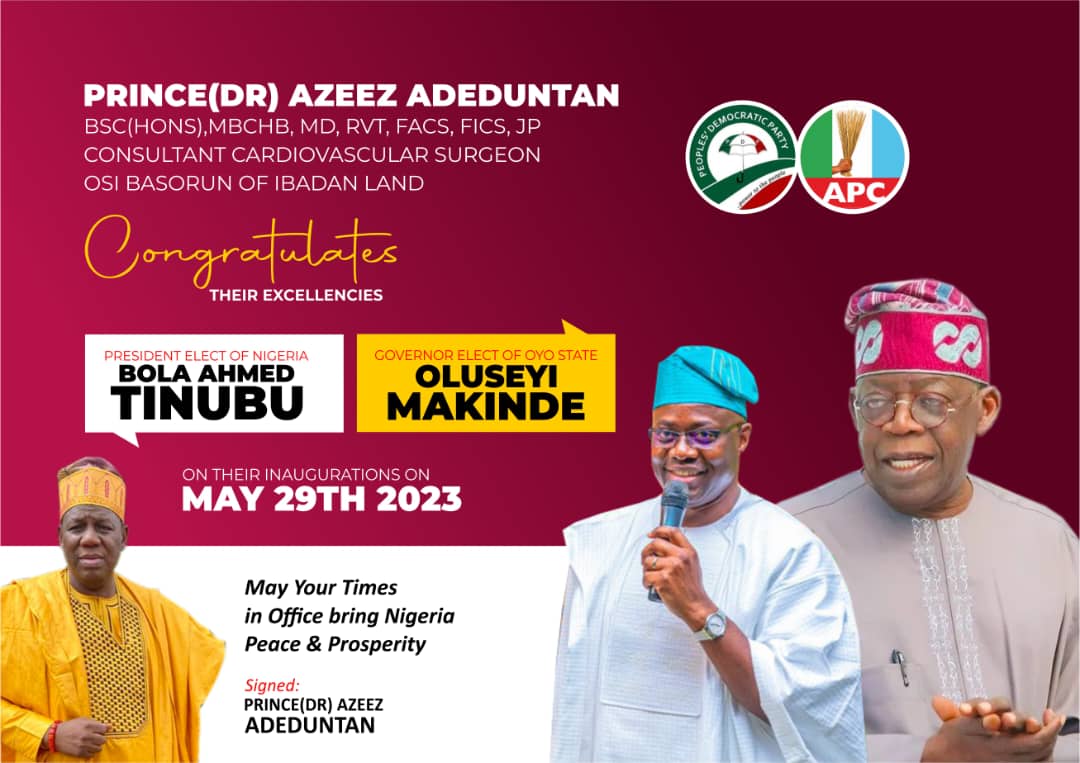 You're Best Contributor To Sustenance Of Democracy, Alao Celebrates Tinubu @ 71
Wednesday March 29, 2023
A chieftain of the All Progressives Congress (APC) in Oyo State, Engineer Oyedele Hakeem Alao, has said history of democracy in the country would not be complete without special mention of the president-elect, Asiwaju Bola Ahmed Tinubu as the best contributor to its sustenance.
Alao, in a congratulatory message, to the former governor of Lagos State, in commemoration of his 71st birthday, described the President-elect as a dogged fighter for democracy who has paid his dues in fighting the course of the weak and making Nigeria a better place for all.
He said the emergence of Asiwaju Tinubu as president-elect was not unexpected but rather well deserved, stating that he built bridges across the country in his journey of life thereby reaping his generosity and friendliness to every Nigerian met on way.
The Asiwaju of Irokoland maintained that celebrating the 71st birthday of Tinubu as the president-elect is a unique opportunity as it would prepare him to take on the most important assignment of serving his dear fatherland as the President and Commander in Chief of the Armed Forces.
He added that Nigerians are blessed to have Asiwaju Tinubu as the next democratically elected president come May 29 with his development-focused and detribalised disposition towards governance, noting that every Nigerian would be proud of his achievements as he would replicate the feats he recorded in Lagos as governor all over the country.
Alao then prayed Allah to keep Asiwaju Tinubu in perfect health and grant him the wisdom and strength to achieve his desire for the country.
According to him, 'I join teeming members of our party, APC; well wishers within the country and all over the world, to celebrate our indefatigable leader and President-elect, Asiwaju Bola Ahmed Tinubu, on the occasion of his 71st birthday anniversary.
"I pray that the good Lord will grant him good health and many prosperous years in undiluted joy to continue to be a shinning light to his numerous mentees and Nigerians as a whole."