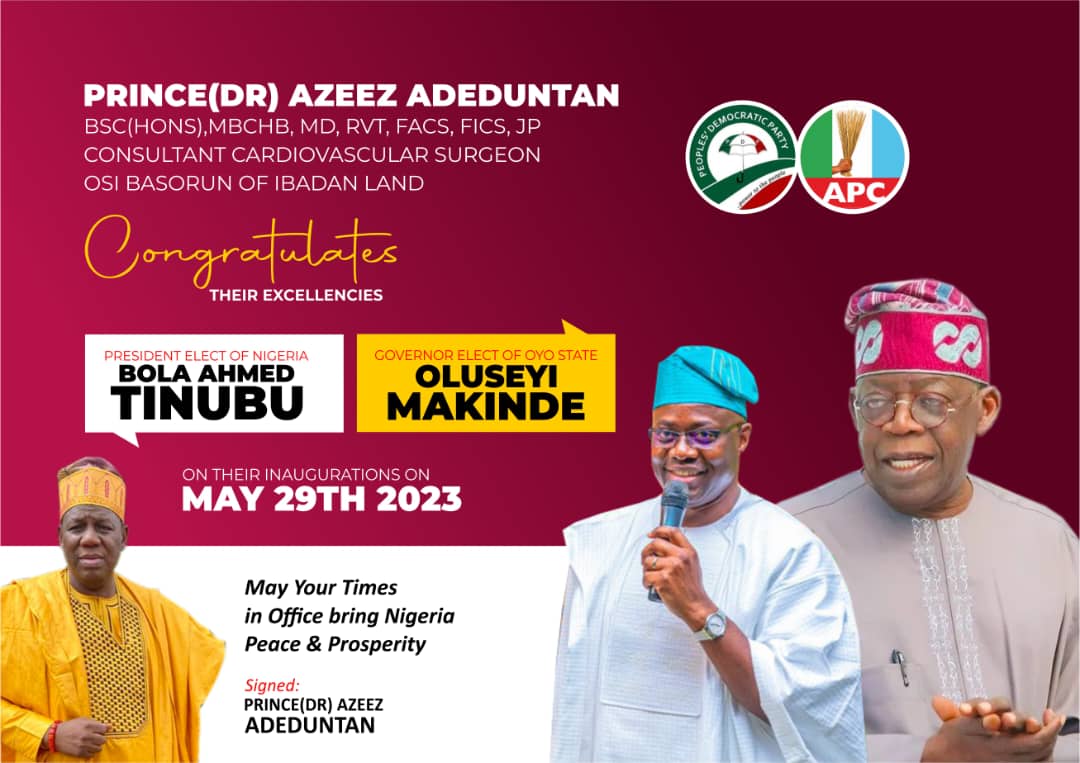 Why Nigeria Should Go To War With Niger – Oladoja
..Oyo workers, pensioners should be grateful to Gov Makinde
Sunday August 6, 2023
The Spokesperson, Authentic Mogajis of Ibadanland and Chieftain of Oyo State chapter of the People's Democratic Party (PDP), Mogaji Olawale Oladoja for Africa to remain independent and sustain its sovereignty, the recent coup in the continent must tackled urgently.
Mogaji Oladoja stated this while speaking with journalists on various issues affecting the Nation.
He stated that Nigeria is better known as "Giant of Africa" and it must live up to its responsibility of protecting the dignity and integrity of the African continent.
Oladoja expressed surprise to the role being played by Russian Leader, Putin in some of military takeover in the West Africa Nations and called on World leaders to support West Africa if truly democracy will survive in the world.
Mogaji Oladoja also berated some Northern Governors especially those that shared border with Nigeria neighbouring nations for not displaying enough loyalty to Nigeria as well as their representatives at the National Assembly.
Mogaji Oladoja who is also the Mogaji of Akinsola' compound, Ibadan stated that with the well equipped military personnel of the Nigeria Armed forces, and many experiences of Nigeria peace keeping mission, restoring Niger Democratic Government should not be a hard nut to crack for Nigeria.
He added that Russian Leader, Putin has lost some of its men to the Ukraine war which should also be an advantage for Nigeria.
Oladoja then called on President Bola Ahmed Tinubu to safeguard all borders, entry to the nation effectively in order to forestall unexpected run over by external forces.
While commenting on the ministerial nominees of President Tinubu, he called on Nigerians to support and respect the choice of the President irrespective of any contrary opinions.
He stated that what Nigeria needs now is an effective leadership ready to give good governance to the nation.
Oladoja while responding to the recent discovery of atrocities perpetrated by some directors at the federal civil service cautioned civil servants to always be honest, diligent and show commirment without bias to their employers.
Also, on Oyo State affairs, Mogaji Olawale Oladoja stated that the state Governor, Engr Seyi Makinde has shown leadership in the face of current economic reality and and should be commended by all.
He said the civil servants and pensioners in the state should grateful to the state Governor for given priority to their welfare in the last four years.
Oladoja further stressed that what the state government needs is the cooperation of all and sundry in the quest of moving the state forward.
He then called on the protesting Oyo State workers to appreciate the good gesture of the Governor and reciprocate such by peacefully returning to their duty posts.