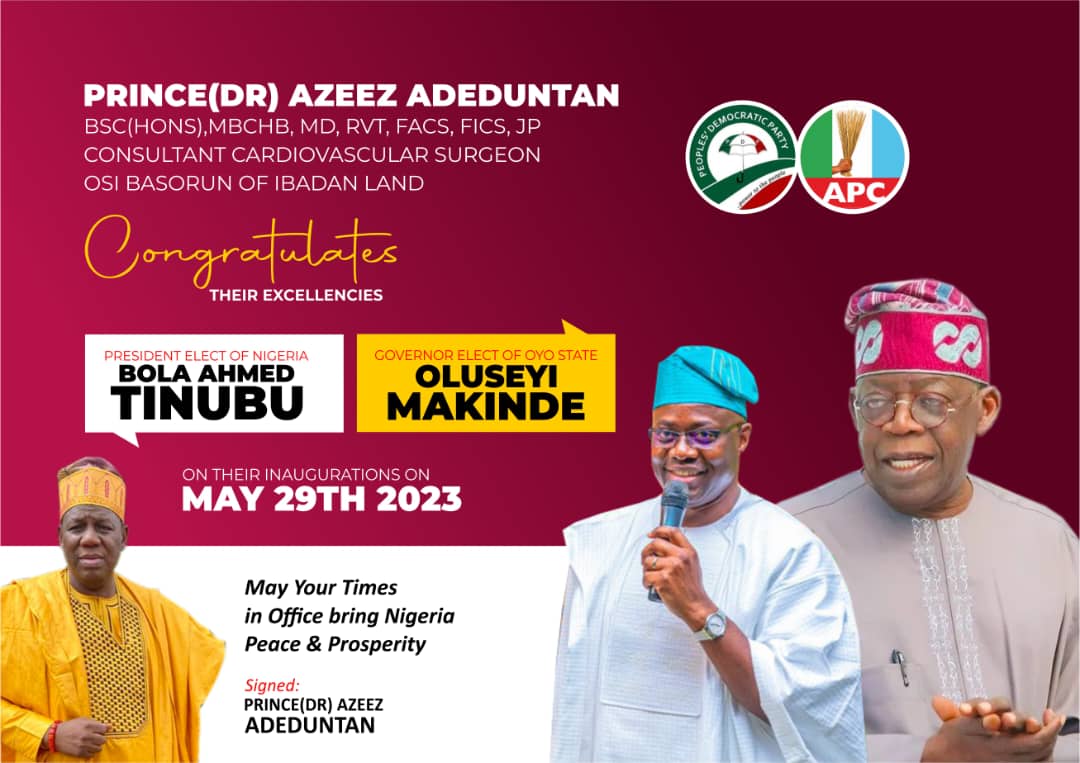 Why Makinde Deserves Second Term As Oyo Governor – Adeduntan
Wednesday March 1st, 2023
Residents of Oyo State have been advised to support the state Governor, Engr Seyi Makinde in ensuring he returns for second term.
An All Progressive Congress APC Governorship aspirant in the state, Dr Azeez Popoola Adeduntan stated this while featuring BCOS radio, Oluyole FM lunch hour, "Oro to nlo" on the March 11th Governorship election in the state.
Dr Adeduntan described Gov Makinde as the best among all other Candidates hence the need for all to support his candidature so as to better the lot of Oyo State the more.
The world reknown international surgeon commended the exceptional role Governor Makinde played in ensuring the emergence of President Elect, Asiwaju Bola Ahmed Tinubu.
He said Makinde remains the best and the most experienced among all the candidates jostling to govern Oyo State.
The Osi Bashorun of Ibadanland who until few days ago was a member of the opposition APC in the state said he left APC because of electoral fraud in in the party.
"Seyi Makinde have the best experience among all the Governorship candidates."
"Some of the APC national assembly Candidates may still lose their mandates at the court of law, so they should not celebrate yet."
He added that the PDP National Chairman, Iyochia Ayu was of reason the PDP lost the Presidential and National Assembly election.
He commended Gov Makinde who he said is already making sure that all conflicts in the party are resolved.
Adeduntan also debunked the rumour that Makinde discriminate against religion, adding that it's not in the style of Gov Seyi Makinde to do such.
He then appealed to voters in the state to come out enmasse and vote for Governor Makinde do finish his on-going good works.