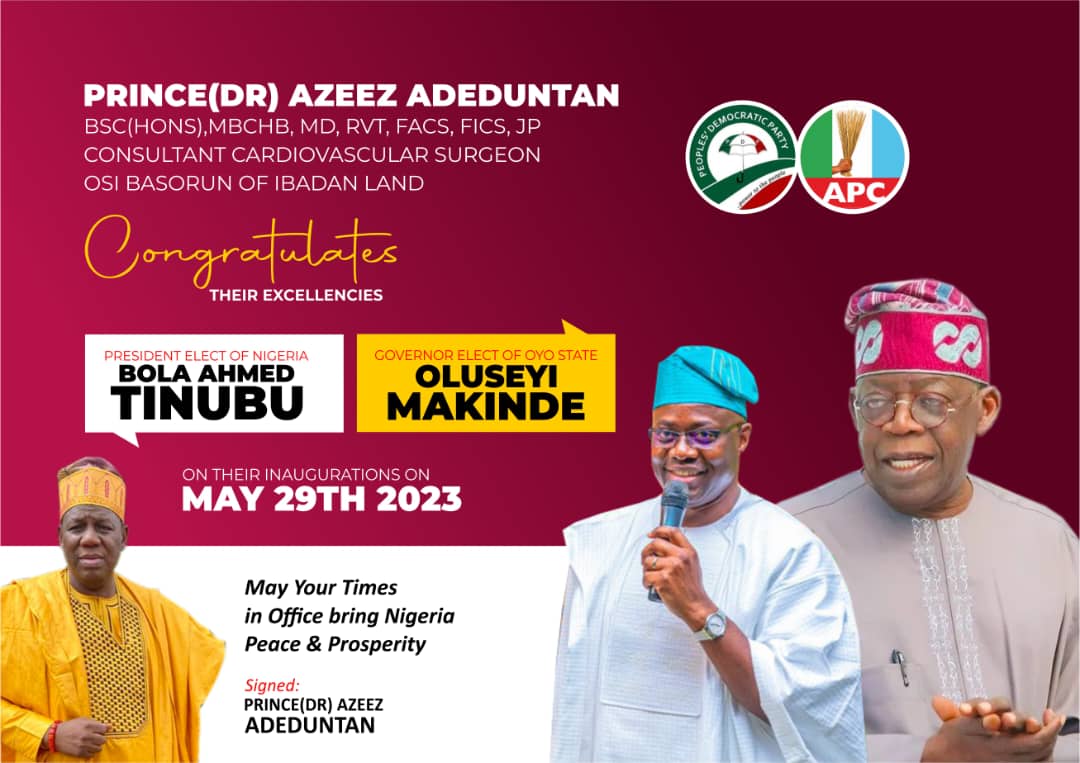 This is Seyi Makinde's Time, Others Should Go And Rest, Adeduntan Tells Folarin, Adelabu
Monday March 6th, 2023
The Osi Basorun of Ibadanland and 2023 Gubernatorial aspirant on the platform of the opposition All Progressive Congress, Dr Azeez Adeduntan ,has described the 2022 gubernatorial primary election of APC as a fraud and rape on internal democracy.
Dr Adeduntan who stated this while featuring on Fresh FM Sunday programme " Cross Fire" said what transpired at the Liberty Stadium, Oke Ado was not too good for APC as a party in Oyo State.
He called on the APC governorship candidate -Senator TESLIM,to step aside from active politics and go to Ibadan central mosque to appreciate Almighty Allah ,for his kindness on him politically For his spending 12yrs as OYO CENTRAL SENATOR .
He added that there are many other people in the state who are determined, focused and forward looking ;in putting necessary measures to develop the state ,hence the need for old political order to step aside.
"I left APC because there are evil and anti democratic practices there.
You can't continue to be in a party that commits electoral fraud (JAGBA)all the time.
If a woman does not leave a battering marriage, she will die.
While I, Agbaje, Alao ,were busy running to local governments to meet with delegates, Teslim was in Abuja meeting with party national officers. "on how to doctor delegates list in cahoot with rogue elements at the APC national headquarter ABUJA.
He said social media does not win election but the streets interactions with voters ;adding that Makinde will win Saturday election ,through the supreme mercies of almighty GOD.
He said Adelabu is not qualified to complain now that the same measure former Governor Ajimobi used for him was now used against him by Teslim Folarin.
Adeduntan called on all residents of the state to vote for Engr Seyi Makinde in order to complete his on-going good works.