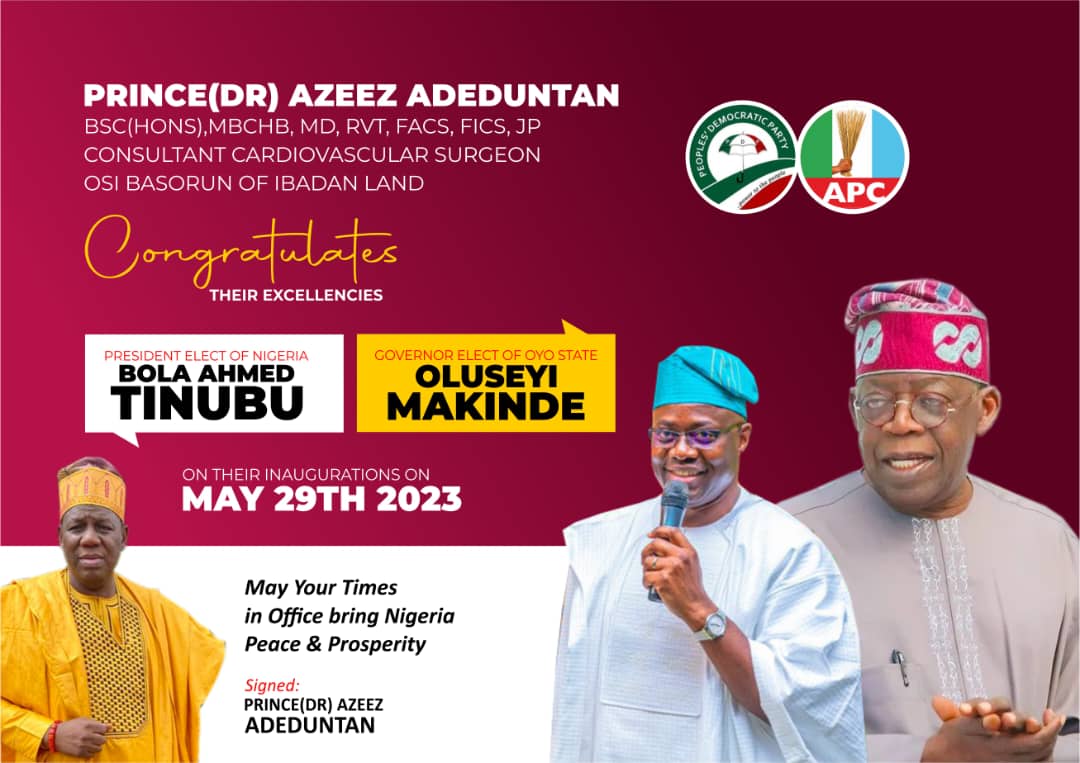 The 1987 Christmas,' Bola Ige,' Wole Soyinka And We
By Oloye Lekan Alabi
Sunday December 18, 2022
35 years ago,exactly on Sunday,16th December,1987,the late Chief 'Bola Ige,SAN and his wife,the late Honourable Justice Atinuke Ige,hosted Africa's first Nobel laureate,Professor 'Wole Soyinka,at their Esa-Oke home.
Reason? Prof. Soyinka and Chief Ige were very close friends(hand-in-glove type).They both shared ideas and values.
The highly-cherished Nobel Awards are traditionally announced in October of each year.And so it was in October 1987,when Professor Soyinka was announced the winner,the first African,of the 1987 Nobel Prize for Literature.
Naturally,Chief Ige was ecstatic,like millions of Nigerians and Soyinka's followers all over the world,about his friend of many decades not only winning the coveted prize,but breaking the record as the first African.While the formal presentations of the Nobel Awards in the various categories of human endeavours, traditionally take place in Stockholm, Sweden, the native country of the donor,so was that of 1987.
Thus,Chief Ige and his wife rolled out the drums in honour of Prof Soyinka,by inviting selected high profile guests/friends across Nigeria to Esa-Oke.
My humble self,Senior Chief 'Lekan Alabi,Maye Olubadan of Ibadanland and the first Culture Ambassador of the National Museum and Monument,Ile Ife(then the Press Secretary to the Military Governor of old Oyo State)and wife,made the Iges Esa-Oke List.
The cream of the society drawn to Esa-Oke(now in present Osun State)by the Iges on 16th December,1987,included Mrs Fransesca Emmanuel,then the Permanent in the Federal Ministry of Sports,Chief Tayo Akpata,Professor Abiola Irele,Alhaji Ali Baba,the late Professor Toriola Solanke and his wife,Folake,the First Lady SAN,the late Princess Teju Alakija,old Oyo State First Lady Head of Service,the late Mr Femi Johnson,the late Professor Muyiwa Awe and his wife, Bolanle,also a Professor, the late Ambassador Segun Olusola,Dr Yemi Ogunbiyi,the late Hon.Justice and MrsTayo Ayanlaja,the late Chief Bode Akindele,the late Chief Bayo Akinnola, Professor Obaro Ikime etc(For the full list of the 1987 Nobel/Esa-Oke celebration attendees,kindly refer to my artcle.
:"NOBEL AND ESA-OKE CONNECTION"published in the 23rd December,1987 issue of the now-defunct Sunday Sketch newspaper and also on page 75 to 77 of my 1990 book:"SPEAKING FOR GOVERNORS".