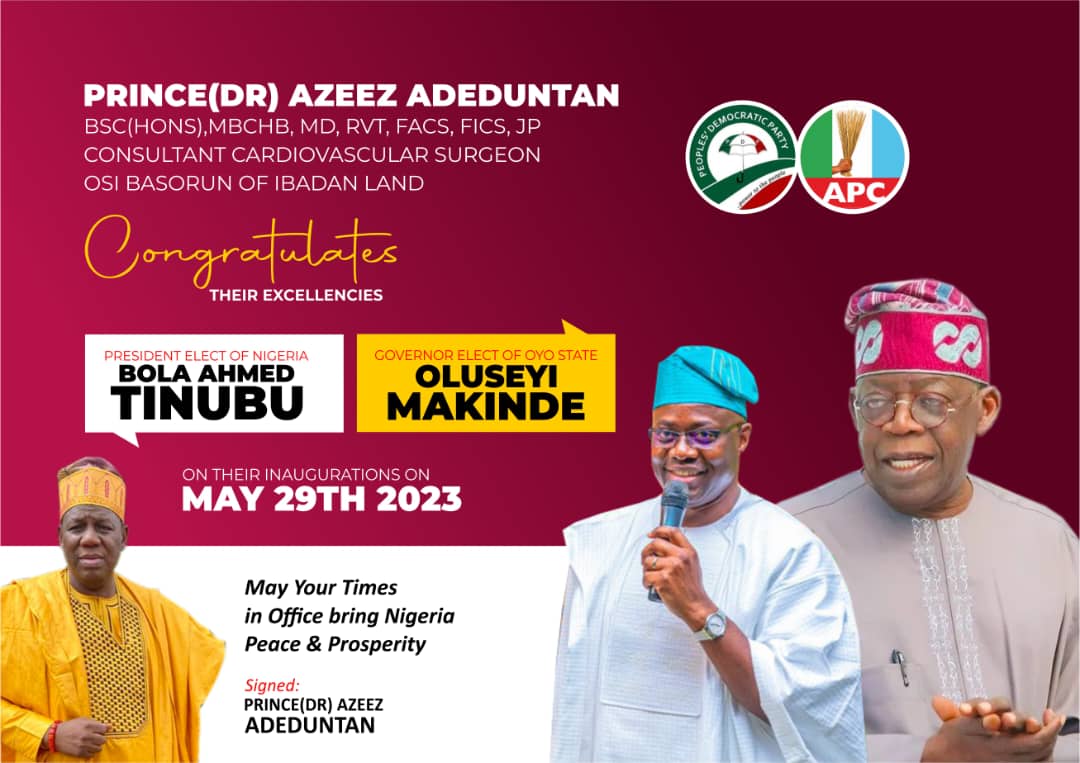 Shun Protest, Vandalisation Of Public Property, Tinubu Aide Cautions Protesters
..Go out on Saturday and Vote Tinubu – Badru
Tuesday February 21, 2023
The National Welfare Director, Project Beyond 2023 and member APC Presidential Campaign Council, Engr Adekunle Badru has advised Nigerians to remain calm even in the face of the current naira re-design crisis.
Engr Badru made this plea while speaking with journalists in Lagos on Monday.
He stated that it is the responsibility of all well meaning Nigerians to ensure power shifts back to the South after the eight years of President Muhammadu Buhari and that Asiwaju Bola Ahmed Tinubu who is the most qualified among the candidates emerged as Nigeria next President.
Engr Badru expressed
concerns over various protests and disruptions as well as manipulations in some quarters that the introduction of the new naira notes had caused, adding that what the Nation need now is peace to ensure 2023 election holds.
He cautioned that Niigerians will not accept any untoward electoral arrangements that
does not imbibe the provisions of the constitution of the Federal Republic of Nigeria as being speculated by some public affairs analysts and concerned stakeholders.
Commenting on the re-design naira notes, Engr Badru expressed dismay to the timing of the policy introduced by President Muhammadu Buhari through the Central Bank of Nigeria which has added greater frustration to Nigerians.
He recounted the efforts of Asiwaju Bola Ahmed Tinubu in the emergence of President Muhammadu Buhari in 2015 and 2019 and wondered why the President is reciprocating Asiwaju gesture with policy that can ruin the chances of APC as a party and it candidates.
He cautioned the judiciary against allowing themselves to be used to stand in the way of justice, equity and fairness as elction approaches.
The APC Stalwart while expressing concerns over the trauma Nigerians are passing through commended the National Chairman of APC, Abdullahi and all Governors of the party in speaking out for Nigerians.
Engr Badru urged the federal government to provide urgent solutions to the fuel scarcity and naira notes swap among other problems confronting Nigerians.
He called on Nigerians and youths especially to remain calm but get their PVC and vote Asiwaju Bola Ahmed Tinubu in as President in order to commence the act of nation building.
He condemned the stance of CBN Governor, Godwin Emefiele on the new naira notes urging him and the President to respect the decision of the supreme Court in order for them to be on the good book of history.