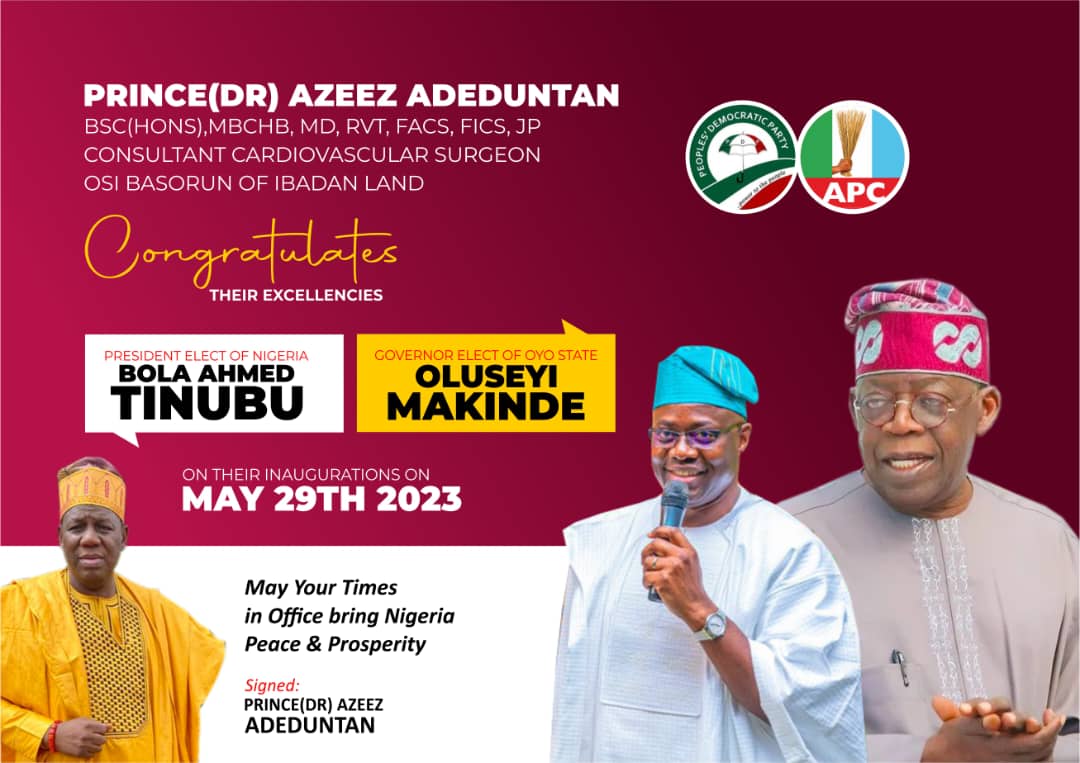 Sallah : Alao Felicitates Muslims, Urges Support For Tinubu
Wednesday June 28, 2023
A chieftain of the All Progressives Congress (APC) in Oyo State, Engineer Oyedele Hakeem Alao, has called on Muslim faithful to imbibe the lessons of Eid Al Adha as exemplified by Prophets Ibrahim and Mohammed (PBOH), which are patience, sacrifice, faith in God and selfless service to God and humanity.
Alao in a Sallah message by his Media Office, said nothing is too big to give for collective security, peace and progress of the state and the country, urging Nigerians to have belief that the administration of President Bola Ahmed Tinubu would take Nigeria to the next level.
He said the feast of sacrifice been celebrated is an opportunity for the faithful to seek God's bounties and bond with one another in an atmosphere of love and unity, tasking Nigerians to continue to pray for the administration of President Tinubu.
According to the Asiwaju of Irokoland, there is no doubt that President Tinubu has hit the ground running from his first day in office with all the policies initiated so far geared towards making life better for all, noting that the administration needs the support of all to succeed.
He said, " I use this occasion to wish our Muslim brothers and sisters in our dear state and in the country as a whole happy Eid Al Kabir
"As we celebrate, it is my prayers to the Almighty Allah to accept our worship and supplications, grant us his guidance and place Oyo State and Nigeria on the path of peace and sustainable development.
"I enjoin Nigerians to continue to bear with the administration of President Bola Ahmed Tinubu. With our prayers and support there is no doubt that it is ready and poised at taking the nation to greater heights which we would all be proud of."