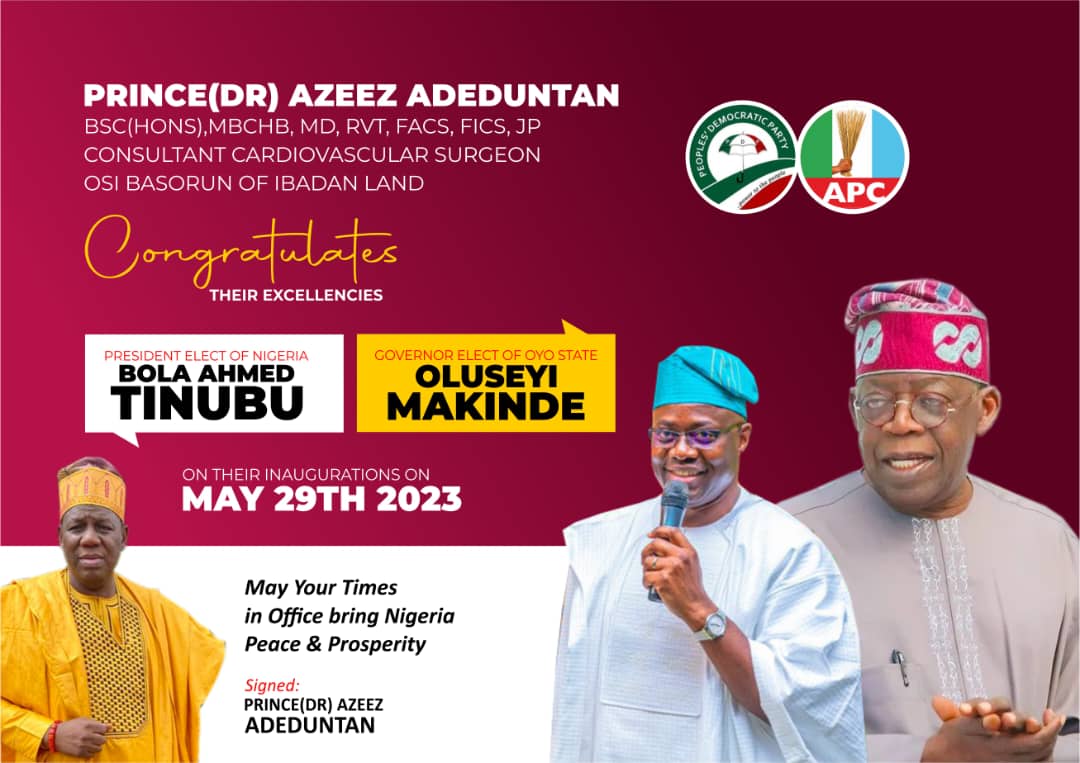 Oyo State Ministerial Slot: It Is Time For President Tinubu To Reward Loyalty And Ibadan LAND
Wednesday July 5, 2023
An Open Letter To President Bola Ahmed Tinubu (GCFR) And Governor Seyi Makinde
Dear Sirs,
Oyo State Ministerial Slot: It Is Time For President Tinubu To Reward Loyalty And Ibadan
We are an indigenous organisation, Ibadan Parapo. One of our major objectives is to come together as indigenes of Ibadan and solicit support for any good Ibadan cause
We had watched with keen interest various issues surrounding Ministerial slot for Oyo state and many melo drama trailing it.
We are not a political organization ,but a pressure group that believes in the good of our land and it's People.
In the last Eight years, Ministerial slot has been taken away from Ibadanland, which is the capital of Oyo State and by extension, the southwest Nigeria.
We as a group like many other residents and voters that voted massively for President Bola Ahmed Tinubu and Gov Seyi Makinde are of the opinion that proper Ibadan Indigene who worked assiduously for their electoral successes should be considered as Honorable Minister.
In light of this we have come into conclusion that, one of the sons of the soil, prominent Oyo state politician of note, world revered international cardio vascular surgeon and the Osi Basorun of Ibadanland, -Chief Dr Azeez Popoola Adeduntan should be considered for this job owing to his intimidating record of service and a detribalized NIGERIAN.
This, we believe ,the President should do in order for him to further gain the confidence and support of Ibadan indigenes.
This call is not a mandate ,but a compassionate one in strict compliance with Section 147 (3) of the 1999 Constitution as amended and other enabling laws and a subtle call for the respect of the rule of law as promised by PRESIDENT Tinubu in his inaugural speech.
"When considering who becomes a minister from Oyo State, please your excellencies,don't forget to appoint prominent indigenes of Oyo State of verified and viable Ibadan Indigeneship.
Our group whose aim amongst others is to agitate for proper representation and positioning of Ibadan indigenes in power,,while congratulating Tinubu and Makinde on their inauguration as President of the Federal Republic of Nigeria and GOVERNOR of Oyo state respectively and praying God to imbue them with the wisdom to lead the country and state to the promised land, quickly reminded them that Section 147 (3) of the 1999 Constitution as to the appointment of indigenes is not a matter of discretion but a matter that requires a strict compliance with laws of the land.
This we know will also create a happy egalitarian citizenry in this country as envisaged by the preamble to the constitution, and aimed at ensuring equal and fair participation of all in recognition of the diversity of the people of this country and the need to forge national unity, promote a sense of belonging among all the peoples in the Federation.
"Flowing from the above, we trust and look forward to seeing your administration act in line with the provisions and standards provided by the constitution in the appointment of ministers and other portfolio officers," the group said.
"Finally, sirs, Azeez Popoola Adeduntan had contributed so much to the growth and development of Ibadan, Oyo State as well as Nigeria and we believe, it is now his turn to be compensated and rewarded accordingly.
We hope and believe your tenure as the President of Nigeria will consider and tilt towards our hue and cry. We wish you the very best in office and we pray the Almighty Allah continues to be your fortress, as well as our Governor and PRESIDENT respectively.
Below is the outstanding records and landmark successes of Azeez Popoola Adeduntan.
PROFILE OF DR AZEEZ POPOOLA ADEDUNTAN
CONSULTANT CARDIOVASCULAR SURGEON
FORMER OYO STATE COMMISSIONER OF HEALTH
• Dr. Azeez Popoola Adeduntan, is a 1981 distinction graduate of the University of Ife Medical School,Nigeria,a Columbia University Medical School graduate,New York,USA, a Harvard Medical School graduate, Boston,USA, a Vascular Surgeon, a General Surgeon,a registered vascular technologist(RVT) and an entrepreneur, as well as a kind-hearted philanthropist.
• Dr. Adeduntan hails from Ibadan, Oyo State in Ibadan South West Local Government Ward 1 OLUPOYI'S COMPOUND OJA-OBA.
• He had his high school education at African Church Grammar School, Ibadan, Nigeria, where he graduated as the Best All-round Student in 1972, with Division One and was the SENIOR PREFECT.
• He won the Federal Government of Nigeria Scholarship for Medicine and proceeded to the University of Ife (Now Obafemi Awolowo University) to study Medicine, graduating with distinction in 1981. Here again, he won the Best Student in Community Medicine Award, and the prestigious Lawrence Omole's Prize for proficient students.
• After his University education, he served his Housemanship at Adeoyo State Hospital, Ibadan, Nigeria in 1982 and later became the Medical Officer of Health at Adeoyo State Hospital in 1983.
• Dr. Adeduntan left for the United States and attended the College of Physicians & Surgeons of Columbia University, Harlem Hospital Center, New York City, New York till 1993.
• He also attended Harvard Medical School Boston Massachusetts for fellowship training in Vascular Surgery till 1995.
Among his Academic honors and Awards are:
• 1995 – Harvard Chair- for outstanding performance during fellowship training Harvard Deaconess Surgical Service, Boston, Massachusetts.
• 1995 – Chairman's Book-prize for excellent performance in Vascular fellowship training -Harvard Deaconess Surgical Service, Boston, Massachusetts.
• 1995 – Book-Prize for excellent academic performance by the Vascular Surgeons Harvard Medical School, Mount Auburn Hospital, Cambridge, Massachusettes.
• 1993 – Director's Book Prize for Excellent Academic Achievement Columbia University-Harlem Hospital Center, New-York.
• 1992 – Ranked 99th percentile surgical basic science in the 1992 American Board of Surgery In-Training Examination.
• 1991 – Ranked 98th percentile in the 1991 American Board of Surgery in-training examinations.
• 1987 – Citation as the Intern of the Year, Harlem Hospital Center, New York,USA.
• NON ACADEMIC HONORS /AWARDS
• 2020 :Excellence /Heroes award for meritorious services to Southwest Nigeria ,Nigeria, and the world at large by the Board of SouthWest Nigeria Excellence Awards(SNEA)
• 2019:Chieftaincy Title of Osi –Basorun of Ibadan Land,Nigeria(Prime Minister) Of his imperial Majesty –the Olubadan of Ibadan land, Nigeria ,for meritorious services as Commissioner of Health Oyo State Nigeria and Philanthropic activities in Nigeria and Diaspora
• 2019 : Merit Award Association Of Medical & Dental Officers Of Oyo State Nigeria(AMDO)
• 2018 Merit Award Central Council Ibadan Indigenes,Nigeria(CCII).:
• 2017: Best Commissioner In Oyo State Nigeria-Silverstone Communication
• 2017 :Best Commissioner In the SouthWest ,Nigeria regardless Of Portfolio-Odua Newspapers Group,Nigeria
• 2010 : Merit Award Yorubas Of Atlanta,USA
• 2011: Merit Award Ife University Medical Students Association Nigeria.(IFUMSA)
• 2009 :Merit Award Alliance Of Nigeria Organizations In the USA(ANOG)
• Dr. Azeez Adeduntan is a Fellow of American College of Surgeons (FACS), Fellow International College of Surgeons (FICS), Member Society for Vascular Surgery (SVS), Society for Clinical Vascular Surgery (SCVS), Peripheral Vascular Society (PVS), Society of Diagnostic Medical Sonographers (SDMS), Atlanta Vascular Society, Georgia Vascular Society, Nigeria Medical Association (NMA) and has Primary Fellowship of The National Post Graduate Medical College of Nigeria in OB/GYN.
• He has contributed to knowledge and written many academic papers published in major academic journals.
• He has served as a Professor of Surgery, at Morehouse Medical School, Atlanta, Georgia and is currently the President, Chief Executive Officer, as well as Medical Director of RILGA LLC- a professional corporation in the USA; Director, Dr.Azeez Popoola Adeduntan Foundation (DAPAF),Director Adeduntan Cardiovascular and Diagnostic centre(ACDC) in Ibadan Nigeria, as well as Chairman and Publisher-Nigeria Alert Newspaper-http://www.nigerianalertng.com.
with numerous employees in Ibadan and USA.
• Dr. Adeduntan has made numerous Contributions/Service to the Nigerian Community at home and in Diaspora:
• He contributes yearly in cash,in scholarship awards to indigent,but brilliant students, in participation and in kind to Nigerian Women Association of Georgia (NWAG), and he is a Gold Sponsor, Otu Umunne Organization (Gold Sponsor), Obafemi Awolowo University Medical Students Journal Club, Contributes regularly to Omo Ajorosun Club Ibadan(member), Ibadan Solidarity Group(member), Ondo and Awe Descendants Union, Ibadan Descendants Union,USA, (member), Eko Club Atlanta, YORUBAS of Atlanta, St. Jude's Children's Fund Atlanta, Homeless shelter, Salvation Army Fund and has a Foundation for the less privileged, named after him in both Nigeria and USA-DR AZEEZ POPOOLA ADEDUNTAN FOUNDATION (DAPAF.www.dapaf.org) that cares for the less privileged with free health care at OLD IFE ROAD IBADAN NIGERIA and ATLANTA,USA.
• His accomplishments and contributions have been a shining example to succeeding generations of Nigerians at home and in Diaspora.
• For the above "sterling achievements"(AJIMOBI and the world at large) , Governor Abiola Ajimobi on June 17, 2016, appointed him as Commissioner of Health ,OYO STATE.
• As Commissioner Of Health in OYO STATE,DR ADEDUNTAN achievements- include ,but are not limited to the following:
A)DR.ADEDUNTAN facilitated through his wife and contacts,in the USA, the donation of 2 million dollars(about one billion Naira) worth of equipments, consumables and materials to OYO State Hospitals on March 22nd 2017, from the USA.
B)Facilitated and fast tracked , the development of HEALTH Insurance agency Board to help OYO State residents (poor and rich) with their medical needs.
c) Facilitated the effort to raise N50 Billion to transform Oyo state's health care system with the largest donor(100million Naira) on August 3rd 2017 ,coming from his contacts in the USA .
D)Facilitated the bringing together of Primary Health centres under the same roof for ease of care in OYO State.
E)Facilitated the Federal GOVERNMENT approval to build a centre for labour and delivery complications(VESICO VAGINAL FISTULA CENTRE) in OYO STATE as the only centre for the six south western states.
E)Under his watch Malaria incidence in OYO STATE has been reduced to 43%.
F)OTHERS too numerous to mention.
✓ He's been adjudged "Most Outstanding Commissioner in Governor Ajimobi's cabinet – first By MISS OYO PAGENT-SILVERSTONE COMMUNICATION, on JANUARY 2nd 2017 with an award, and validated by GOVERNOR AJIMOBI himself on May 30th 2017, at the CIVIC CENTRE IBABAN during the flag off, of the Health Insurance Scheme.
✓ Most recently Dr.Adeduntan was adjudged as the BEST COMMISSIONER(regardless of portfolio) in THE SOUTH WEST REGION, BY ODUA AFFAIRS NEWS MAGAZINE in their special edition for September/October 2017.
• Dr. Adeduntan was the governorship candidate of the Labour Party in Oyo State in 2011.
• He was a cleared governorship aspirant in the Peoples Democratic Party (PDP) in 2015.
• Dr. Adeduntan was a cleared aspirant in APC ,in the 2019 Governorship race in Oyo State.
• Dr.Adeduntan was a cleared and strong contender in APC for OYO STATE GOVERNORSHIP IN YEAR 2023.
Respectfully yours
E signed
Dr DAPO ADEROGBA
CHAIRMAN
ALHAJI AKEEM ADEGBOLA
SECRETARY
FOR and on behalf of IBADAN PARAPO GROUP
Dated
July 5th 2023