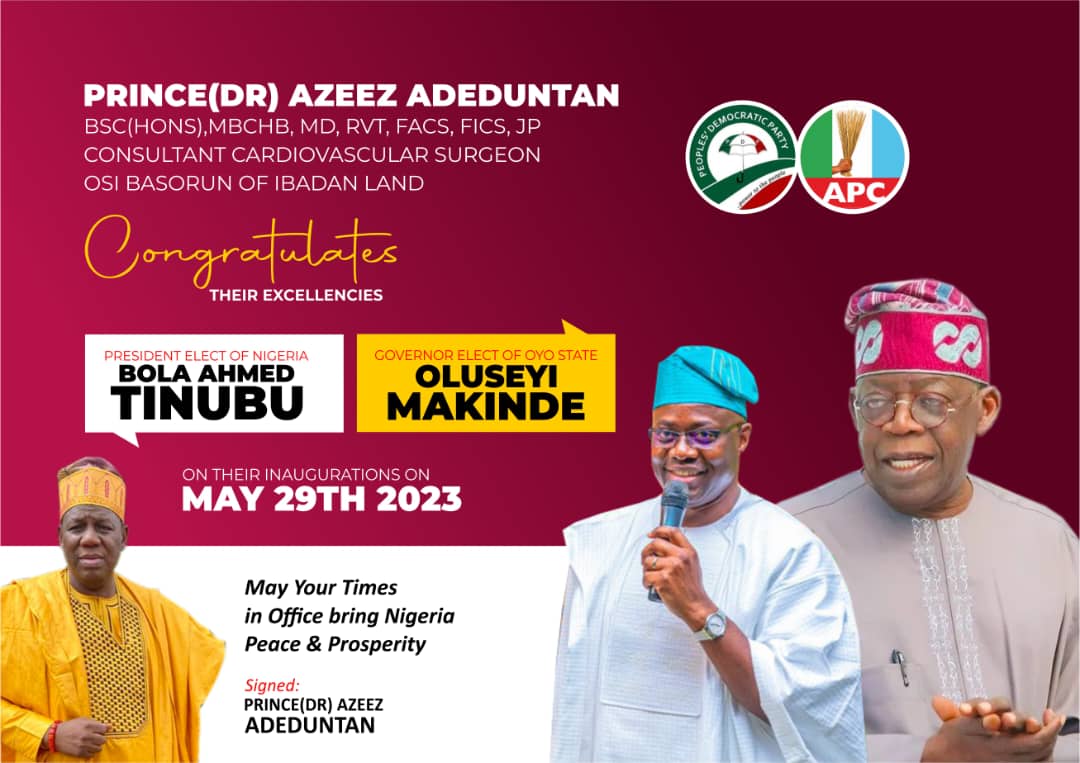 Interview: Oyo Guber 2023: Seyi Makinde Is The Best Among Governorship Candidates – International Surgeon, Adeduntan
Thursday March 16, 2023
DR. AZEEZ ADEDUNTAN was our guest during a recent episode of PARROT XTRA HOUR on Splash 105.5FM, Felele, Ibadan. He served as Commissioner of Health in Oyo State during the late Governor Ajimobi's tenure and he is the Osi Bashorun of Ibadanland. He is a universally known Surgeon and one of those who add colours to politicking in Oyo State. During the Radio Show, he delivered his points without mincing words. He emphatically expressed his desire to see to the re-election of the present governor of Oyo State, Engineer 'Seyi Makinde. Excerpts:
Welcome to the show Doctor
Thank you for having me on this show. I'm extremely very grateful especially with the title of your programme 'Ayekooto'. We will be telling the truth today, which is bitter.
I hope the prevailing political stress is not getting into you
I'm a very stable person. I have handled stress in my life. If you open the heart of human beings, their blood vessel and every part of the body, you must have been distressed. I have been taken care of human health since 1974 – that was when I entered the University of Ife. Therefore, nothing bothers me except the interest and the fear for Almighty Allah. I'm a Muslim and in whatever I do and when I do things, I don't fear anybody, I fear Almighty God.
What is the attraction in politics for you as a busy man and a Surgeon?
Let me say this to the whole world, my family both in the US and Nigeria are listening because we are now in a digital age. They have locked into your programme on my Facebook. Coming into politics for me was a child of circumstance. It was not part of my life. I'm not the kind of person that gives excuses, if not, I would be in Oja Oba, in fact I will be worse than 'Auxiliary'. Whatever I want to do in my life is total. It was late in 2010 that trouble began in Oyo State about NURTW, 'Elewe omo, Auxiliary' and others who were disturbing Iwo Road and other areas in Ibadan. Each time people met me in Atlanta and other places in the world; they always asked about what was going on in Nigeria, especially Ibadan. I cannot hide in the US, I'm an Ibadan man. I was born here, my father and everyone were born here and we have made a lot of progress in terms of assisting Ibadan. Also, keeping in mind that whatever I have done in my life but for federal government of Nigeria and Oyo State government, I would not have been able to go to the University of Ife and of course my career line.
As I told you, whatever I want to do is total. When I went to Medical School, I wanted to study in the University of Ife and I had an opportunity to apply for three courses, it was medicine all through. When I wanted to go to the United States, it was surgery all through. I decided that going to Nigeria and helping, I would like to be an Executive Governor based on what I have seen in the United States and other parts of the world and how people are governed. The immediate reason why I joined politics was to assist Oyo State government at that time when Governor Akala was in government to see how I can make a difference in global best practices, and how to help a lot of young men and traders who were not doing very well at that time. It was not something that I planned. As I told you earlier on, I don't run away from trouble because life is trouble itself. Look at what is happening in Nigerian politics now, if you are not someone who has the belly to handle, you will run. I don't know of anybody who is born in Oja'ba that is very chicken-hearted because if you are chicken-hearted in Oja'ba, you would be dead by now. When I was in the US, I heard people talking about ghettos, I just laughed and tell them to come to Oja'ba and see ghettos. That's what it is!
Recently you decamped from All Progressive Congress, APC to Peoples Democratic Party, PDP. Why did you make this move when it is close to election period?
It is true and as I told you earlier on, actions and reactions are equal and opposite and that's Physics. It took me eleven months after the fraudulent primary election of APC to take this decision. Anytime you hurt other people, you must engage in constructive engagement with other people that you have injured. This is what Americans and other parts of the world do. Six of us got the form and the same thing happened in 2019 where there was no legal electoral process carried out. Somebody just came in April 2019 and stole the primary. There was no primary. The same thing happened and when I say this, I say it with authority. God is the only person that Adeduntan fears. If you are a Surgeon, I can tell you there is no part of the body I cannot open. How can a fellow human being threaten me? I'm happy that your programme is 'Ayekooto'. One of the reasons I jumped from APC calculatedly, and guided by the supreme mercy of God is that here you have a young man who is the Governor of Oyo State who puts his life and career on line to say that the next presidency of Nigeria should come to the Yoruba people. We have the same DNA.
You were once with Labour party too…
I didn't cross to Labour party, I went to Labour party first from the US. That was my first and the best party. I'm telling you this as at today because Labour people conduct themselves according to due process. I won the primary there from the United States. There were two other lawyers from Nigeria, one of them is dead now, Shola and the other one Adedeji who was sponsored by Mimiko against me. Labour people looked at us, vetted us through free, fair and credible primary and that was why I emerged as the candidate of Labour in 2011. But since then, it has been a disaster. It is either electoral heads are changing documents, changing delegates' list and what pains me is when you are now lionizing that person. You come out of a fraudulent primary and they are now lionizing you. That's why Nigeria is not making progress. Look at what is happening to Donald Trump, if he's not careful he will go to jail as a former US president. Someone called me before coming to the show and said that I'm de-marketing the party and I told him the party is already de-marketed. Seventy percent of APC members are already in Accord. There is no center in APC in Oyo State. Teslim and I were in PDP together in 2015; he did the same thing and emasculated all of us. You think you are smart; Dr. Adeduntan is smarter than you are. Go and bring your certificate, go and bring what you have achieved in life.
You always complain of Senator Folarin emasculating you, does that mean you are not smart enough?
Let me tell you one thing, to all Nigerian youths, don't think you are smart. Look at what happened to Obi, despite all the cries of Endsars and the clamour for youth presidency, Obi failed woefully in the presidential election. What I found out about Nigeria and I'm telling people all over the world that you cannot become a governor or president in Nigeria without having people that can alter things for you. That's what I have found out. When I talk about Teslim, he is my brother, we are very close and I don't have anything against him. However, it was made possible even by the national party. Teslim couldn't have done this alone. When he did it in 2015, PDP assisted him at the National Working Committee level. The same thing is happening now.
Why didn't you also seek the help of the National Working Committee?
I did the same thing but he has upper hand and that's what I have found out. A foolish man learns from his own mistakes, an intelligent man learns from others. With what happened, we knew the primary election of May 28 in APC was rigged because they already took over the congress both local and state, and we knew it. However, if you want to fight a system you must be there. A large number of people advised us not to get the form because the plan had been concluded in Abuja while we were busy touring different local governments in the state. Anyone aggrieved on this matter is afraid of the truth. I am the one wasting money. You can't keep me behind and elevate those who were involved in election manipulation. They neglect those of us who are god-fearing and have good intention to serve the people. I am not a politician anyone can bench. I'm always in the front. I thank Almighty Allah for _Oja'baman_ to be one of the best worldwide Surgeons. You can't relegate me to the bench in the party, I'm above that level.
Some supporters of Teslim Folarin alleged that all the party's aspirants are involved in the process of 'jagbaism' and that you are among those insulting him because he eventually won. Even Hon Isaac Omodewu, Oyo APC boss was here on our Radio Show and he alluded to this…
That is an insult. He knows me very well. What he said is an insult to my personality. We were Commissioners together and he knows my antecedents. He has been in the US and many politicians who have failed cannot enter the US again. I go in and out of the US at will. I heard the statement and I watched it. He alleged that I was involved in the process of 'jagbaism' and it's a big insult to me.
Does that mean you were not involved?
I was not part of it. Many people called me and I want to use this opportunity to mention them. Prof. Taoheed Adedoja, thank you. I took decision in the last minute. I can't tolerate insults! What I'm saying in essence is that if Nigeria is going to change, we must change our ways. You cannot emerge through a fraudulent primary and expect people to respect you. There was no primary election. I could have used Chief Adeniyi Akintola's tactic which is, 'one leg in one leg out' but I didn't. The difference between a surgeon and other people is that you have a definition of what you want to do. If someone is bleeding in emergency, you control the bleeder. I saw a system that is very rotten. They did it in 2019 but we stomached it. Someone said I could be given the post of a Minister and I asked if I have not been surviving all these years without occupying any political office. I have only been surviving by the mercy of the Almighty God.
Someone said you are not practicing what you preach. He accuses you of closing the bakery opposite your house and locked up the bakery operator at a police station for a long time while you were a Commissioner in Oyo State. How do you wish to defend this allegation sir?
To answer that question, I would urge our people to please be properly guided. Don't say what you don't know. When you open your mouth, speak intelligently. I was not Oyo State government; I was Commissioner for Health. At that time there were rats carrying infection that is called 'Lassa fever' which was about to affect Oyo State. The State Assembly together with the Governor of Oyo State were trying to control Lassa fever. We had a delegation formed by the Department of Health and not the Ministry of Health and they were sent to the bakery. Will I say that the bakery should not be shut down when Lassa fever was affecting the people in the area? Please don't say something that you don't know that can land you into trouble. It was not the Ministry of Health that sent anybody to go and close a bakery, it was the Department of Health at that time. Secondly, you said I don't practice what I preach. There was another church that was closed, I don't belong to Ministry of land and Housing. The church contravened Land and Housing Laws and you do not expect me to intervene. My house was also demolished by Ajimobi's government despite the fact that I was a Commissioner. Go and look at my foundation, that's what justice means. Before you say anything, be careful otherwise, it can land you in trouble. Make sure you have your facts.
It's been three weeks since you defected to PDP, so you wish to confirm you voted for Alhaji Atiku Abubakar?
Let me say this to you, my heart, body and soul is with Asiwaju Bola Ahmed Tinubu. There is no question about that. Tinubu is my man and he's aware that I worked for him. In the fullness of time, God will manifest himself with Tinubu because a lot of things that I did are well known to him both in writing, canvassing and in spending. I did not want Tinubu's success to hold me down, Oyo State is my number one constituency. All politics are local. Tinubu's own vote was for Nigeria, I want Seyi Makinde to win for Oyo State. He is the best among those who are milling themselves around who want to be governor of Oyo State at this time.
As a PDP man working for the second term of Engr. Seyi Makinde, how can you convince me to vote for him?
Let me convince you through this: number one and the newest is what he did in the last four weeks for Tinubu, a Yoruba man. Leadership is about selflessness. I spoke with him and he told me that he would rather be a freeman than to be a slave. That's what it is. We are talking about herders' problem, people being killed in Igangan, Oyo and other places. All these are caused by the Fulanis. Another Fulani man cannot come back. The reason Seyi is bold to say this is because he has a job. I'm not a career politician and Seyi Makinde is not one as well. He is a professional in politics. Politics is a vocation. I do advise all youths running after politicians to go and find a job. Politics is a calling and not a job. It is when you make it a job that you want to kill and rig in an election. It should not be a matter of life and death. Seyi Makinde is a selfless human being and his performances speak volume. He was ready to forgo his second term to allow Tinubu win the presidency. Since May when the electoral corruption was done, I stayed in APC watching and bidding my time. This was done calculatedly through the mercy of Almighty God. Dr. Adeduntan what is your primary motive? Number one is Ibadan, number two Oyo State and number three Nigeria because all politics are local. I want Ibadan to be better than this and that's why I will continue to spend my time in Nigeria. If God had not supported me, I would have died in one of my trips to America. However, I have a mission. Here you have a young man, younger than most of us, and he is selfless and has done his best for two and a half years. Not even three and a half years because he couldn't do anything during one year of COVID. If you are going to judge Seyi Makinde with my dear brother, Senator Abiola Ajimobi, you have to give him eight years. Let me say this, I have nothing personal against my brother Tesi. He loves me and I love him, but truth is bitter. Seventy percent of APC founders are gone. The party is in disarray and if the party is going to be re-arranged, truth must be told. On behalf of myself, the people and government of Oyo State, I am appealing to Senator Teslim. He has spent twelve years in power in Abuja. There is difference between somebody who is educated and somebody who is enlightened. Many people go to the university, bag PhD degrees but are not enlightened. Many people don't know the reason behind what is happening between Ukraine and Russia. If you go and offend people with your post on social media, you will go to jail. There is a law passed by the National Assembly that you must not slander anyone's image. You went to primary election and controlled the umpire and delegates that came there. When are we going to change Nigeria? Everything that I have done including while I was a Commissioner was done from my personal pocket. Talking about the subject matter on why I want you (and others) to vote for Seyi Makinde, in health, he has built more than 350 Primary Health Care Centers. I was Commissioner in that department and I know what is involved. They are blaming Seyi Makinde about education; education was rotten before he got there. I am not trying to paint him as a saint. Nobody is a saint except Almighty God and His disciples. In terms of economy, he has borrowed 400billion. Look at Lagos State that has an IGR of over 1 billion, it is one of the most indebted states in Nigeria today. I'm a businessman too and I'm a Surgeon. You borrow money for business and I'm sure that Adebayo Adelabu who is a banker knows what we are talking about. If we give him the opportunity to complete what he is doing, that 400billion naira can be brought down to a nullity. That's business; it's about borrowing from bank and paying back. You can't judge a man who is doing very well. Talking about security, there are two types: absolute security, which can only be provided by God and you only see that in the graveyard. Government can only provide relative security. There is no way Seyi Makinde can go to Oja'ba and find out somebody who killed somebody last night. When you are talking about security, talk about relative security which government can provide in terms of day-to-day activities, and being able to go to your work without being attacked by anybody.
What structure should be on ground that will make the government look serious about securing lives and properties of the people?
There was no Amotekun before he came to power. The problems of insecurity were there before he came to government. Talking about salary payment, it is an achievement. I'm an employer of labour, I don't earn salaries, I give it to people. All the money he used in constructing roads could have been diverted to other things. I want to thank my brother, Alhaji Ladoja who started it. You must pay your staff first before anything. It's an achievement all over the world. This man has done this consistently for the past three and a half years and I'm impressed with that. The most important thing that he did which makes me to be attracted to him is justice, fairness, equity and truth. Seyi Makinde doesn't care whether he becomes governor again or not, but many people will be affected including the market women. He infused about seven billion naira every month into the economy of Oyo State. So I implore you all not to throw away this opportunity. I am talking to you as an educated person who is well knowledgeable. I was the best in my primary school, during my university days in Ife and at the Medical School. Seyi Makinde is the best. Let's forget about education, it is not a yardstick for becoming a governor. Yar'Adua had BSC in Applied Chemistry and he was one of the best presidents in Nigeria today.
Do you think the victory of Asiwaju Bola Tinubu at the presidential election can be a major magnet that can make you return to APC?
Let me leave the future to Almighty God. I'm a Muslim and only Allah knows what will happen to me in the next 24hours. Everything is in God's hands and not mine.
What steps have you taken towards supporting Seyi Makinde in his quest to secure a second term as governor of Oyo State?
He knows that I don't just talk because talk is cheap. In fact, I wanted to cancel my coming to this programme today but for my media adviser, because people are waiting for me at my foundation office. We want to make sure we deliver Oyo State. I have been in this game and that's why I always tell people that if you don't know something, don't say it! If you don't know me don't judge me. If you say something that is not true, you are liable to be punished. What I'm saying in essence is that God is the one that decides people's future. I can die for Ibadan because it is number one to me. What I'm saying in essence is that Seyi Makinde is the best and who is attesting to him is the man that is contesting against him and we know ourselves. Let me educate the youths, I have been a Professor of Surgery and I have taught in Medical School in Atlanta. If you don't learn now, you will later in your life. There is something called cognate experience, experience relative to your qualification. Teslim is best (to be groomed) as a Senate President. Being a Senator does not confer knowledge on you to become a governor. That's what they call cognate experience. Of the three of them now, Seyi Makinde is the only one that has governance experience. He has run Oyo State for the past three and a half years and he knows where the shoe pinches. He knows where money can come from. He has faced firing squad with his security in Oyo State. None of those trying to fight him has experience. For two and a half years, he has maintained security and nobody can give absolute security. If you don't know that now as a youth in Oyo State, you must know it. Relative security is what government can provide and he has done so. In addition to that, he brought Amotekun and I'm not praising him because he has some areas where I disagree with him.
Can you talk about those areas you disagree with him?*
To be honest with you, the area where I disagree with him, where I want him to do better is the issue of local government. Local governments are suffering and he needs to help them get back to life. That's the only difference there. He is a younger man than me, educated, well-travelled and he needs to do better at the local government level. He needs to loosen up absolutely. He has his reason, which is due to corruption at the local government level.
One of our listeners asked to know the number of people you have helped?
Let the person send his email address and we will send the list to him. We have a foundation and close to 500 hundred people have been given money and some have been sent to school. That is why you have to be very careful in judging people so that you too will not be judged. We will send you the names of those people we have helped including those we gave money for food. Dr. Adeduntan is not a pauper for your information.
Someone is presently online asking why you left your party, APC for PDP?
Why can't the person ask Teslim why he left PDP for APC? Why can't he ask Buhari why he defected from APP, CPC to APC? Why can't he ask Omisore why he left PDP for APC? Why can't he challenge APC Chairman for leaving PDP? That's what we are talking about, greed has taken over political parties in Nigeria. They won't allow some of us who are not looking for food to contest. People go into politics because of hunger.
What advice do you have for fellow politicians?
To all politicians and good people of Oyo State, vote for Seyi Makinde for a better Oyo State. He has done well and he will do better. We politicians know ourselves and we know what we are capable of doing. The best among them is Seyi Makinde. Therefore, I'm appealing to you to vote for Seyi Makinde next Saturday.