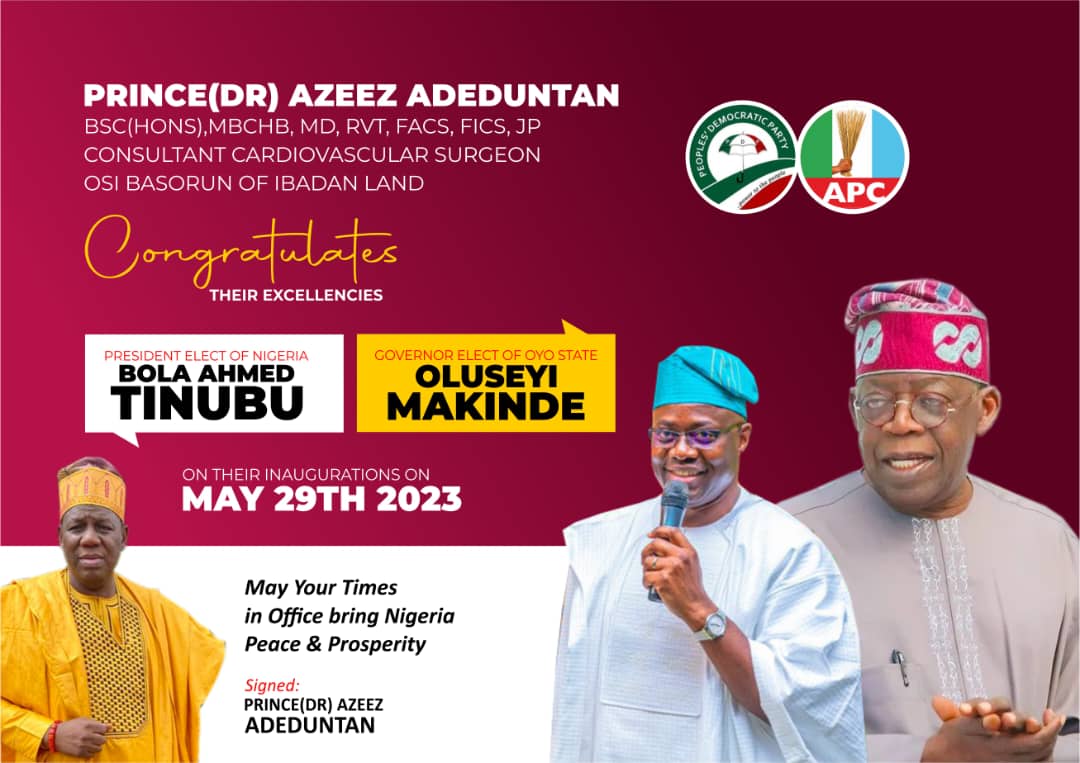 Ibadan Based Reporter, Olamiposi Ishola Writes Inspiring Birthday Message For ALA
Thursday February 9th, 2023
It's another year for
the Founder ALA Care Foundation Hon Oludamilola Oluwole- ALA who God gives the opportunity to clock another year on heart hale and hearty.
Hon Oluwole- ALA who is a chieftain of People's Democratic Party in Ibadan South East local government needs no introduction not because is a politician but for his humanitarian services and philanthropist gestures
Hon ALA who has never held any political position either in the local ,state or federal has contributed greatly to the advancement of his immediate society.
For instance Hon Oludamilola Oluwole- ALA in the last 3 years has presented two patrol van for Nigeria Police Force Felele Station and Amotekun Corp in Ibadan south East local government to complement the effort of the state Governor Egnr Seyi Makinde in the Area of Security
In 2022 ALA through his foundation Presented Free Jamb Forms to over 180 secondary school leavers with free Coaching for the period of 6 to 8 weeks. Out of 180 have of the admission seekers who wrote the Jamb 150 of them above the cut off Marks,50 above 200 while efforts are on going to give scholarships to best 3 students and cheques for 20 others through Tegbe Foundation and ALA care Foundation.
Towards the end of the year 2022 Honourable Oludamilola Oluwole- ALA answer the call of National Association of Parents Teachers Association in Ibadan South East local government by renovating the abandoned office of the Association to ensure effective monitoring of students.
Asides this,Hon Oludamilola-ALA is also hoping that in the year 2023 to enrol not less than 1000 people from Ibadan South East local government on Oyo state Health Insurance Scheme to provide quality health services to the people and to contribute his quota to the health sector.
As a Politician and complete Party Man,Hon Oluwole -ALA paid salary of party executives in Ibadan south east Local government at least for Seven Months and gave tremendous support for the administration of Hon Emmanuel Alawode by branding vehicles for him during his chairmanship campaign
With the available records Hon Oludamilola Oluwole ALA always rendered financial assistance for widows and less privilege in the society especially to set petty businesses
With these Outstanding qualities the Nigeria Union Of Journalist BCOS Chapel led by Comrade Dupe Fehintola has decided to honour Honourable Oludamilola Oluwole-ALA as the Patron of the BCOS NUJ Chapel.
Hon ALA has no doubt written his name in gold through his selfless service and philanthropist gesture coupled with the passion of giving back to the Society.
I wish founder ALA Care foundation Hon Oludamilola Oluwole-ALA more years to come in good health and abundant blessings
Written by
Olamiposi Ishola