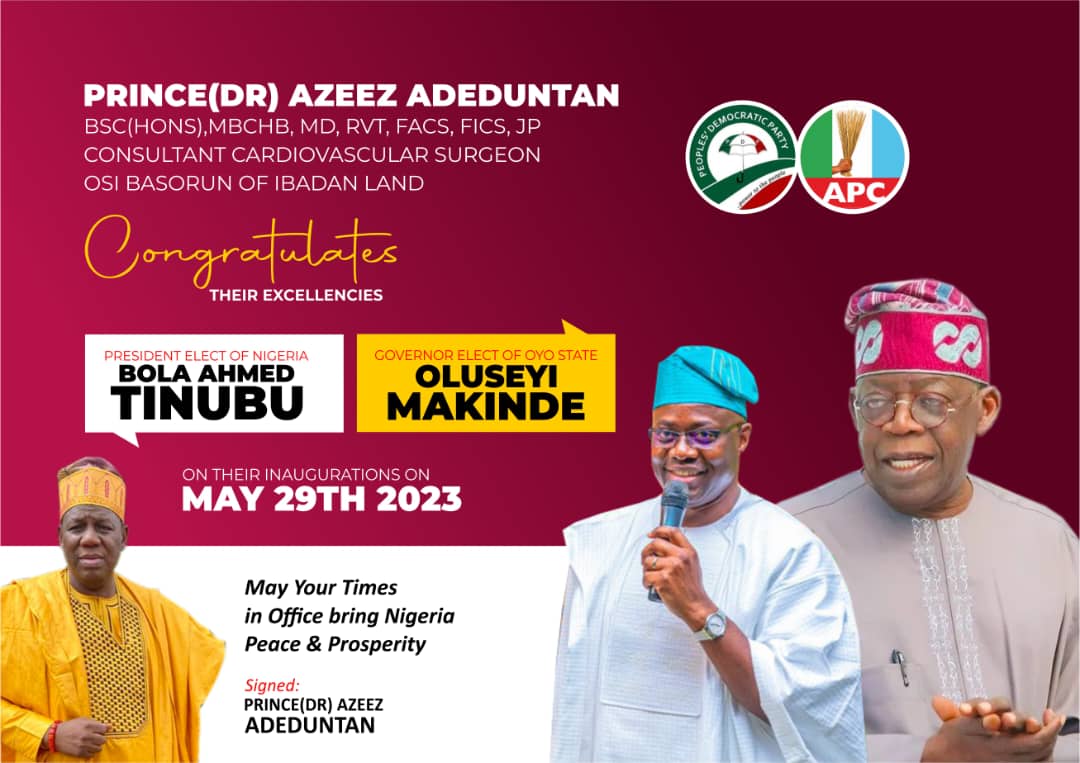 Heroes Don't Die, When They Exit, Their Indelible Footprint Keep Their Memories Alive, Alesinloye Celebrates renaming of Tech-U
Sunday April 2, 2023
The immediate past ALGON chairman in Oyo state,Prince Ayodeji Abass-Aleshinloye MDII has commended Governor Seyi Makinde for renaming Tech University Ibadan, after the late former governor Abiola Ajimobi.
Governor Makinde renamed the tech university to Senator Abiola First Technical University in honor of the late politician.
In a statement signed and made available to journalists in Ibadan, Prince Ayodeji Abass-Aleshinloye expressed gratitude to the governor for the deserved honour accorded the late Gov. Ajimobi.
According to Aleshinloye, "Heroes don't die, when they exit their indelible footprints keep their memories alive. That Gov. Makinde for the first time in his tenure, openly and officially acknowledged the great achievements of Ajimobi particularly in education, health, security, road and many social infrastructure, is a testimony that diamond will always be diamond anytime and anywhere no matter how long it takes people to recognise it and its value"
He expressed his profound gratitude to His Excellency, Governor Makinde for the well deserved honor done to the late leader.
"Ajimobi was an architect of a new order, an erudite leader, a consummate politician who served the pacesetter state with utmost dedication, love and focus to make Oyo State greater than he met it for his eight years of remarkable achievements and giant stride.
"The late Ajimobi was a leader who never relented on his quest to bring excellence to Oyo State. He was a great service to us all and immortalising his name is a right step in the right direction by Governor Makinde.
The former ALGON chairman advised Gov. Makinde and the good people of Oyo state to take Senator Ajimobi's giant stride while in office as the benchmark of governance which governors must meet or surpass before they can be described as being successful in office for the pacesetter state to move higher than they met it.