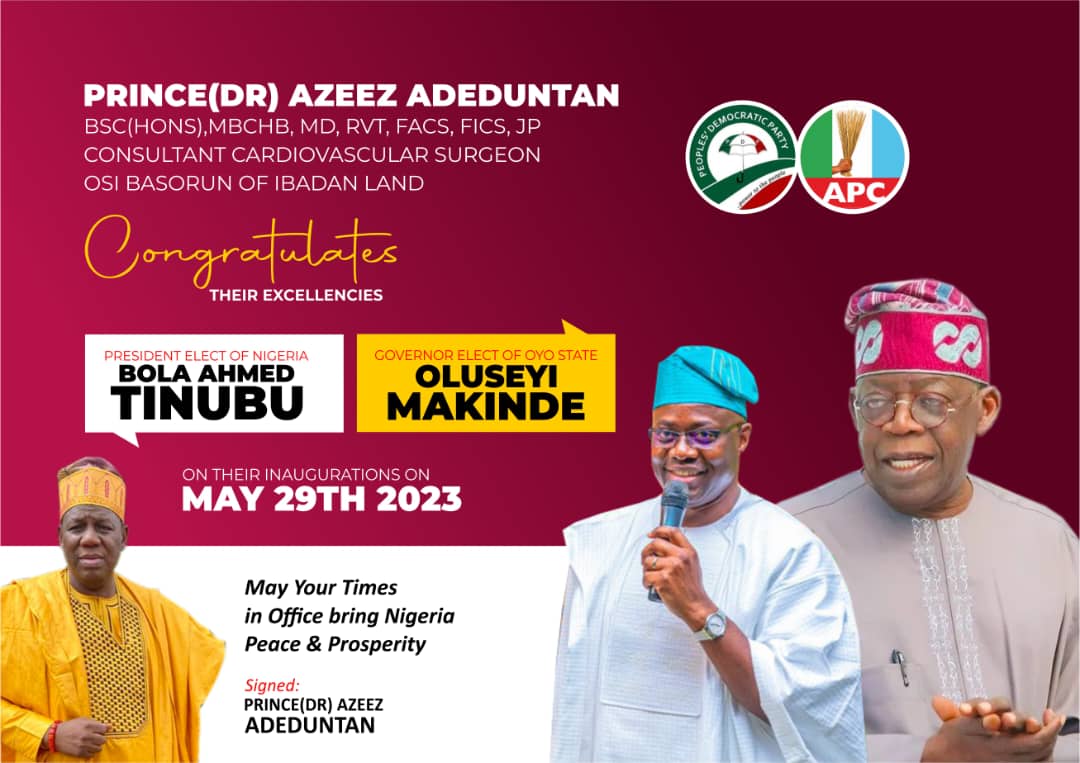 Gov. Makinde Will Answer For His Many Crimes After May 29 – Oyo APC
Friday February 3rd, 2023
The All Progressives Congress (APC) in Oyo state has stated that Gov. Seyi Makinde would have many cases of corruption, perjury and crime against humanity to answer before the courts after leaving office on May 29, 2023 "since records of his atrocities are being kept and guarded jealously at different quarters at the moment".
The opposition party, Oyo APC, have made some allegations against the PDP administration of Gov. Makinde in recent times ranging from sponsorship of political violence, poor performance, misappropriation of state funds, sponsorship of fake news among others but all these have been denied by the governor and his party.
But in another statement issued on Tuesday and made available to journalists in Ibadan by its Publicity Secretary, Olawale Sadare, Oyo APC described Makinde administration as the worst thing that could happen to any state with an enviable record of good and purposeful leadership in the hands of honest, sincere and genuine personalities who have occupied the Agodi Government House between 1976 and 2019.
"We have had to cope with inflation of contract sums, capital flight, one-man show system of government and 'digital' corruption since the present administration came on board in 2019 even as most residents were being fed with lies by sponsored propagandists. It is only in Oyo state that loan request would be tied to a specific project and the same loan facility would be diverted as soon as it is released. A good example was the N7.6b loan secured in October 2019 for the purpose of revamping Ido and Eruwa Farm Settlements but there is nothing to show for it up till now.
"Apart from several other loan facilities running into over N100b which the Makinde administration cannot account for, a fresh arrangement was made last week for a whopping sum of €50m (Fifty Million Euro) as loan facility from French government even without any clear explanation on what it would be used for and this suggests to the people that it is going to be business as usual. In the same period, local government council funds estimated to be over N500b have been misappropriated as only the payments made on salaries of workers can be traced.
"Recently, a memo emanated from the Commissioner of Local Government and Chiefttaincy Affairs ordering the setting aside a sum of over N400m for a dubious Empowerment Program which no known member of the public benefitted from. Another fraud was recently recorded when Gov. Makinde ordered award of 5km road contract in each of the 33 Local Government Areas but the whole of it was given to a single company which has been traced to the governor himself.
"Painful enough, Gov. Makinde has just cleared all doubts concerning the operation of violent characters drawn from the team operating the Park Management System. With the killing spree which heralded the governor's campaign tour of Igangan in Ibarapa North Local Government Area on Tuesday and the lies told by the media handlers of Engr. Makinde to cover up the atrocities of their killer squad, it is now obvious that the criminals have the support of the governor.
"With the brutal killings of some innocent citizens such as Ramon Azeez at Iwo Road, Ibadan in June 2021 and Ayomide Hammed (Ogbomoso in December 2021) as well as Matthew Ojebisi (Igangan in January, 2023) among others too numerous to mention by the state sponsored thugs, it is safe to conclude that Gov. Makinde has committed crimes against humanity and he should be ready to face the music after leaving office on May 29, 2023." Oyo APC stated.