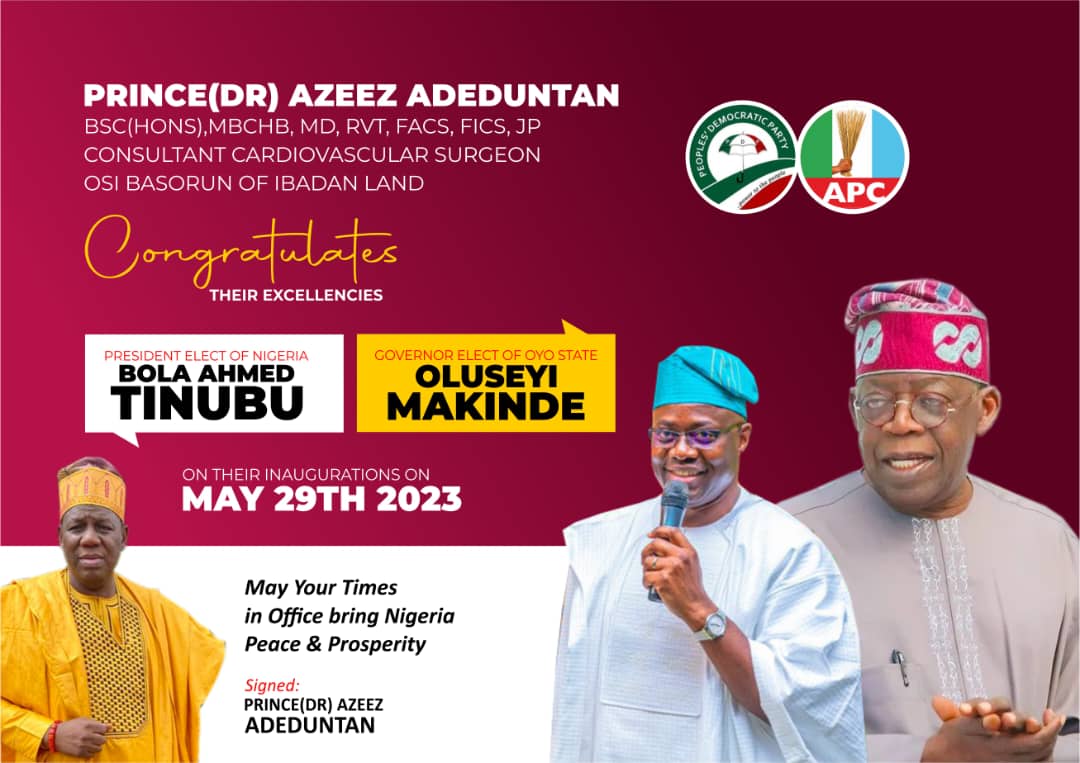 God Will Use Tinubu To Turn Nigeria Around – Bishop Aremu
..his emergence is God's will
Tuesday May 9, 2023
The Presiding Bishop, Christ The Light Gospel Church, Ibadan, Bishop Solomon Aremu has disclosed that God is going to turn around the fortune of Nigeria for good through President-Elect, Bola Ahmed Tinubu.
Bishop Aremu stated this at the Thanksgiving service to marked the 33rd anniversary of the church held at its headquarters, Ologuneru, Ibadan.
Bishop Aremu explained that God has heard the prayer of Nigerians with the peaceful conduct of the 2023 general elections.
He said God will use the President-Elect, Bola Tinubu to bring solutions to many of Nigeria difficulties but call on people to pray fervently for the incoming administration.
He added that Tinubu's emergence as the winner of the 2023 presidential election was the will of God as God never makes mistakes.
He urged Tinubu to come to the embark on people oriented projects which will in return bring succour to Nigerians.
Commenting on the church anniversary, Bishop Aremu attributed the development and success recorded in the last thirty three years to God.
"There was a lot of problems on the road but all these problems did not put me aside. I did not forget who called me and I was looking at the banner of Jesus Christ and today I can sing praise because He helped me all through." The revered Bishop stated.
He called on men of God to continue to serve God in truth and follow his teachings at all times.
"Any prayer that you pray, if there is no answer, God knows about it. Just wait, don't deviate, don't try to go and do anything contrary to the will of God because you want to become somebody, because you want to have fame. If you have fame in the world without the knowledge of God Himself, you are going to be ashamed at the end and the journey will be rough totally.
"So give your life totally to God and rely upon Him, ask for His power, He will help you to scale through the journey". Bishop Aremu said.