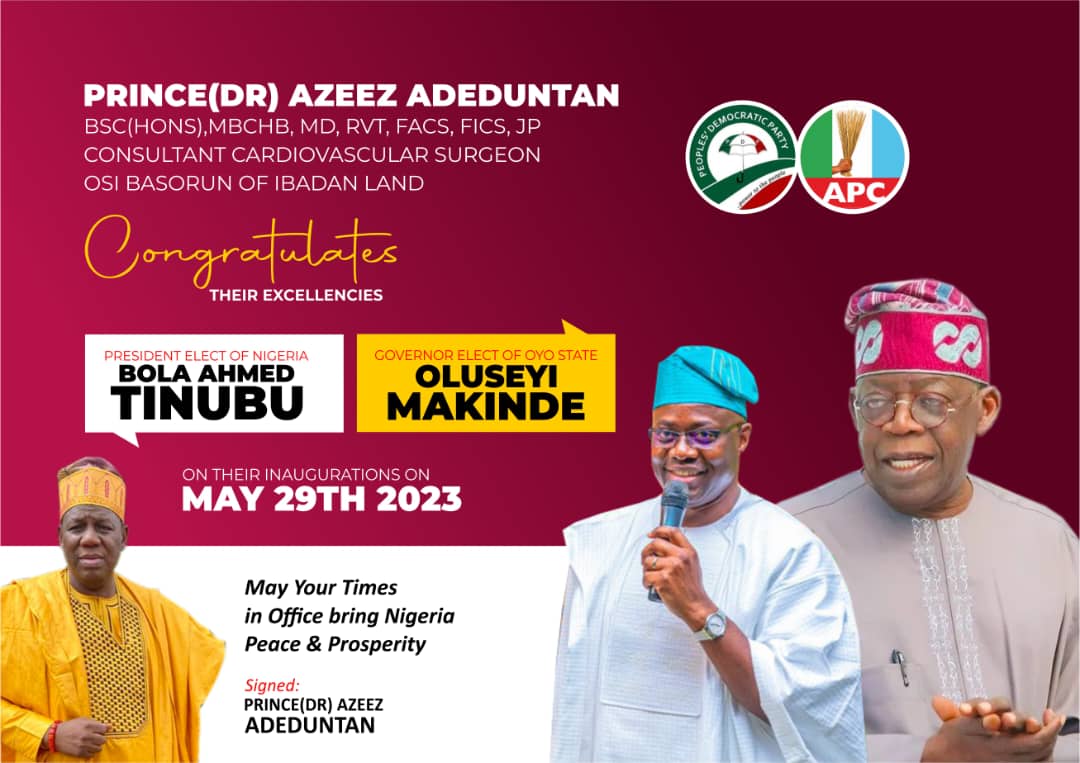 Eid-el-Kabir: Osi Basorun Of Ibadanland, Adeduntan Greets Muslims, Calls For More Spiritual Intervention For Nigeria, Oyo
Tuesday June 27, 2023
The Osi Basorun of Ibadanland and International cardiovascular Surgeon,
-Alhaji Azeez Popoola Adeduntan has felicitated with Muslims faithfuls and other religions in Oyo State.& NIGERIA for being alive and well on this occasion.
In a statement issued on his behalf by his media office in Ibadan, Adeduntan urged Muslims in the state to extend their hands of fellowship and love to the underprivileged in the society.
He called on them to imbibe the lessons of total submission and obedience to the will of Almighty Allah and promote the principle of being one another's keeper.
According to him "Muslims should guard against hate speech, thuggery and violence but give unqualified support to the new administrations at FEDERAL and state levels
as NIGERIA moves on notwithstanding and despite the predictions of doom,disintegration and wars from far and near.
He said Muslims could best express their gratitude to God by living in peace and by harnessing the country's diversity in order to explore and exploit the numerous opportunities that God had endowed Nigeria with.
"And as our country grapples with various challenges of development, especially with the new government in power, it is also an apt period for all of us to pray earnestly to God to continue to bless Nigeria and Oyo State as well as guide and guard it."
Adeduntan added that the Sallah season was another opportunity for all Nigerian Muslims and residents of Oyo State to reflect on the act of total submission, unconditional love, sharing and forgiveness by championing the cause of the weak and the oppressed.
He thanked the people of Oyo State for massively voting for President TINUBU & for Governor Seyi Makinde's re-election and urged them to continue to support his administration in its efforts aimed at taking the state to the new pedestal.
Osi BASORUN
ADEDUNTAN also send his fraternal greetings to HIS EXCELLENCY -PRESIDENT -Alhaji BOLA Ahmed TINUBU ,GCFR, Gov. seyi Makinde,the 42nd Olubadan of Ibadan land -Oba Alhaji MAHOOD BALOGUN(ALI-OKUMADE 11),the Olubadan In council,all muslim Obas ,the Chief imam of Ibadan land -Alhaji GANIYU ABUBAKR AGBOTOMOKEKERE,the ARE MUSULUMI OF YORUBA LAND,KOGI and EDO STATES,Alhaji DAUD MAKANJUOLA,all Islamic Ummahs,and all Nigerians regardless of religion.
May Allah(SWT)lengthen our earthly journeys,bless NIGERIA and NIGERIANS and let us see 2024 EIDL KABIR ;ADEDUNTAN prayerfully concluded.