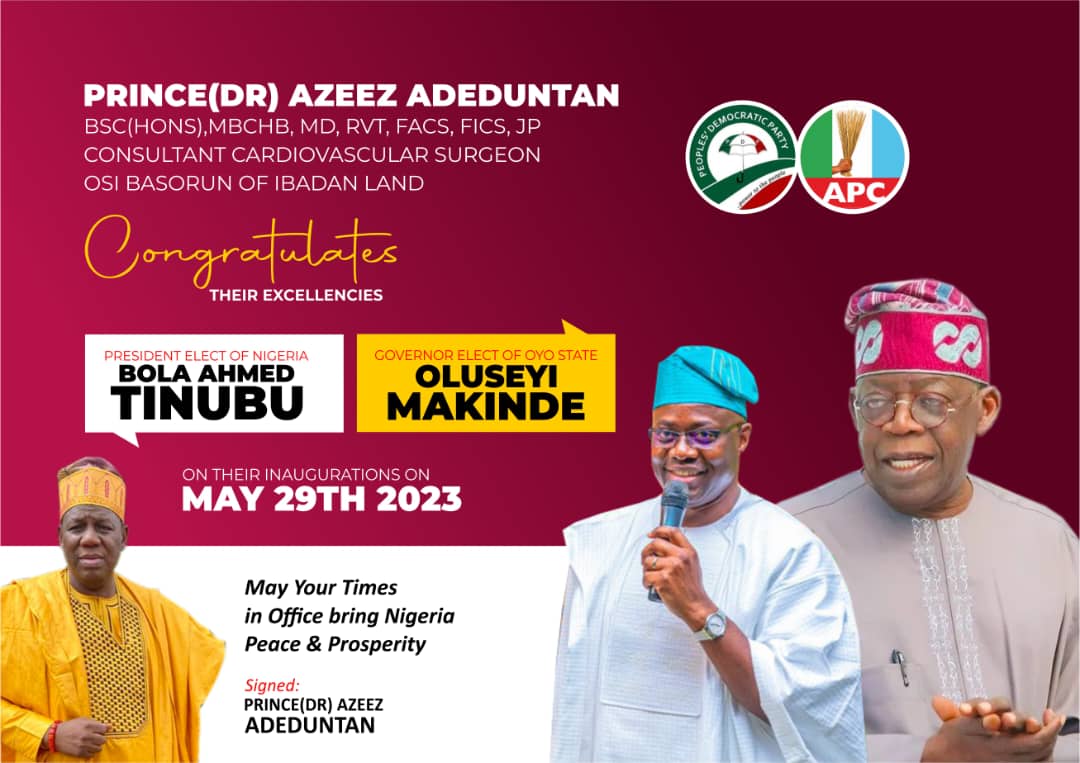 Democracy Day: Adeduntan Greets Oyo Residents, Nigerians Preaches Support For Tinubu and MAKINDE
Monday June 12, 2023
The Osi Basorun of Ibadanland, Prince(Dr.) Azeez Popoola Adeduntan has congratulated Nigerians and the people of Oyo State on the commemoration of this year's democracy day celebration, expressing optimism that with collective resolve ,challenges confronting the nation will be surmounted and normalcy restored in the land.
Adeduntan, a world revered Cardio Vascular surgeon ,stated this in a release by his media office to journalists ;and urged all Nigerians to continue to pursue those ideals and actions that would strengthen ;rather than undermine Democracy, stressing that Democracy remains the best form of government.
He called on Nigerians to promote peace and unity in the country ,to eschew disaffection among the citizenry and cooperate with Asiwaju Bola Ahmed Tinubu led administration at the FEDERAL LEVEL and GOV.
SeYI MAKINDE at the state level.
He described the journey as thirty years of challenges and thirty years of hope ,that the country will get it right someday.
He noted that over this period, Nigerians had been able to maintain political stability, as well as, moved a step further towards the strengthening of critical institutions that promote and support democratic governance.
He commended Nigerians for standing firm to ensure the survival of democracy ,and urged those in authority to build institutions of governance to sustain the Nigerian Democracy.