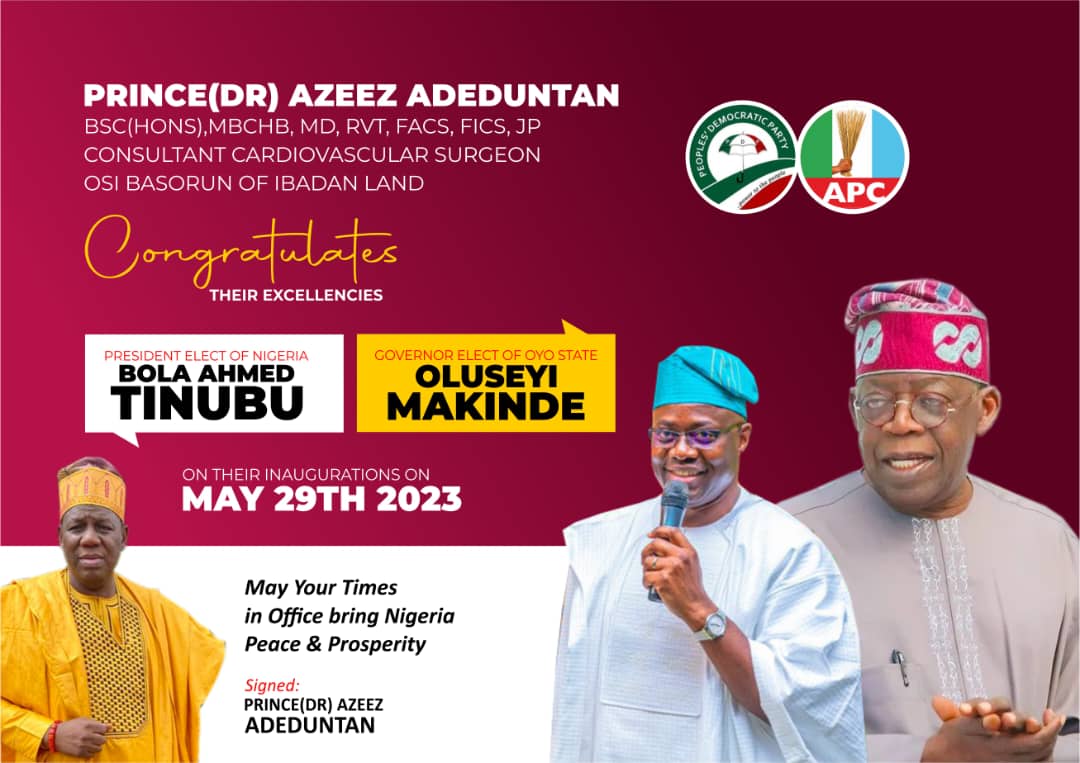 Birthday: Prof. Adeolu Akande felicitates with Dr. (Mrs) Florence Abiola Ajimobi
Wednesday April 5, 2023
Chairman, Nigerian Communications Commission, (NCC), Prof., Adeolu Akande have congratulated Dr. ( Mrs) Florence Abiola Ajimobi , the former first lady of Oyo State,on her 64th birthday.
In a statement made available to our correspondent in Ibadan on Wednesday, Prof Akande described Mrs Ajimobi as one whose life has brought hope to many hopeless people and an inspiration to women in the Nigerian society.
Prof. Akande, who was Chief of Staff to former Oyo State Governor Abiola Ajimobi, said Mrs Florence Ajimobi has brought hope to people through her many charity initiatives.
He singled out her dogged advocacy for the education and protection of the rights of the girl child as one worth emulating by women in positions of authority in the country.
He ( Prof. Adeolu Akande), also described Mrs Ajimobi's cancer awareness programmes as well as issues of women and children's health as indications of her love for humanity. "
"It is important to note that many pro-women and pro-children laws and policies of the Abiola Ajimobi Administration were products of her unrelenting advocacy within the government.
"She fought at every point for the equitable representation of women and youths in the government," Professor Akande recalled of his experience in the Ajimobi Government." It is to her credit that even after vacating office as the First Lady of Oyo State,Mrs Ajimobi remained a constant and influential voice advocating the rights of women and children in the country.
"Today, I join the world to celebrate you on your special day, as you mark 64 years of God's abundant love and glorious impact on humanity".
" I wish you many more years of God's grace in your life."