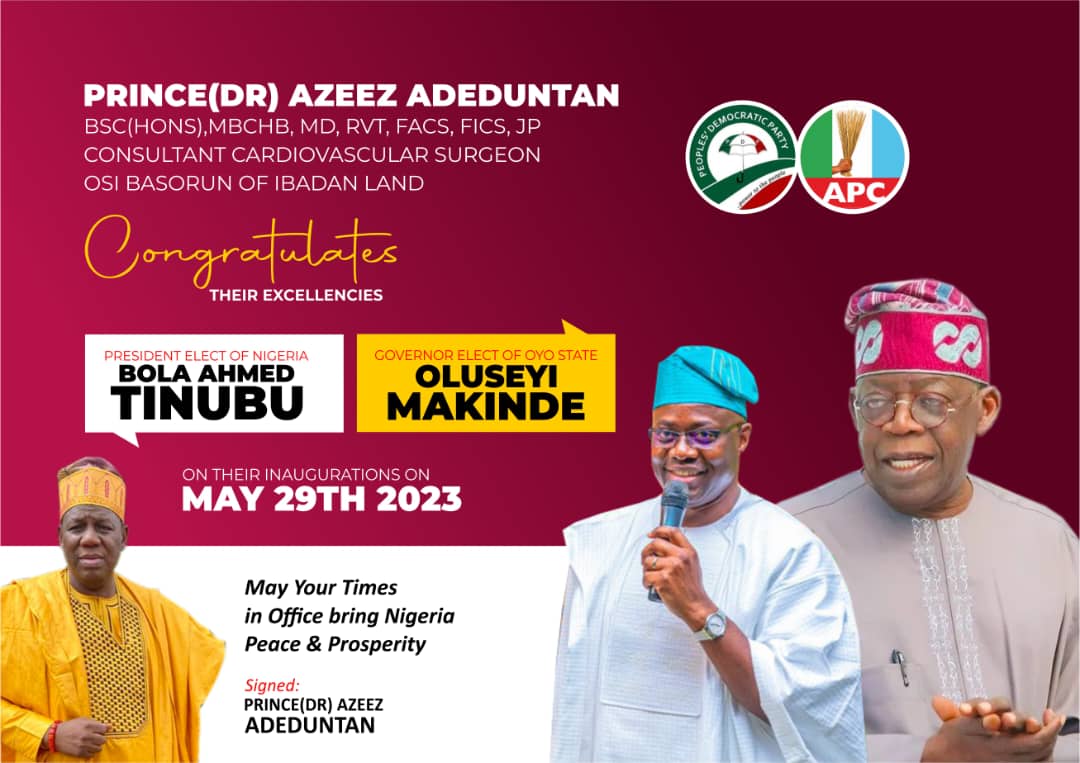 APC Group Commends President Tinubu Over Appointment Of Akume, Gbajabiamila
..appeals for appointment of world revered surgeon, Adeduntan as health Minister
Wednesday June 7, 2023
A group in the rulling All Progressive Congress (APC) in Nigeria, All Progressive Congress Presidential Campaign Council, (APC/PCC) has commended President Bola Ahmed Tinubu for the recent appointment of the Speaker, House of Reps, Femi Gbajabiamila and Secretary to the Govt of the Federation, George Akume last week.
The group in a statement by its spokesperson, Prince Segun Adeyemo on Monday described the appointment as well deserved and commendable.
The group said the two new appointees having served Nigeria in different high capacities indeed deserved their new responsibilities.
It stated that with the appointment, the President has shown that he's truly ready to hit the ground running and not to waste time any longer.
It expressed the belief that the new appointees will justify the confidence reposed in them by the President.
The group further called on President Bola Ahmed Tinubu to also as a matter of national competency which he has promised to consider the appointment of world revered cardio vascular surgeon and former Oyo state Commissioner for health, Dr Azeez Popoola Adeduntan as his Minister of Health.
It said this call becomes necessary because of the comatose state of Nigeria health sector and there is a need to fix the sector by putting the right peg in a right hole.
The group said even though they are yet to meet with the the international Surgeon but based on comments and recommendations and commentaries both within and outside, the decision becomes necessary.
It added that going by the record at it's disposal, Adeduntan was the first Commissioner in Nigeria to began implementation of National Health Insurance Scheme (NHIS).
"During the time of the former Commissioner, we also learnt that mortality rate among pregnant women droppedd to it's bearest minimum while hospitals in Oyo State were also upgraded with the help of international partners courtesy Dr Adeduntan.
On this note, we appeal to President Tinubu to humbly considered this illustrious but well respected surgeon in his government for much talked about turn around of the health sector."