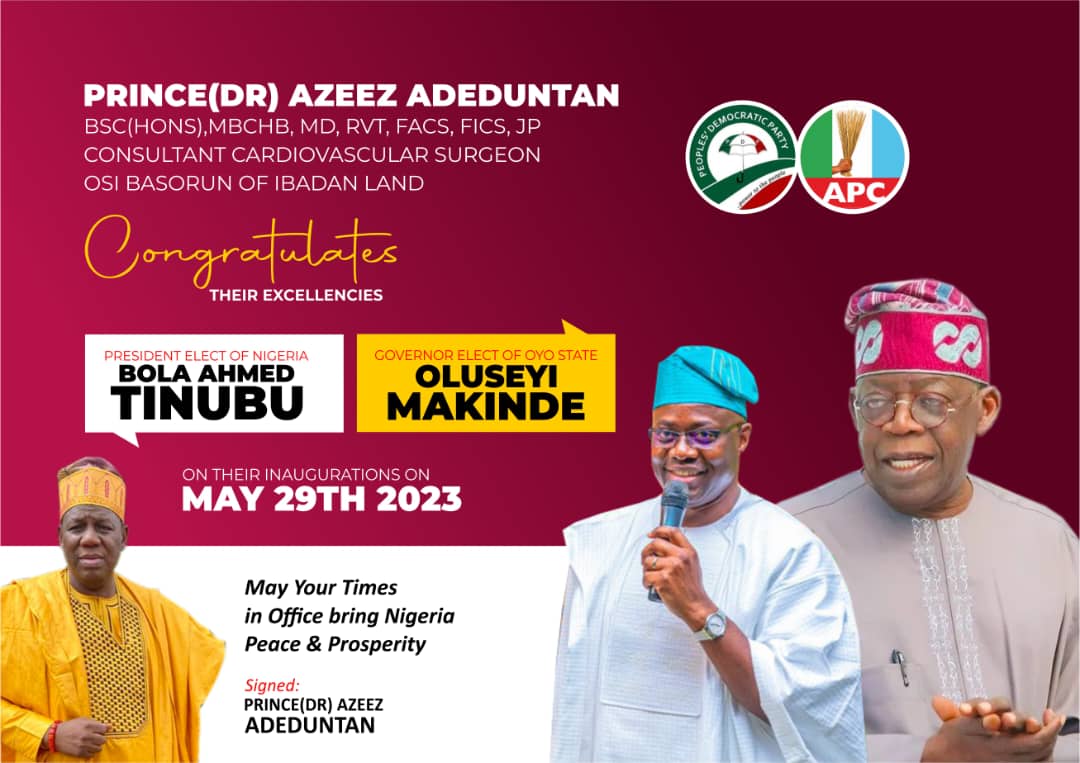 Afenifere Lauds President Tinubu on Change of Service Chiefs
… says the move should salvage the country and reset it
Wednesday June 21, 2023
The pan Yoruba socio-political organization, Afenifere, has stated that the change being effected in the agencies of government responsible for security in Nigeria by President Bola Ahmed Tinubu is a step in the right direction as it would salvage and reset the country adroitly.
The body's position was contained in a statement by its National Publicity Secretary, Comrade Jare Ajayi.
According to Afenifere spokesman, "the damage that insecurity has caused (and is causing) in over a decade now presented Nigeria as though a nation at war.
This war is not only physical; it is also psychological and attitudinal. It has resulted in millions of Nigerians living in a condition that is not only debilitating but elicits pity."
Ajayi asserted that this undesirable situation was well captured by President Tinubu while hosting the 36 state governors in his maiden meeting with them on June 7, 2023 in Abuja.
Stating that poverty was writ large on the faces of Nigerians, the President had challenged the governors by declaring that "our position (task) is to eliminate poverty".
Drawing a relationship between change in the leadership of security agencies and poverty, Ajayi submitted that the spate of insecurity has led to the untimely deaths of thousands, imperiled hundreds of thousands of lives and destroyed businesses running into billions if not trillions of naira thus aggravating the poverty indices in the country.
He went further: "Incidentally, the president actually said that poverty and insecurity were priority areas for his administration and he would do all that is required to address them. He gave this assurance while having a conversation with European Council President, Mr. Charles Michel on June 7, Wednesday, 2023.
Afenifere recalled that circa 2024/2025, three states namely Borno, Yobe and Adamawa, were under siege. Many others such as Niger, Sokoto, Nassarawa, Benue, Plateau, Katsina etc. also came under serious attacks in subsequent years leading to the displacement of hundreds of thousands of people who were forced to be living in what is called Internally Displaced Peoples' camps. Thus, they became refugees in their own country with a future that was uncertain.
Banditry, terrorism, kidnapping, cattle rustling and attacks of herders on farmers as well as killings by what was termed UGM (unknown gunmen) became the order of the day. In due course, killing for rituals especially in the southern part of the country was soon to be added to the despicable bargain.
Nowhere seemed to be safe as attacks were being carried out on highways, seaways, motor-parks, homes, in the farms, in the markets and even on rail ways! Just as the bandits became so daring that they attacked prison yards as well as military and police formations.
"Because the poor are in the majority and most vulnerable, they suffer the most. And, in line with the assertion by the former American President, John F. Kennedy, that "If a free society cannot help the many who are poor, it cannot save the few who are rich", both the poor and the rich in Nigeria became victims of seemingly contrived security and safety breaches.
"Several efforts were made and resources running into trillions spent, yet the menace 'refused' to go away. The expectation that the coming of former President Muhammadu Buhari, a retired army general, would stem the tide on taking over from former President Goodluck Jonathan turned to be an unmet expectation as security breaches got worsened under him (Buhari). Calls on him to rejig the security architecture went on deaf ears.
Feeble efforts made and a few changes in personnel were too little to make desirable impacts."
Ajayi who admitted that change of personnel was not enough to see a dramatic turnaround in the country's architecture, was however emphatic that "doing so was a critical step in order to effect fundamental changes in what is presently operating".
On what should be the focus of the new service chiefs, Afenifere spokesman said that the President was very much conscious of what to do "going by the directive he gave at the maiden meeting he had with service chiefs earlier this month."
Ajayi recalled that the President had said that all security agencies must work to achieve one single purpose –" ensure that Nigeria is secure for everybody! Working at cross purposes and colliding with each other is not something that he will condone. They must comply with the demands of coordination, frequent consultations and timely reports which must be acted upon.
"The new security chiefs are expected to come up with fresh ideas and fresh approaches that will crush all obstacles to safety and security of Nigerians and their properties at the earliest possible time. Such must not just be a quick-fix but a situation that would be long-lasting, salvage the country and reset it into a safe haven in an enduring manner. In addition to working together, those on the frontline of security engagements must be 'well-fed, well-kitted, motivated and given all that they require to discharge their responsibilities'".
Afenifere spokesman then urged President Tinubu to quickly put action into his promise of providing all that the security agencies may need to enable them deliver on their responsibilities.