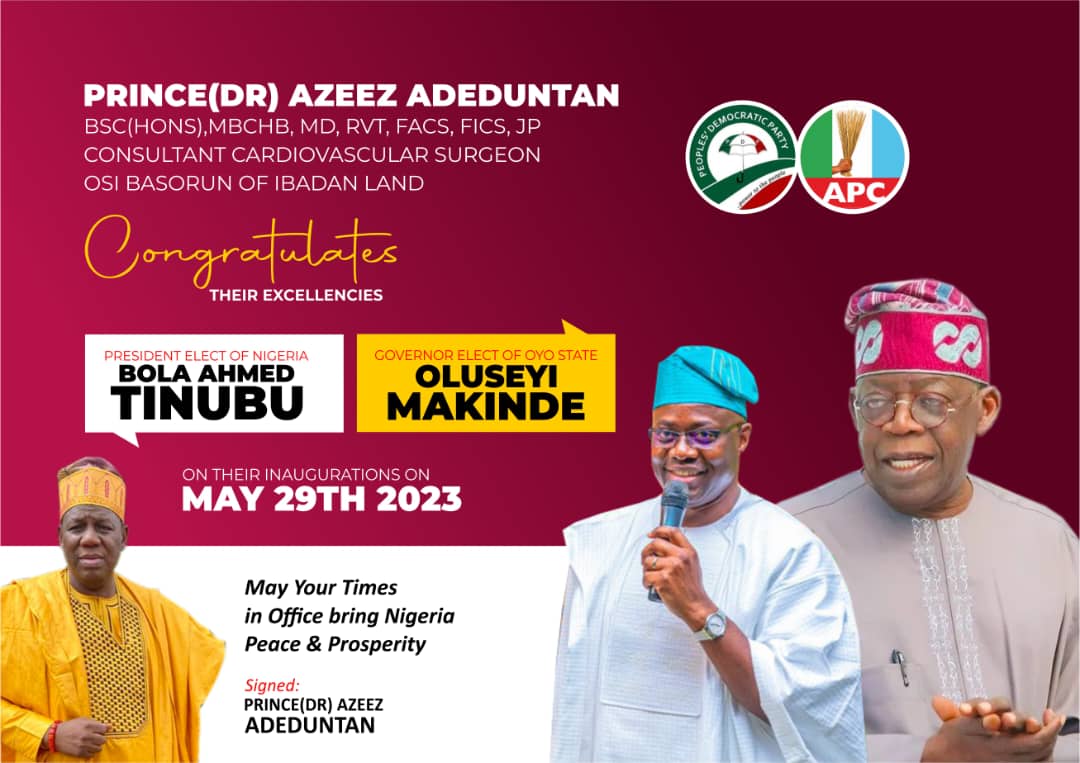 Afenifere Commiserates Over Fire Incident In Ooni's Palace
… Laments trillions Nigerians are losing to electricity surge
… Decries level of negligence and suggests way out
Wednesday May 3, 2023
The pan Yoruba socio-political organization, Afenifere, has expressed shock over the fire incident that razed one of the buildings in the palace of Oonirisa, Oba Adeyeye Ogunwusi Ojaja II last week Friday.
In a release signed by its National Publicity Secretary, Comrade Jare Ajayi, Afenifere, joined the highly revered monarch and the people of Ile-Ife (The Source) in thanking God that no life was lost to the inferno. It also prays that no such thing should happen again anywhere in Yorubaland and in any part of the country, Nigeria.
"For this prayer to be perpetually answered however, there are some introspections that must be done and some salient steps that must be taken. The introspections begin with tracing the cause or causes of the incessant fire outbreaks in the country, what our attitude to them had been and what can be done to ameliorate, if not totally stop such incidents, especially those that were not due to Providence", Ajayi submitted.
He went further to disclose that in the year 2022 alone, Nigeria recorded 2,056 fire incidents with losses of over one trillion naira in properties, going by the statistics supplied by the General Officer Commanding (GOC) 1 Division of the Nigerian Army, Major General Taoreed Lagbaja. The army general gave the data during a fire prevention management sensitization seminar held in the premises of the Army Division in Kaduna in March this year. The figure was 2,650 the year before (2021) going by the information sourced from the National Fire Statistics and circulated by the News Agency of Nigeria (NAN) at the beginning of February 2022.
The report by the Nigeria's Federal Fire Service (NFFS) indicated that well over a thousand of fire cases were due to electrical sparks while 567 cases were attributed to 'unknown causes'. High voltage from electricity, candles, illegal storage of petroleum products, and building collapse were also fingered as causes of inferno during the said year.
Ajayi recalled that several big markets in major cities across the country recorded incidents of fire outbreaks resulting in loss of money running into billions, if not trillions, in the last few years. Only last week, Bodija Sawmill in Ibadan went up in flames late afternoon. It was the falling rain that prevented the rain from engulfing almost half of the big plank market. But goods and sheds running into millions were lost.
Instances of such abound in various parts of the country as stated interalia.
What are we to do to prevent re-occurrence?
Reports, as confirmed by Ooni's spokesman, Comrade Moses Olafare, stated that the fire that engulfed the building in the palace was caused by high voltage when power was restored to the area. As indicated above, what happened at Ooni's palace was not an isolated case.
Unfortunate and preventable as it was, it might not be the last going by our attitude in Nigeria.
On the steps to take to prevent re-occurrence, Ajayi averred: "The first steps begin with admission by all of us, especially those at the helm of affairs, that nobility does not seem to mean much to us any longer. And that unless we re-engrained this in our system, avoidable misfortunes may continue to occur. In this respect, the first step should be the reviewing of that aspect of the law that makes if difficult, if not impossible, for victims to sue the Power Holding Company even when the company is responsible for the power outbreak. And irrespective of colossal damages the company's negligence causes in terms of human lives and properties. If PHCN – or any other organization rendering services – knows that there would be consequences for its actions, it would be more careful."
He added that there ought to be a mechanism in the company's arsenal to measure the amount of electric current going out at any given time. "I believe that there is. But the officers in charge do not care to pay attention so as to quickly take action when the rate is going beyond normal.
Were this to be the case, it would be easy to prevent fire surge – or reduce its incidence considerably. After-all, electrical powers are used in some other climes without incidents of electricity-related conflagrations being as pervasive as they are in our own clime here.
There is no magic as to how they do this.
"Also, the reason for people storing petroleum products should be addressed by ensuring that it is available when and where needed at affordable prices.
"The laws on fire safety must be strictly enforced just as requisite wherewithal must be regularly provided to fire service and all those who are to ensure safety in that sector.
Finally, Nigerians should develop the attitude of valuing life more than any other thing – besides their integrity!"