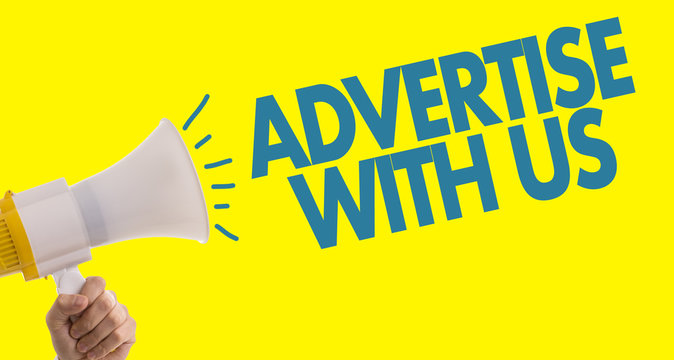 The OSI BASORUN of Ibadan land and one of the screened and cleared 2022 OYO Apc jagba(fraudulent) GOVERNORSHIP and other primaries has advised former President Obasanjo to act like a statesman,rather than a politician ,and stop heating the polity by his recurrent kangaroo endorsements which had never yielded any good results for the endorsed candidates.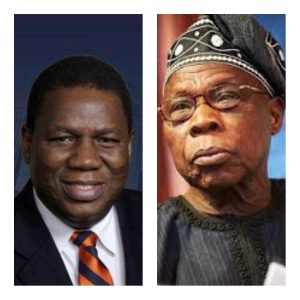 While it is unarguably the right of ex president Obasanjo to endorse any candidate of his choice;as an elder statesman,silence would have been golden when you have plurality of candidates and let the voters choose as is practised all over the world and even in NIgeria ,as evidenced by the silence of past heads of state-GOWON ,Babangida,ABUBAKAR salami,and JONATHAN.This message is contained in a media release by his office today.
In his misadventure,Obasanjo claimed Obi is his mentee-a poisonous arrow as NIgeria does not need a leader at this time who has no independent thoughts and cannot act speedily at this perilous time our country is passing through.
Obasanjo also talked about age ADEDUNTAN -a Harvard trained, board certified ,international cardiovascular surgeon, former Commissioner of health in OYO state ,former faculty member ,MOREHOUSE SCHOOL OF MEDICINE ATLANTA ,USA, hereby puts GEN Obasanjo and Nigerian youths on medical notice to be guided by evidence based facts and figures,not insinuations ,rhetorics or selfishness,nor by ignorance or self serving agitations,on the issues of age,capabilities and death.
Adeduntan's reaction is coming on the heels of ex president Obasanjo and Nigerian youths persistent and irritating baseless clamoring ,drum beat of "war " ,that the next president of NIGERIA should be in the age range 40-50yrs and anybody who is above 60 yrs, is not fit for the office or any political office ,simply on the basis of age.
For the education of Nigerian youths,and EX PRESIDENT OBASANJO,here are the unassailable facts.
a)The World health organization -the custodian of global health has affirmed through random analysis ,meta analysis and other statistical methods ,that the average life span of a Nigerian male is 50yrs and female 55ys.In Ghana 60/65,USA,70/75 with females living longer.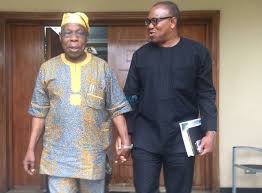 So instead of Nigerian youths jumping around the street,that he is youthful,at 40 years old in NIGERIA ,he is an old man and should be expecting death anytime,as evidenced by the statistics above and as exemplified below viz.Umar MUSA Yaradua was 56 years old when he became president Of Nigeria,he died about two and half years after ,of autoimmune vascular disease ,affecting his lungs and heart ,which would have been revealed had his medical history being made public to Nigerians.
A former speaker of OYO state House of assembly Michael Adesina Adeyemo died of massive heart attack on Friday April 27th 2018,he was 47yrs old. I was present at his autopsy with occlusive coronary artery disease.
Had his medical history been known to the public,that he had antecedent medical problems,a floor membership would have been better for him rather than the pressure of speakership.
Whereas president Nnamdi Azikiwe died at the age of 92 years(1904-1996).
In light of the foregoing,,Nigerian youths and ex president Obasanjo are hereby put on notice,that there are three kinds of ages.viz
a)physiological age:
Age due to the functions of your heart(majorly),lungs,
kidneys and liver).
This is the most important with regards to capacity,capability and sudden death.
B)chronological age:
Age based on the date of your birth .It is secondary to the first.
While important,it is not predictive of death and incapacity, as physiological age.
for example-a 28yr old man considered as youth with medical problems such as sickle cell disease,diabetes,hypertension (primary and secondary),kidney problems ,is no longer capable and a 70 yr old man who has no medical problem is better than him for any job.
For example George BUSH(41st ) president of the USA ,jumped from an airplane with parachute close to 90 years of age to demonstrate his physical fitness on his birth day close to 90 years.He died at 94 years because he had good heart functions.
C)Psychological age.
Age based on how you feel .Very self serving.
This is not predictive.
The Nigeria youth and GENERAL Obasanjo are hereby admonished to know that nobody in Nigeria ,has ever held Nigerian youths down, but long military rule (paradoxically all were youths,(Gowon 31years,mohammed 38yrs),Obasanjo 41 years and the cost of electoral competition which is prohibitive and a very poor & unenlightened public that will sell their votes for survival .
What Nigerian youths should do is not to be looking for advantages on the basis of age,but ask for medical records of all potential candidates young and old before elections(just because you are young ,does not mean you are healthy or that the older man will die before you),lobby political parties to be more inclusive,not by violence or threats .
Chronological age ,as is being advanced by OBASANJO and Nigerian youths ,is self serving,not evidence based and therefore for the birds.
Current Nigerian president is now 80 yrs)his medical problems clouded in secrecy),unlike GHANA(medical history open to the public,same with USA,(medical problems open to the public) as they are all public servants and therefore answerable to the public except in NIGERIA.
As for Peter OBI ,I admire his courage,but pity him.The geographical spread required to win the presidency is very stiff .
. To be elected you must have majority of the votes cast,and over 25% of the votes in at least 24 of the 36 states.
Your presence must be felt in 176846 Polling units currently ,8813 wards and
774 LGA. He has no National structures that can assist him.
It is our experience and that of others,that structures win elections,not good intentions.
Structures include dedicated and committed loyalist,money bags,God fathers,associates that want want you to succeed,not jealous ones ,king makers ,canvassers and mobilizers etc.
Even if miracle happens (very rare in Africa and Nigeria as power belongs to GOD,he will not be able to govern with National Assembly populated by opposition members.
Power belongs to GOD,the best ex president Obasanjo could have said and done at this time is to maintain dignified silence as expected of a statesman ,pray in his church regularly for NIgeria (just had PhD in bible studies;)and wish all contestants the best of luck.
While Obi will have a good showing,the best prepared for the office is TINUBU ,based on track records and many years of preparation.
OBI's time will come.
This is TINUBU's time whether ex president
Obasanjo or other opposition elements like it or not .
TINUBU was In suspended animation and political "death "before GOD interceded and woke him up at the EAGLE SQUARE on June 8th 2022.Neither him nor BUHARI thought he could win , in light of stiff opposition mounted against him from the southwest and other geopolitical zones.
While not perfect(perfection belongs to almighty GOD);he is through the same mercies of GOD-the sovereign and custodial of of power win in February 25th 2023.
May NIGERIA SUCCEED-ADEDUNTAN concluded prayerfully.