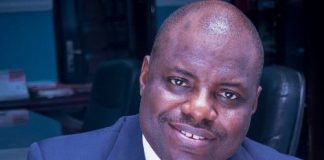 The immediate past oyo state commissioner for works and currently Federal Commissioner at the Revenue Mobilization Allocation Committe Hon Bimbo Kolade has called on Muslims to use the occasion of Eid-el-Kabir to offer special prayers for the healing and progress of Oyo State and Nigeria as a whole.
Hon Kolade who is representing Oyo state at the commission In a statement issued from his media office, the Federal Commissioner said the festive period should be used to reflect on the significance of the celebration, which bordered on encouraging piety, sacrifice and love, noting that without these, no State or Society could advance.
"Nigeria needs our prayers and we should all be conscious of the implications of our actions and inactions towards the growth and advancement of the Nation; it is our collective responsibility to keep exhibiting self-leadership and we must keep striving to move our Nation forward."
Hon. Bimbo Kolade felicitates with all Muslims and wished them God's guidance, blessings, and protection urging Muslims to continue to live in peace and engage in continuous prayers for the development and progress of the country and the world at large.